F-16 Collision Avoidance/Risk Reduction Simulation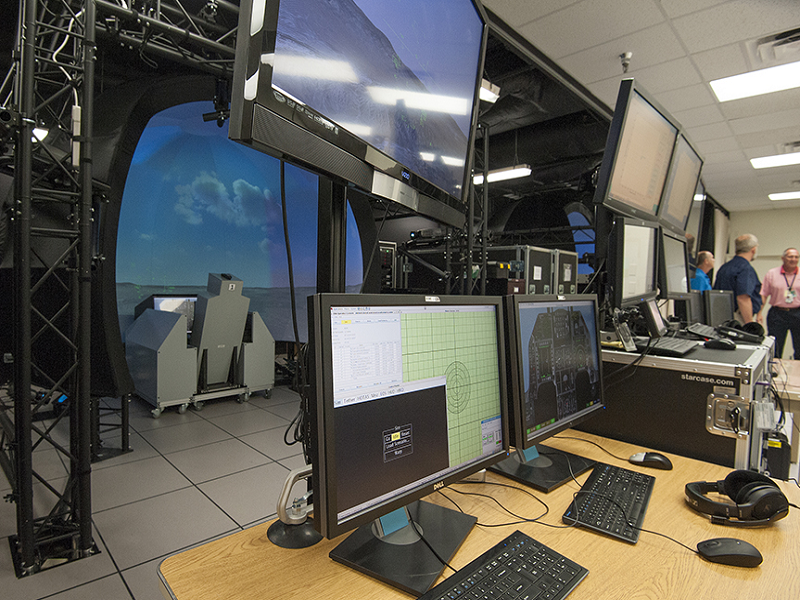 Dual-dome simulators at the Lockheed Martin/AFRL aircraft collision avoidance technology (ACAT) simulator lab. (Photo credit: ZedaSoft.)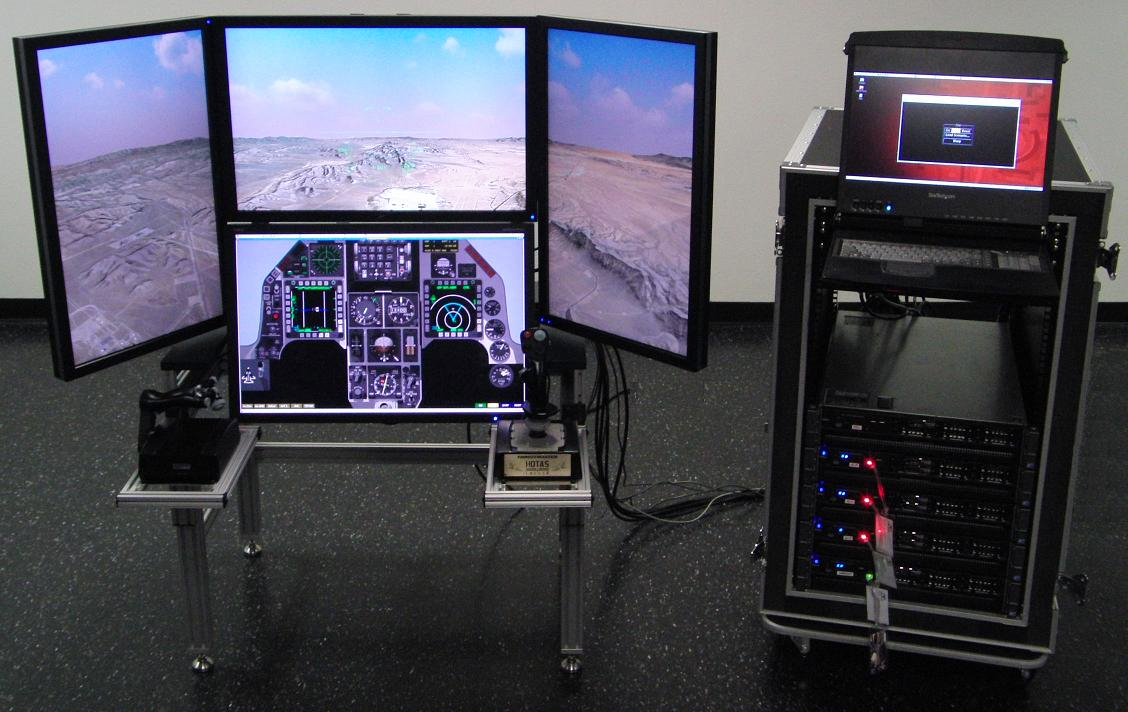 The 3-channel reconfigurable simulator at the ACAT simulator lab. (Photo credit: ZedaSoft.)
The Lockheed Martin/Air Force Research Laboratory (AFRL) aircraft collision avoidance technology (ACAT) simulator lab uses MVRsimulation visuals in simulators for Auto Ground Collision Avoidance System (Auto GCAS) and Automatic Integrated Collision Avoidance System (Auto ICAS) algorithm testing, all part of the ACAT Fighter Risk Reduction Program (FRRP), which tests automatic collision avoidance technologies between USAF fighter aircraft. The lab features a dual-dome simulation solution developed and maintained by ZedaSoft. To date, the Auto GCAS system has been credited with saving 10 pilots and nine F-16 aircraft from ground collision. This same technology is now being integrated into the F-35 as a safeguard and to continue its life-saving potential.
The Zedasoft dual dome solution provides two F-16 Reconfigurable Cockpit Systems (RCS) in high-resolution large field-of-view display and projection systems with VRSG rendering the visual scene. The solution also includes two Reconfigurable Desktop Simulators/Experimenter Operator Stations. The dual-dome solution provides the balance of lower overall costs with a small 16' x 32' footprint installed under a 10' ceiling. Each 3.4 meter diameter dome projection system, supplied by Immersive Displays Solutions and running ten VRSG channels, provides a 270 degree horizontal by +120 degree/-30 degree vertical field of view. This extended vertical field-of-view allows simulator pilots to look up 30 degrees past vertical while providing a 2.5 arc-minutes per pixel high resolution image.
As part of the original delivery of the system, MVRsimulation provided a 3D geospecific terrain datasets built from satellite imagery for the entire continental United States (CONUS++) at 1-meter resolution with higher resolution insets for Nellis Air Force Base (AFB), Edwards AFB, and Fort Worth Naval Air Station Joint Reserve Base (NASJRB) areas.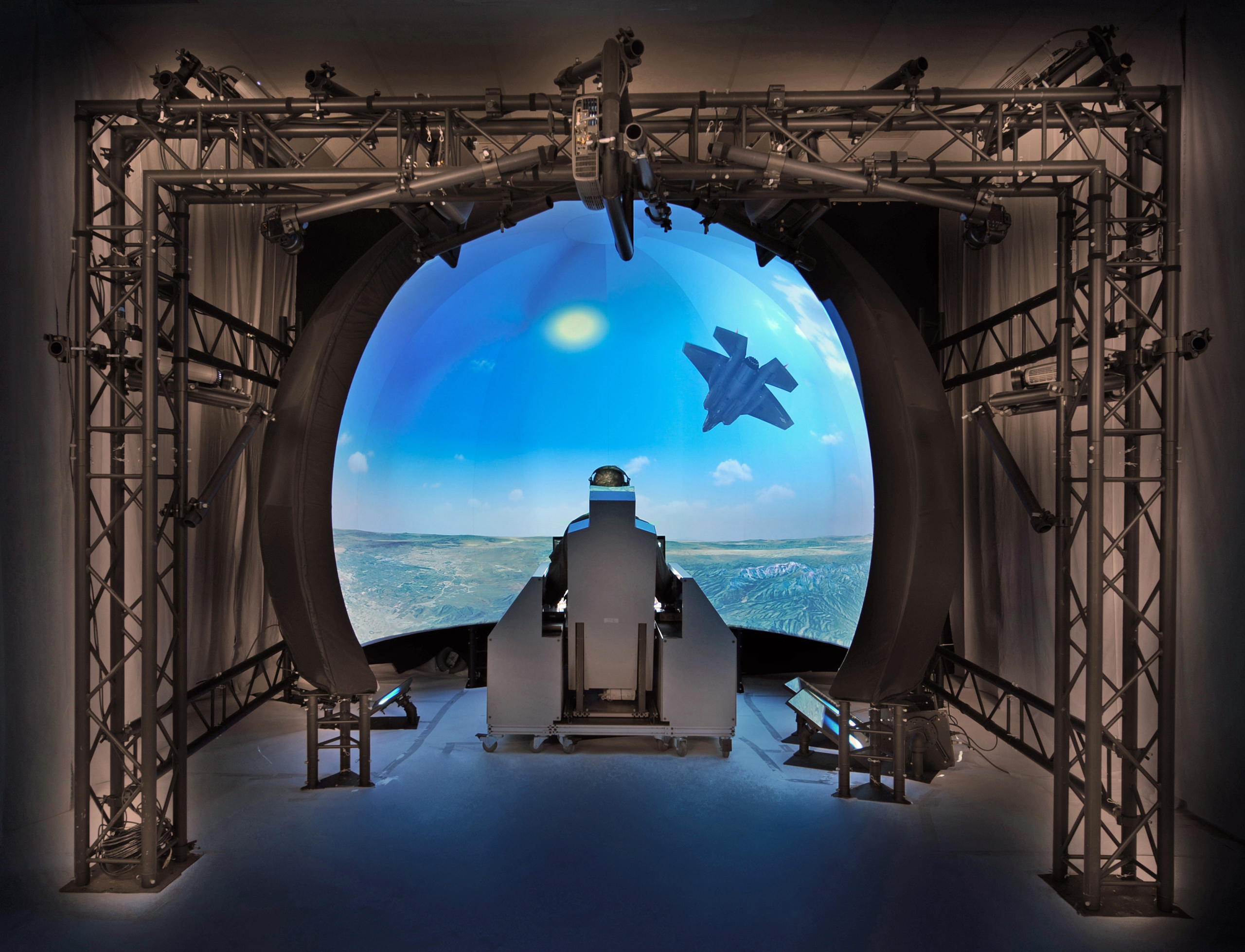 Illustration of one dome in the dual-dome system, courtesy of ZedaSoft.

Comparison of a publicly available NASA photo of an F-16 ACAT aircraft in flight over Edwards Air Force Base (left) with a VRSG real-time scene featuring MVRsimulation's F-16 ACAT model in flight over virtual Edwards Air Force Base.

Illustration of the dual-dome reconfigurable simulator system. (Illustration credit: ZedaSoft.)