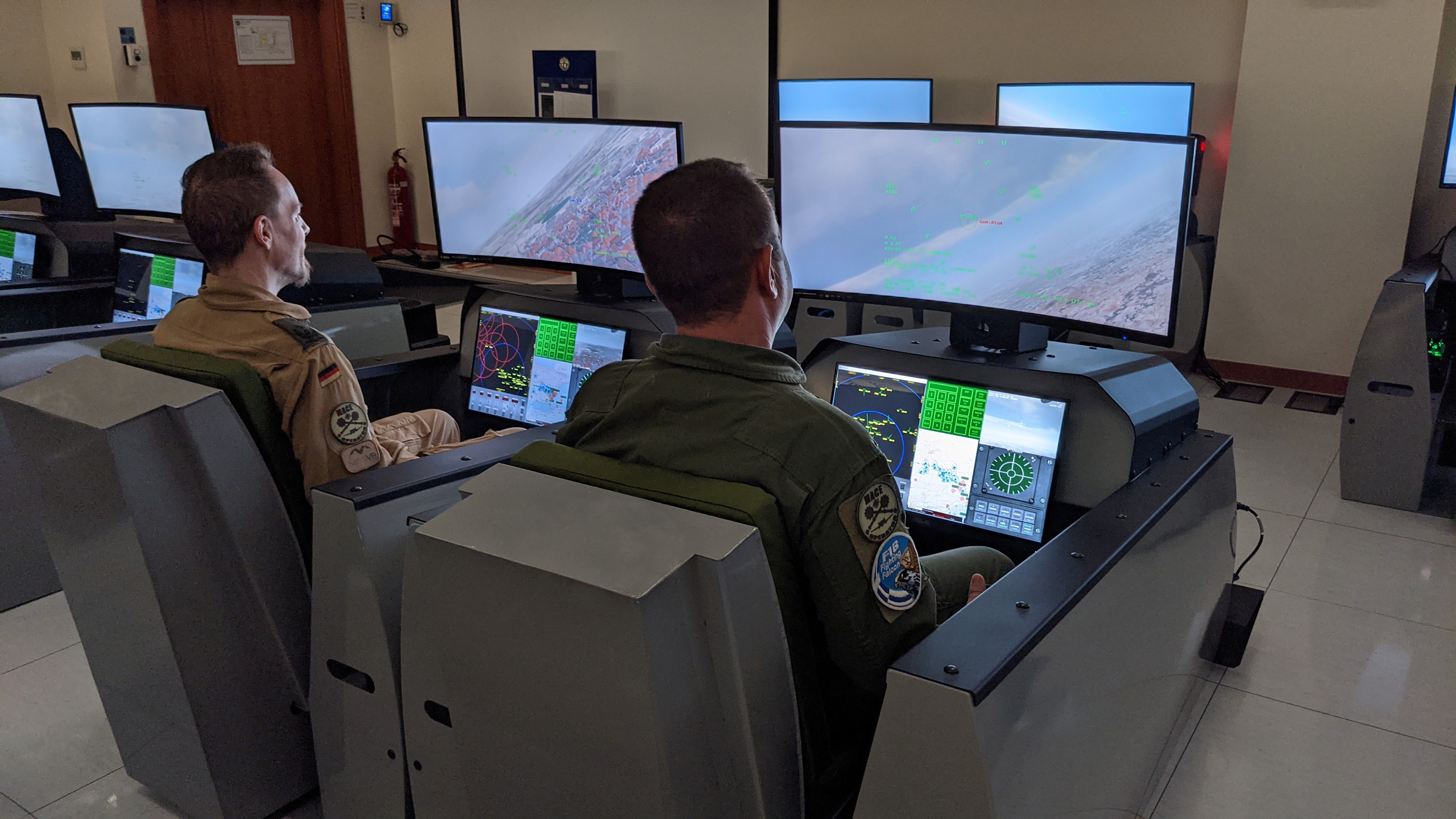 NATO Tactical Leadership Programme (TLP) classroom with MVRsimulation's PTMT. (Photo courtesy of the TLP.)
The NATO Tactical Leadership Programme (TLP) has purchased 30 of MVRsimulation's new fixed-wing Part Task Mission Trainer (PTMT) and 54 VRSG licenses for fighter pilot simulation training. Headquartered at Los Llanos Air Base, Albacete, Spain, the multinational TLP is the leading center for NATO's Allied Air Forces tactical training and development of knowledge and leadership skills.
With a fully integrated aluminum cockpit shell, touch screen displays for pilot interaction, and an out the window (OTW) view on adjustable curved display, the PTMT is designed to maximize suspension of disbelief for trainee pilots while they train mission tactics and coordination in a networked environment. To enable training on current 3rd and 4th generation jet aircraft used by NATO air forces, the PTMT includes a specially-designed, patent-pending flight control joystick that can be easily adjusted for side-stick or center-stick flight controls.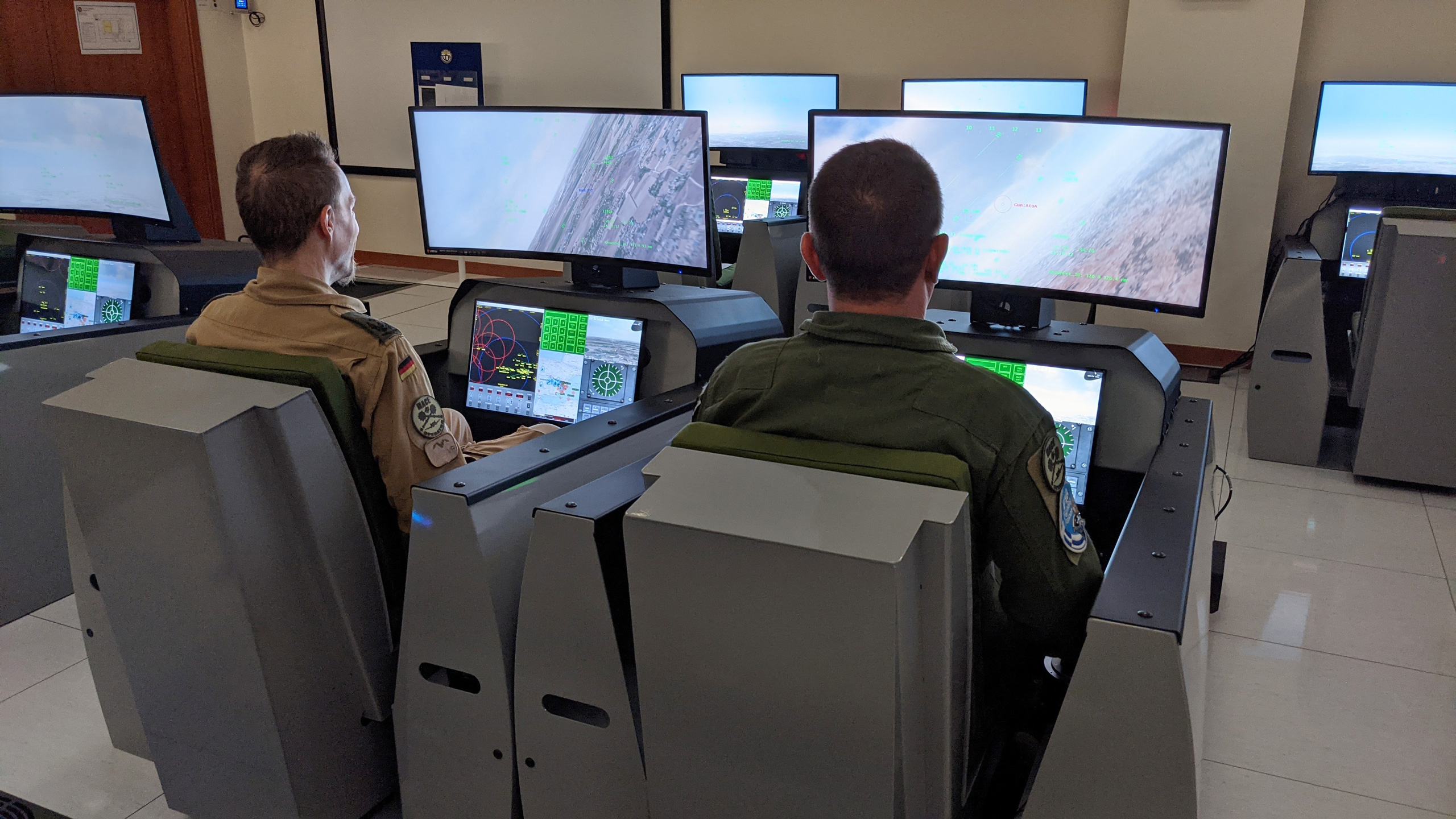 TLP classroom with the newly installed MVRsimulation PTMTs. (Photo courtesy of TLP.)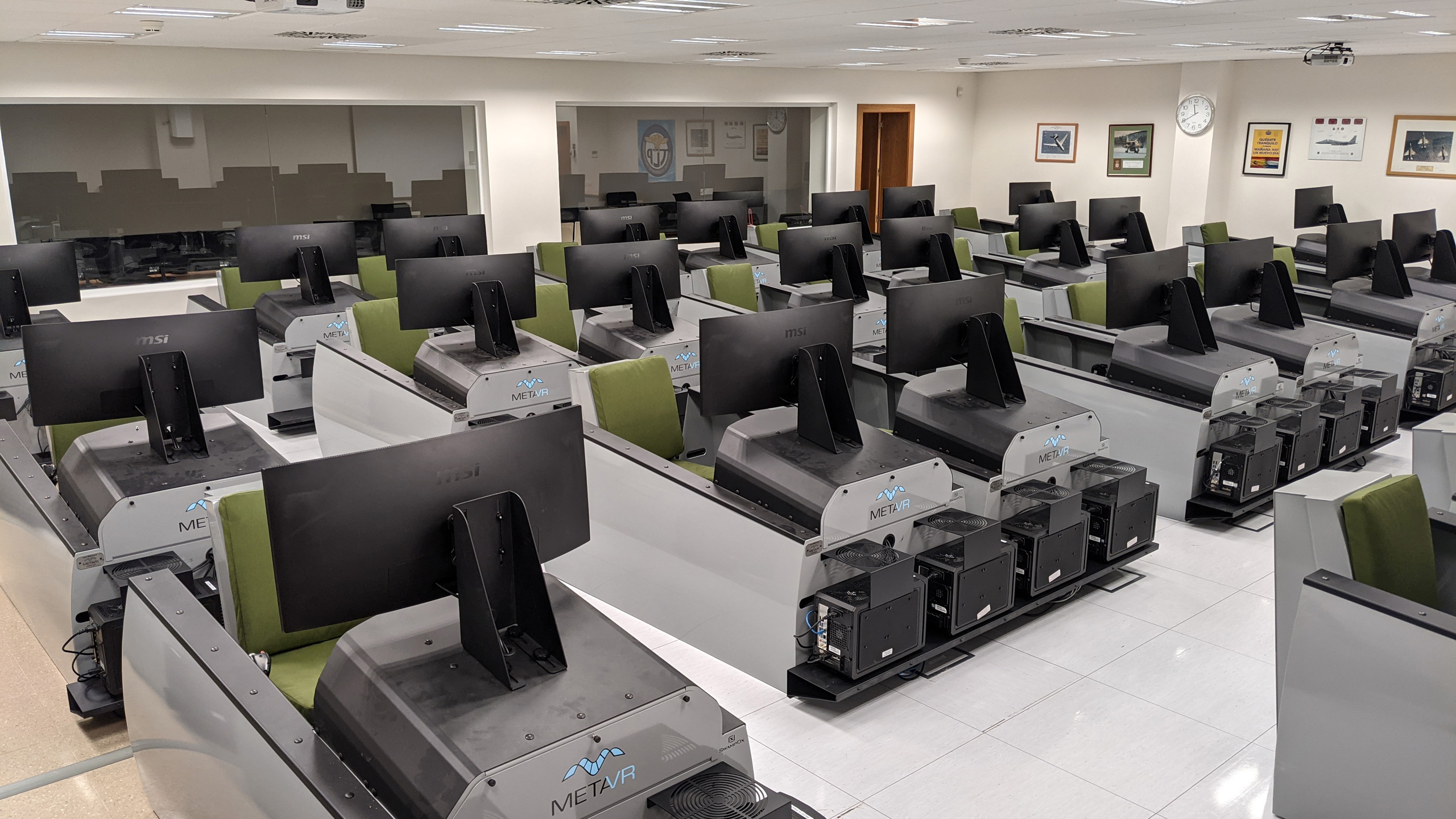 Newly installed MVRsimulation PTMTs in the classroom at the TLP facility. (Photo courtesy of TLP.)
Comprised of ten participating nations, the TLP aims to increase the effectiveness of NATO air forces in the area of tactical leadership, and conceptual and doctrinal initiatives in support of the Supreme Allied Commander Europe (SACEUR), Supreme Allied Commander Transformation (SACT) and National Defence Forces. The TLP's member nations (Belgium, Denmark, France, Germany, Greece, Italy, Netherlands, Spain, the UK, and the USA) provide finance, support and personnel to the TLP along with airspace, infrastructure and support assets to the TLP courses. Non-NATO nations are also invited to participate in courses. The TLP is commanded by a Spanish Air Force colonel, supported by a permanent staff of about 50. Visiting squadrons bring their own aircraft, mechanics, and support staff.
TLP runs four flight training course cycles per year; each for four weeks, with 16 missions. Courses include the Composite Air Operations (COMAO) Flying Course, which aims to improve the tactical leadership skills and flying capabilities of front line fighter mission commanders, to improve the tactical interoperability of NATO Air Forces through exposure to tactics and capabilities of other air forces and to provide a flying laboratory for tactical employment concepts. Taught in between flying course cycles are academic courses in disciplines including the COMAO Synthetic Course, a nine-day course focused on tactical leadership and COMAO mission planning. Both CAMAO courses will soon include classroom training on MVRsimulation's PTMTs.
Delivery and installation of the PTMTs (including MVRsimulation's VRSG and libraries of 3D content, and BSI's MACE software) took place in August 2021 and have already entered service as part of a major training exercise at Los Llanos Air Base in September 2021.
As part of the delivered geospecific 3D virtual terrain, MVRsimulation built and delivered two high-resolution insets of areas of interest (AOIs) in Spain, to be used for pilot training. The AOIs were modeled with substantial culture created from publicly available photos and then geolocated on the terrain in MVRsimulation's Scenario Editor.
Los Llanos Air Base, Albacete. This air base replica was built with 0.40 mpp imagery and 2 meter elevation and includes 80 geospecific building models (control towers, hangars, terminals, administrative buildings) and other structures (windsocks and antennas) placed along the flight-line, illuminated airport guidance signs, taxiway markings, and PAPI and runway lights.
The town of La Union, Murcia. The town was built with 0.25 mpp imagery and 30 meter elevation. Includes 95 building models; 24 are geospecific and have a destroyable switch and 71 were constructed in Esri CityEngine with CityEngine rule files to show a geotypical representation of the real life location. Roads (including roundabouts, sidewalks, crosswalks, and lane lines were also created using CityEngine. The AOI is populated with streetlight and tree models from MVRsimulation's culture model libraries.
These two AOIs are available on the terrain dataset of Spain, delivered as part of the geospecific terrain of Europe.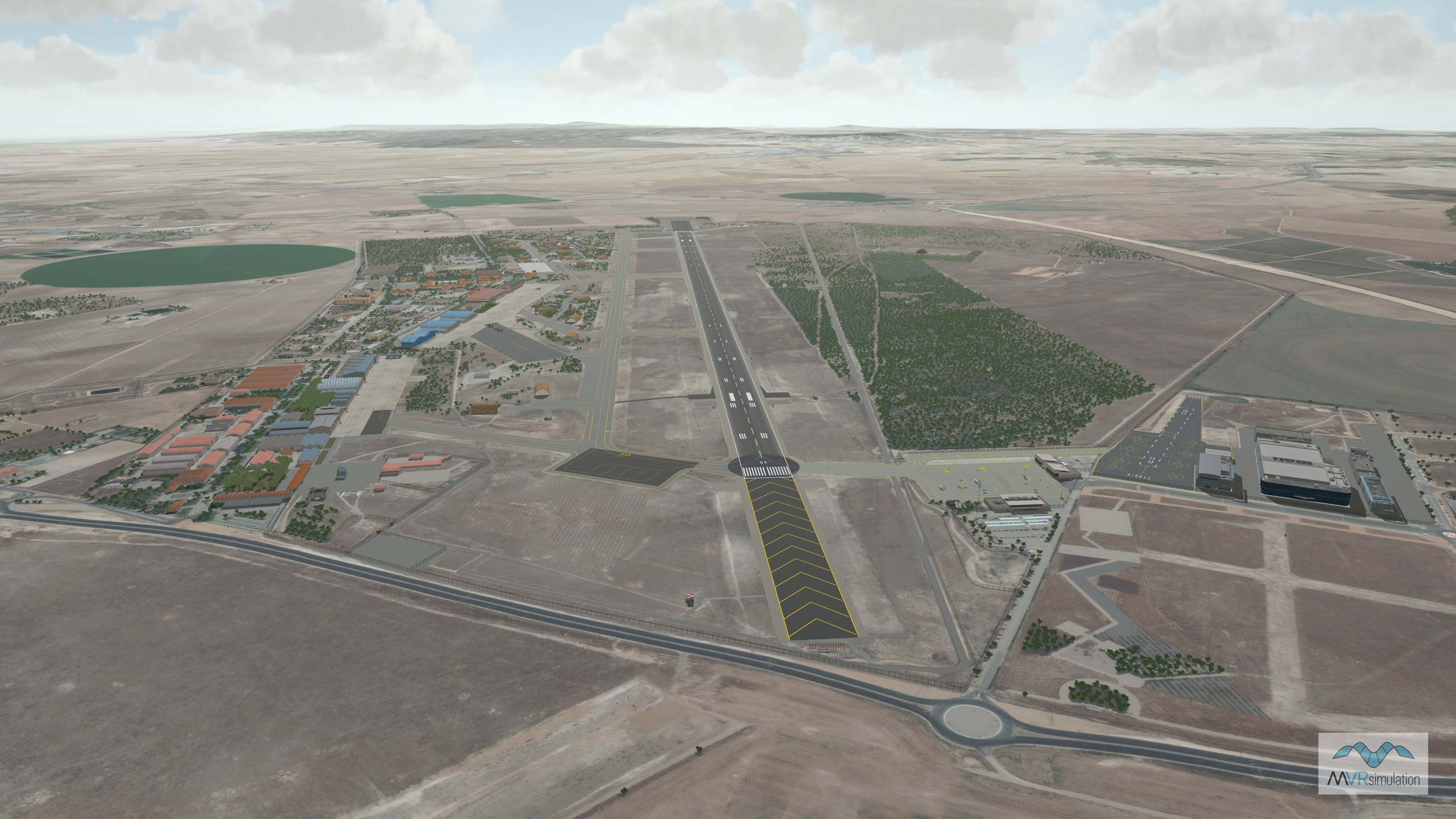 MVRsimulation VRSG real-time scene featuring a 3D replica of Los Llanos Albacete Air Base (LEAB).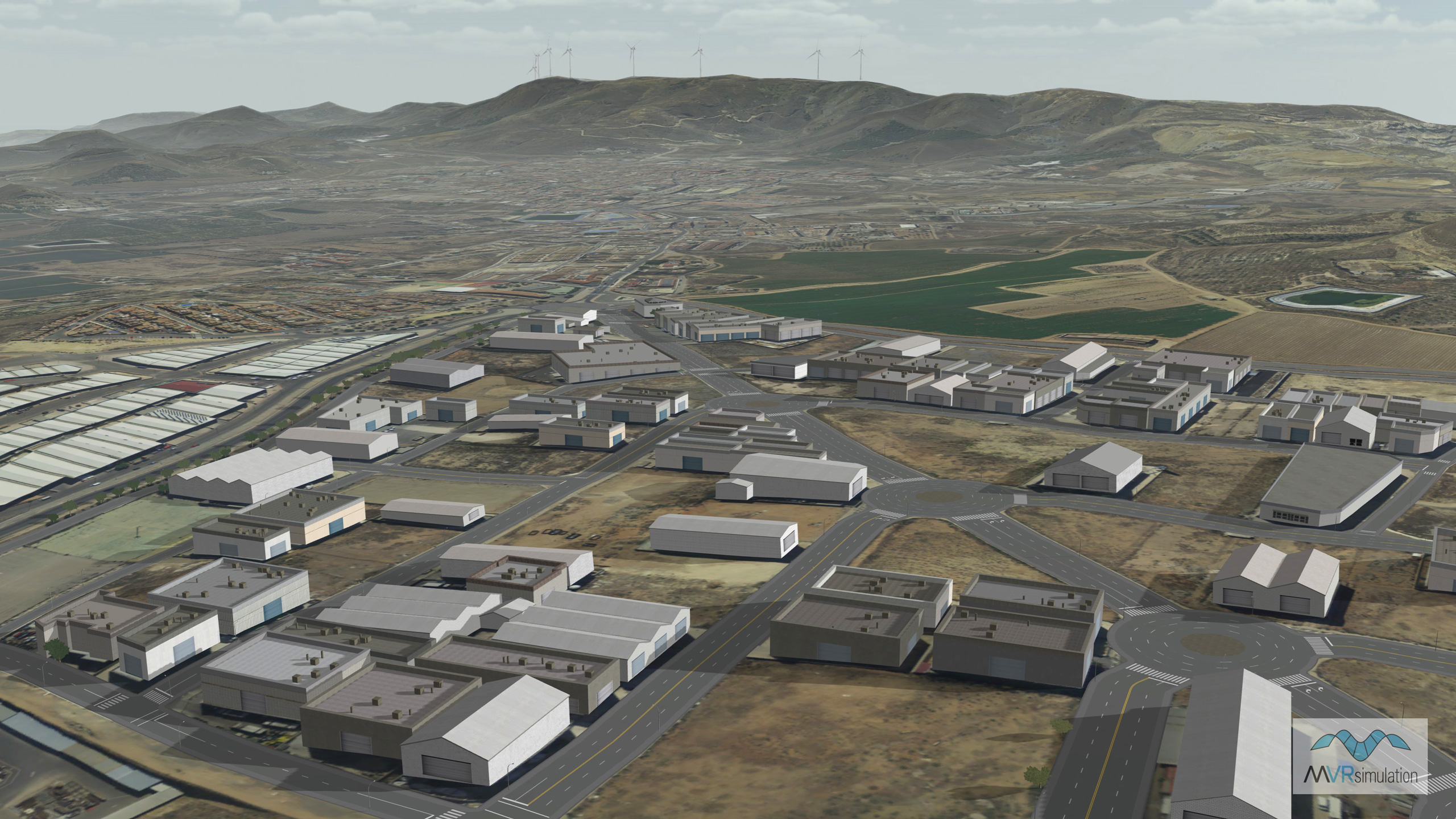 MVRsimulation real-time VRSG scene of La Union, Murcia, Spain.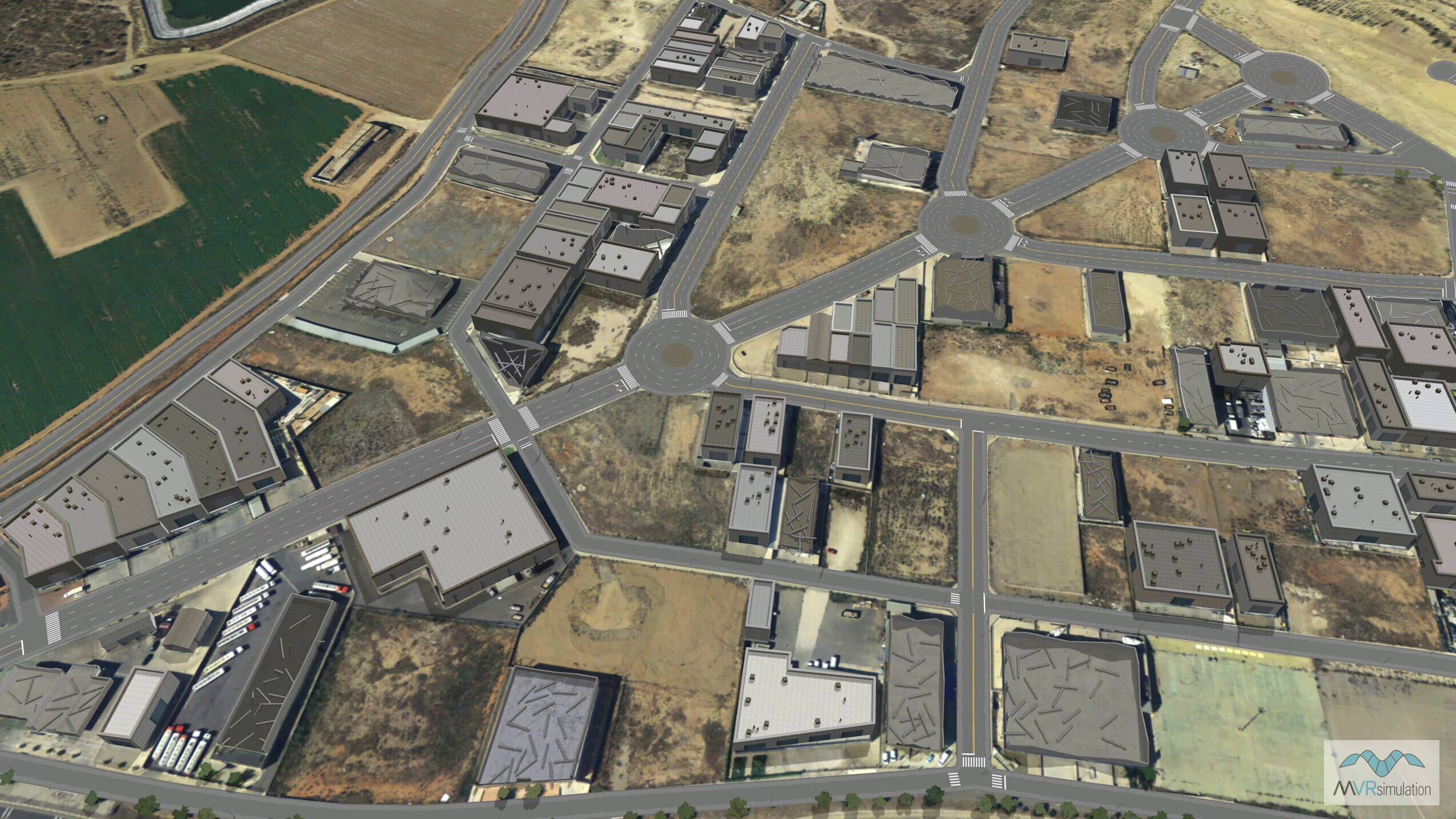 MVRsimulation real-time VRSG scene of La Union, Murcia, Spain. The scene shows some of the modeled buildings in a destroyed state.