F-16 Training Simulators at Luke Air Force Base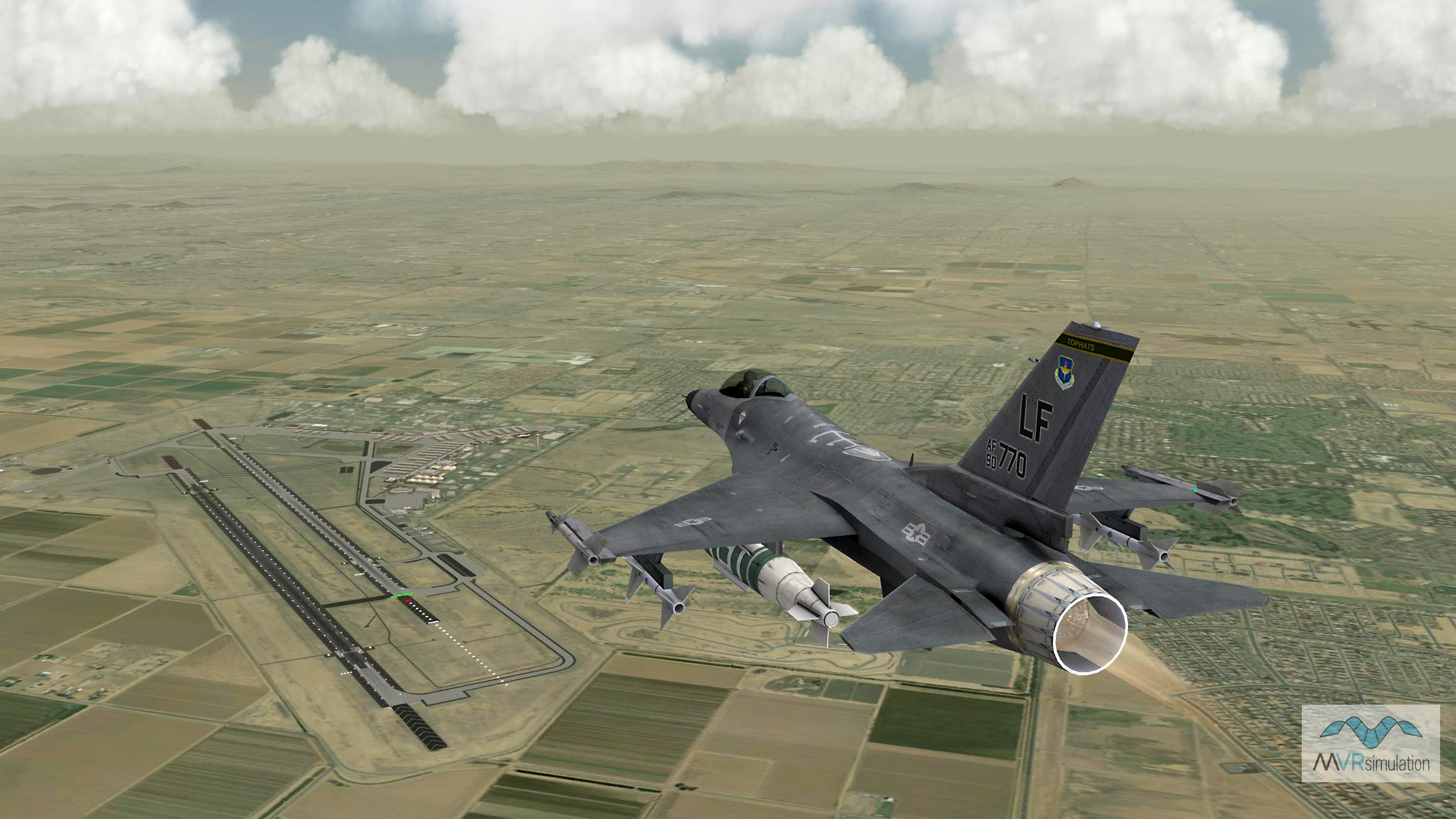 MVRsimulation VRSG real-time scene of an F-16C entity approaching the airfield of virtual Luke Air Force Base. The F-16 model is textured with Luke AFB markings.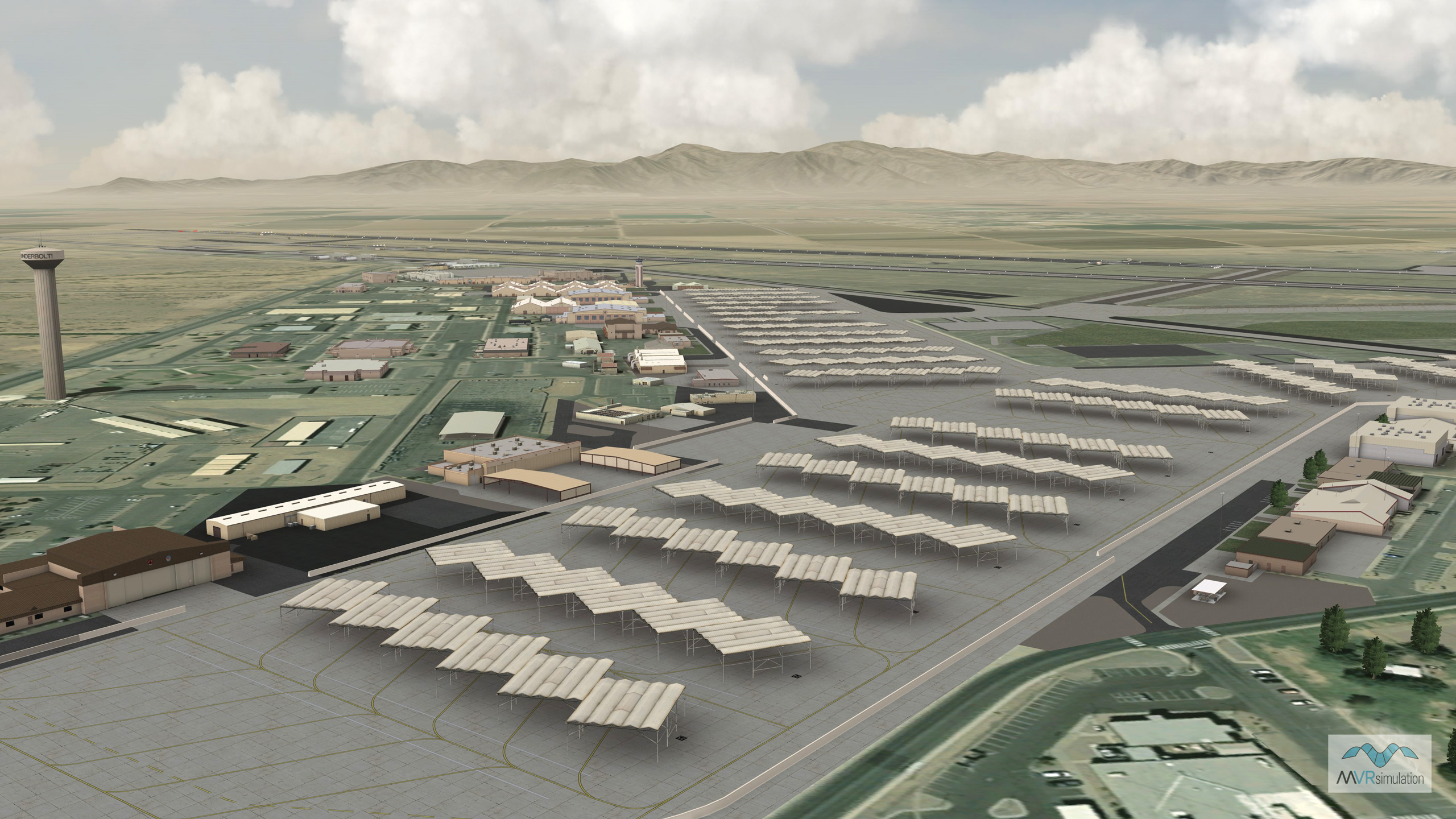 MVRsimulation VRSG real-time scene of the geospecific culture at the airfield on virtual Luke Air Force Base.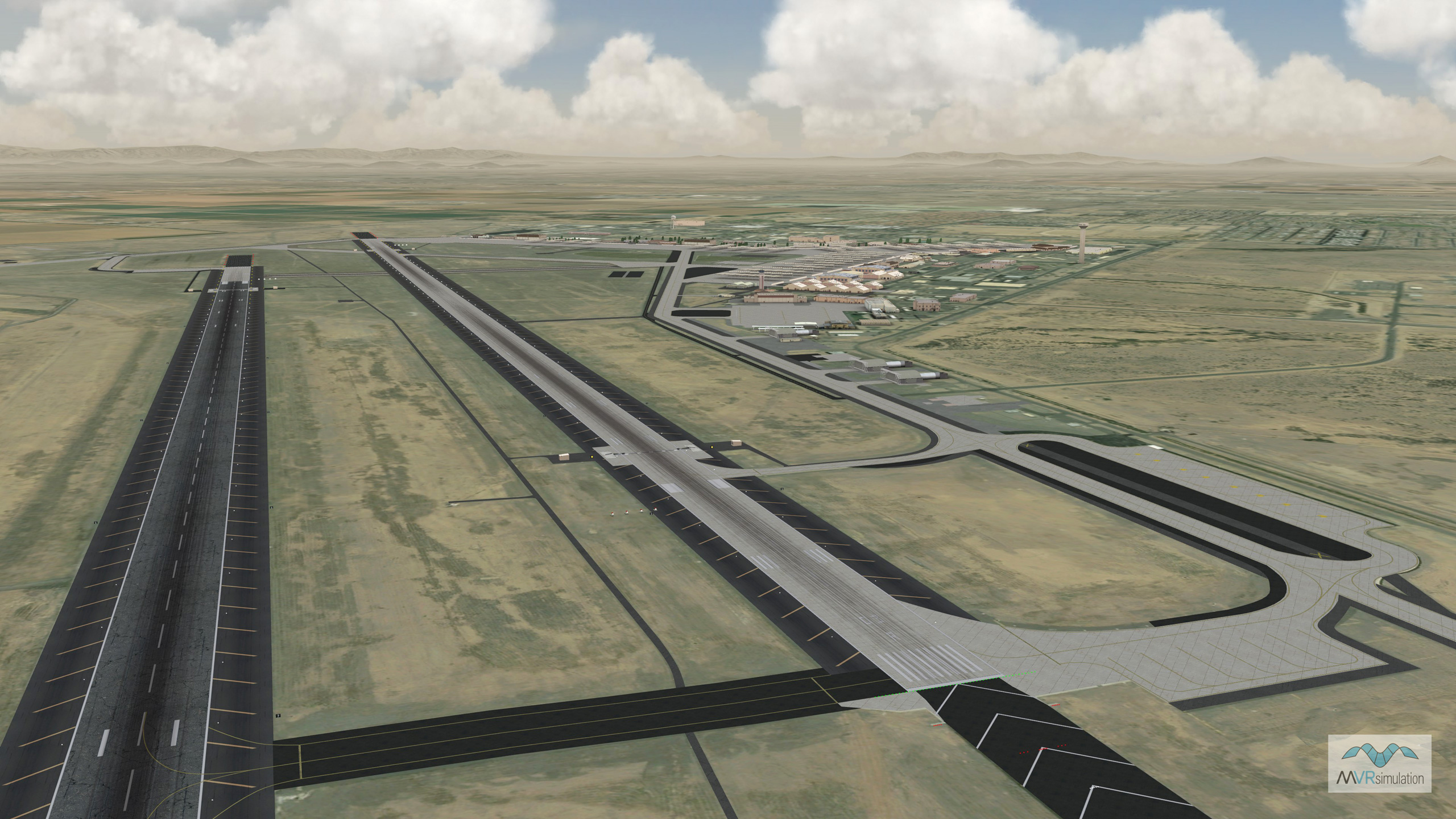 MVRsimulation VRSG real-time scene of the runway at virtual Luke Air Force Base.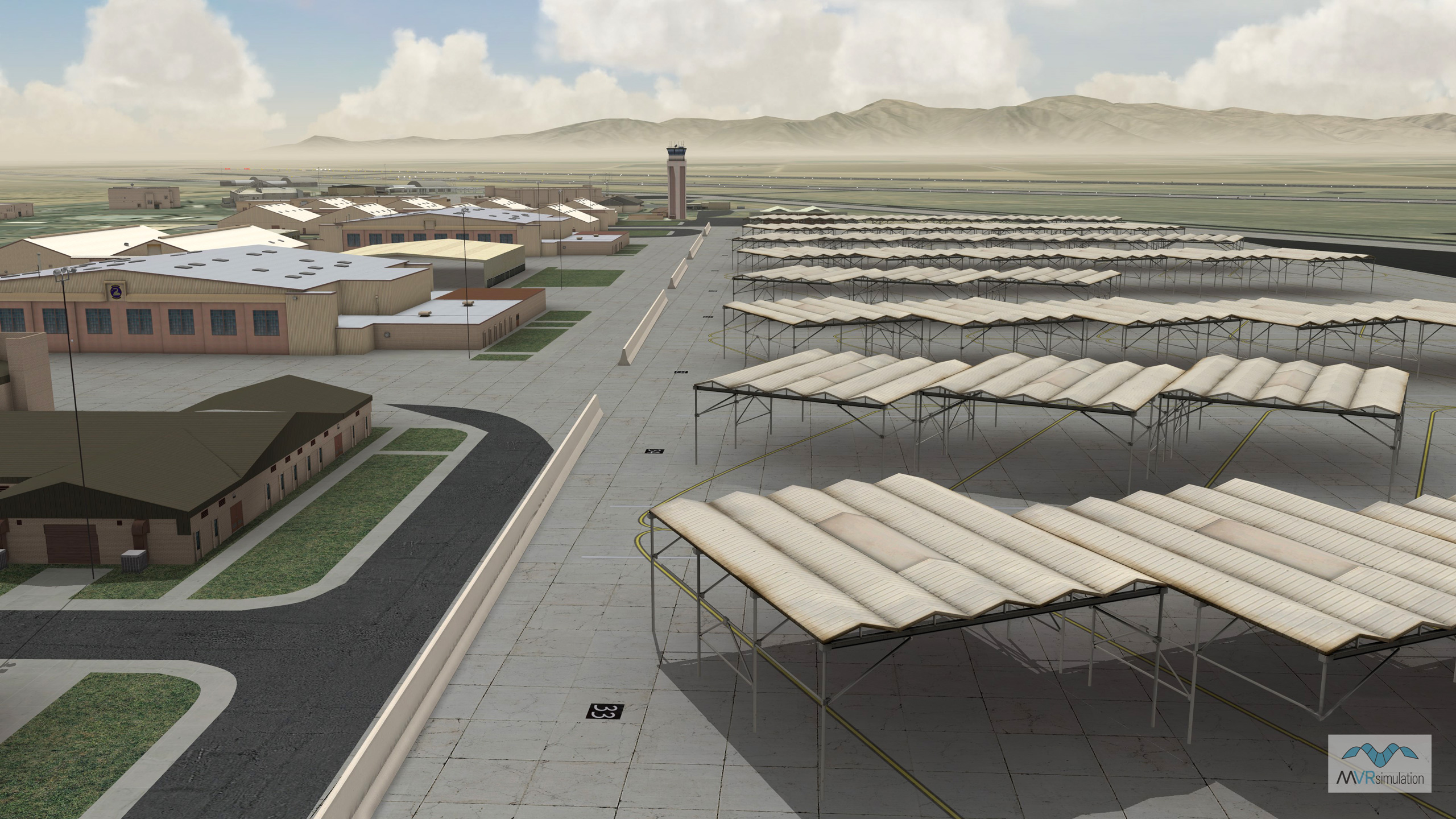 MVRsimulation VRSG flight-line scene at the airfield on the virtual Luke Air Force Base.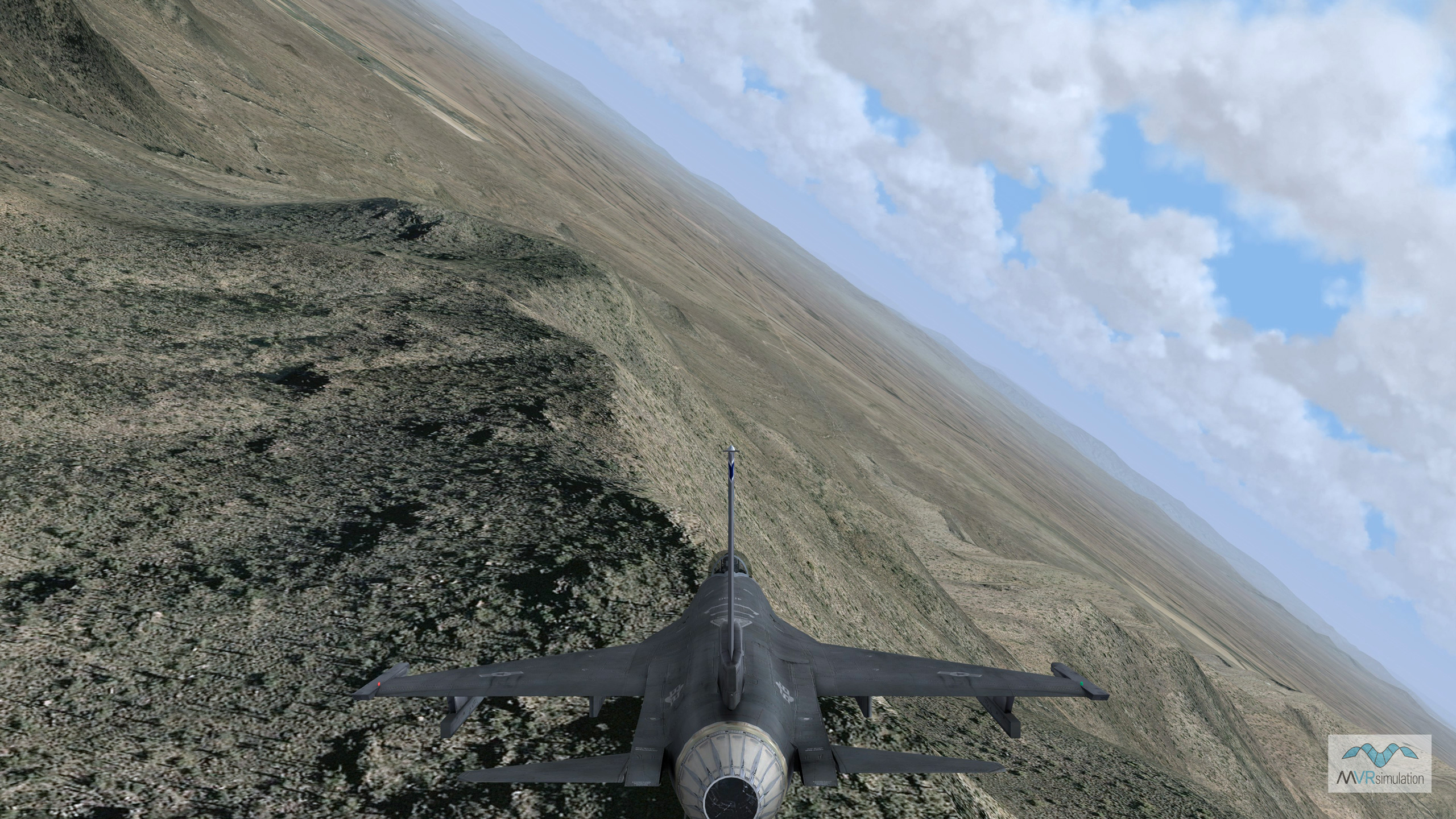 MVRsimulation VRSG real-time scene of an F-16C entity in flight over a rugged area of MVRsimulation's virtual terrain of Barry M. Goldwater Range.
Luke Air Force Base (KLUF) in Glendale, AZ, recently renewed software maintenance for 62 MVRsimulation VRSG licenses and one MVRsimulation Terrain Tools for Esri ArcGIS license for their F-16C Block 30/40 full-mission training simulators at the base's Network Training Center facility. Each dome-based multi-channel simulator contains a full cockpit replica of an actual F-16C, with VRSG rendering out-the-window (OTW) and sensor views.
F-16 Network Training Center
Located about 20 miles northwest of Phoenix, Luke Air Force Base (AFB) is the primary U.S. Air Force training facility for F-16 fighter pilots, who now regularly train to use night-vision goggles (NVGs). With the installed systems, pilots wear real NVGs that are stimulated by Christie Digital Systems Matrix StIM projectors. The solid state LED projectors provide simultaneous and independent control over both the visible and near-IR spectrum using LED illumination.
Over 400 F-16 pilots are trained per year. Trainees go through a structured syllabus totaling over 265 hours of classroom training, 55 hours of simulator and 80 hours of flight time. Simulation training is primarily conducted by contract academic instructors, many of which are former Air Force fighter pilots with extensive experience in the F-16. This simulator, with a visual display that provides a 360 degree field of view, is used for practicing air-to-air and air-to-ground tactics, and networked with other simulators.
Delivered systems and virtual terrain
For each F-16 cockpit trainer, the VRSG multichannel visual system includes 10 out-the-window (OTW) channels and 2 sensor channels.
As part of the initial VRSG delivery, MVRsimulation built and delivered high-fidelity geospecific 3D terrain of Luke AFB, to include the airfield and the Barry M. Goldwater Range (BMGR) with the East Tactical Range (ETAC) airfield with geographically located 3D models of all of the range targets. The terrain is in MVRsimulation's round-earth VRSG terrain format from natural color imagery. Imagery of the area of Arizona around Luke AFB is 1-meter resolution, BMGR is 0.50 m and the Luke airfield and its immediate on-base surroundings is .30 m resolution.
The BMGR is one of three tactical ranges in the Luke AFB area, spanning several hundred square kilometers. The range serves the U.S. Air Force and the U.S. Marine Corps as a training area for aerial gunnery, rocketry, electronic warfare, and tactical maneuvering and air support. As well, pilots and JTACs train for strike and close air support missions at BMGR.
During training exercises, pilots in the F-16 simulators at Luke AFB take off from the virtual airfield and fly to the virtual BMGR.
Cultural features
The terrain's cultural features include: 171 high-resolution, geolocated models of hangars, offices, storage facilities, and other structures: 104 at Luke AFB and 107 at the East Tactical Range (ETAC) at the BMGR. From photos taken on-site at the air force base, 97 unique geospecific models were built. Models also include a unique high-resolution F-16C aircraft model; runway models at Luke AFB and the main ETAC airfield; 673 static vehicle and sign models; 831,581 cultural lights of the greater Phoenix area as well as runway lights and runway signage at Luke AFB; and 103 geotypical volumetric trees.
56th training squadron
Luke AFB is the home of the 56th Fighter Wing and the 56th Training Squadron (TRS). The mission of the 56th TRS is to provide academic- and ground-based instruction to support training F-16 pilots and weapons directors. The 56th TRS trains almost one-half of all the Air Force's new fighter pilots each year. It conducts F-16 academic and device training in accordance with major command formal syllabi including initial instruction, transition courses, senior officer courses, Thunderbird and aggressor pilot instruction, forward air control, night systems and Block 50 specialized conversion courses. The 56th TRS also provides academic, simulator and live mission training for more than 75 upgrading weapons directors annually. All 56th TRS training is conducted across six facilities on Luke and the Papago Park military reservation in central Phoenix. This squadron provides Air Force acceptance and quality control of courseware and manages all aircrew training devices for the 56th Fighter Wing.