USAF A-10 Aircrew Training Systems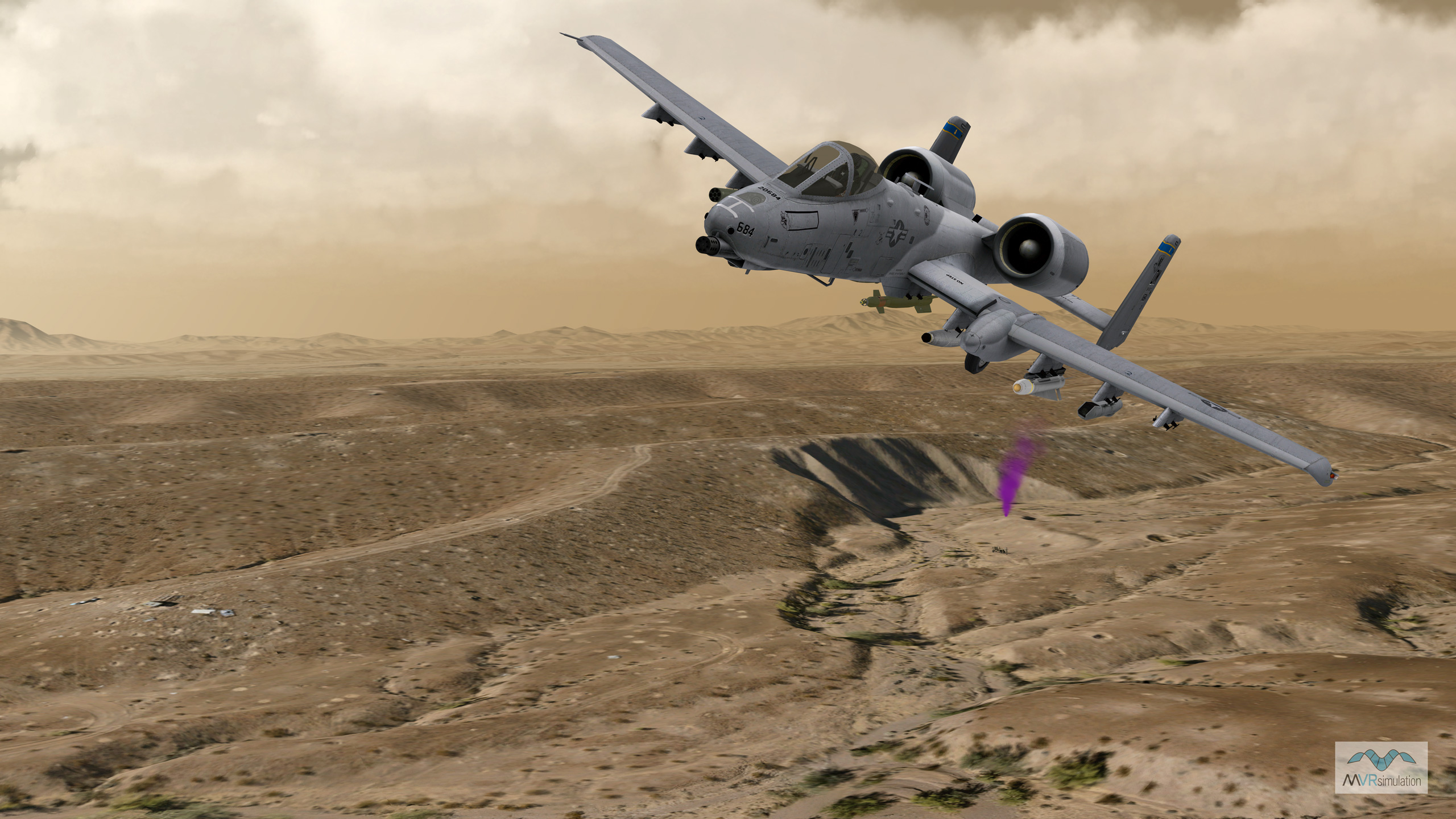 MVRsimulation VRSG real-time rendering of an A-10C entity flying over the geospecific 2 cm per-pixel resolution synthetic 3D terrain of the Prospect Square area of the U.S. Army Yuma Proving Ground (YPG).
Since 2001, MVRsimulation has been the primary supplier of 3D real-time visuals for the A-10 Full Mission Trainer (FMT) used in the A-10 Aircrew Training System. The U.S. Air Force currently uses 387 VRSG licenses and 5 Terrain Tools licenses (renewed July 2023) to equip new and existing sites with networked training systems that train U.S. pilots for close air support missions in conjunction with JTAC simulators.
The A-10 Aircrew Training System is defined as a Full Mission Trainer (FMT), a Hand-on-Throttle and Stick Trainer (HOTAS), a Brief/De-Brief System, and their supporting systems and equipment.
The A-10 FMT uses MVRsimulation visuals for the out-the-window and sensor views and consists of a high-fidelity replica of an A-10 aircraft cockpit, an Instructor Operator Station (IOS), a visual system and other equipment that provides trainees initial and ongoing training for flight, mission, and tactics. The HOTAS trainer is an A-10C precision-engagement functionality trainer used for initial A-10C pilot conversion and training.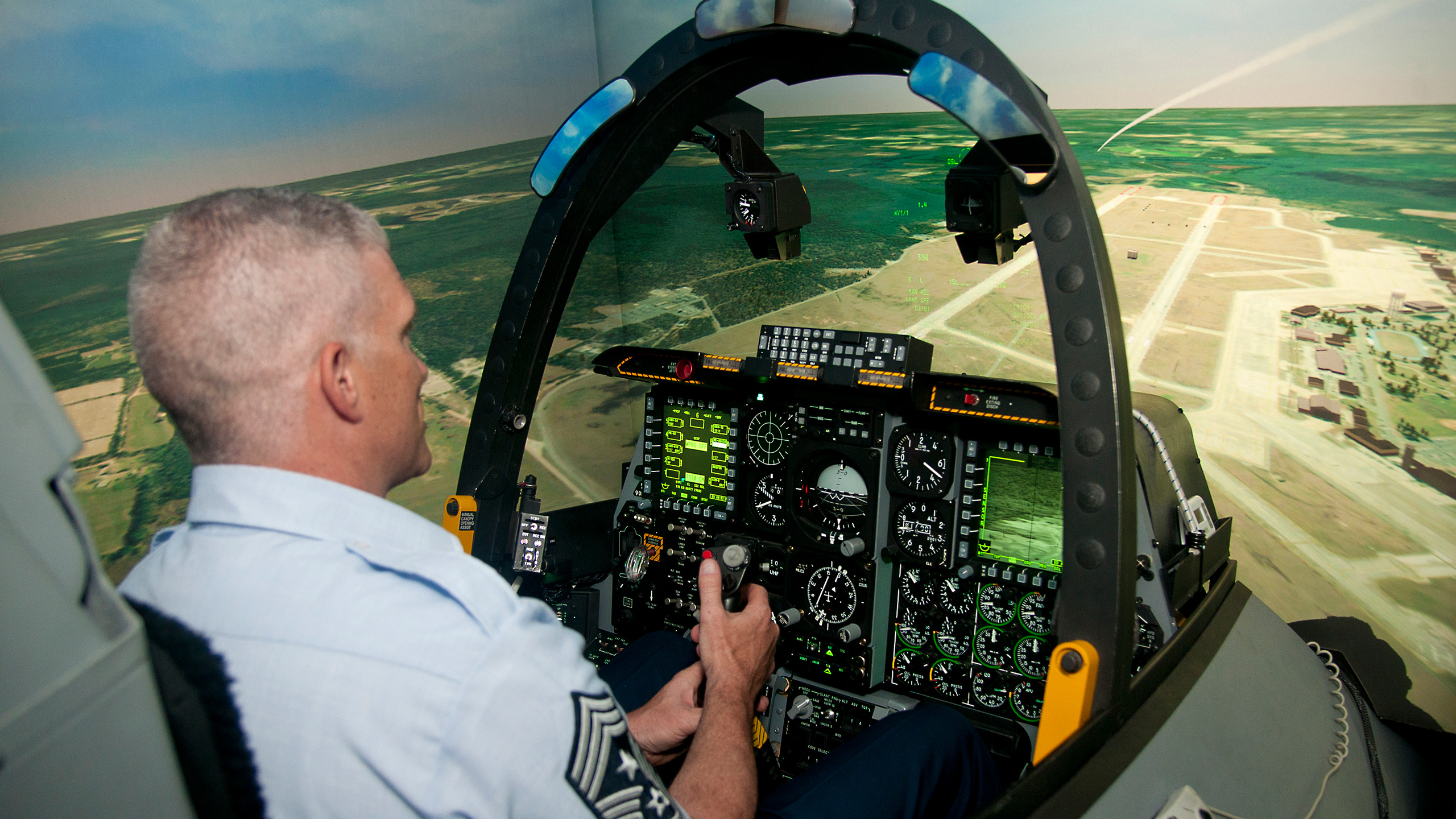 A-10 FMT installation at Moody Air Force Base, Georgia. The simulator uses MVRsimulation VRSG in a multi-channel configuration. (Photo courtesy of the U.S. Air Force.)
Ten sites have one or more MVRsimulation-based A-10 FMT simulators: Baltimore Air National Guard Base (ANGB), MD, Barksdale Air Force Base (AFB), LA, Boise ANGB, Gowan Field, ID, Davis-Monthan AFB, AZ, Ft. Smith ANGB, AR, Ft. Wayne ANGB, IN, Moody AFB, GA, Osan AB, Korea, Selfridge ANGB, MI, and Whiteman AFB, MO.
Click here to see a video of an A-10 FMT demonstration at Davis Monthan AFB to ROTC cadets from Embry-Riddle Aeronautical University.
The base FMT simulator configuration uses VRSG to drive an eight-screen display configured to fit within a nine foot ceiling. This operational configuration is a derivative of the Mobile Modular Display for Advanced Research and Training (M2DART). Other visual channels are used to provide the sensor views, such as for the A-10 Maverick missile and Sniper Advanced Targeting Pod (ATP).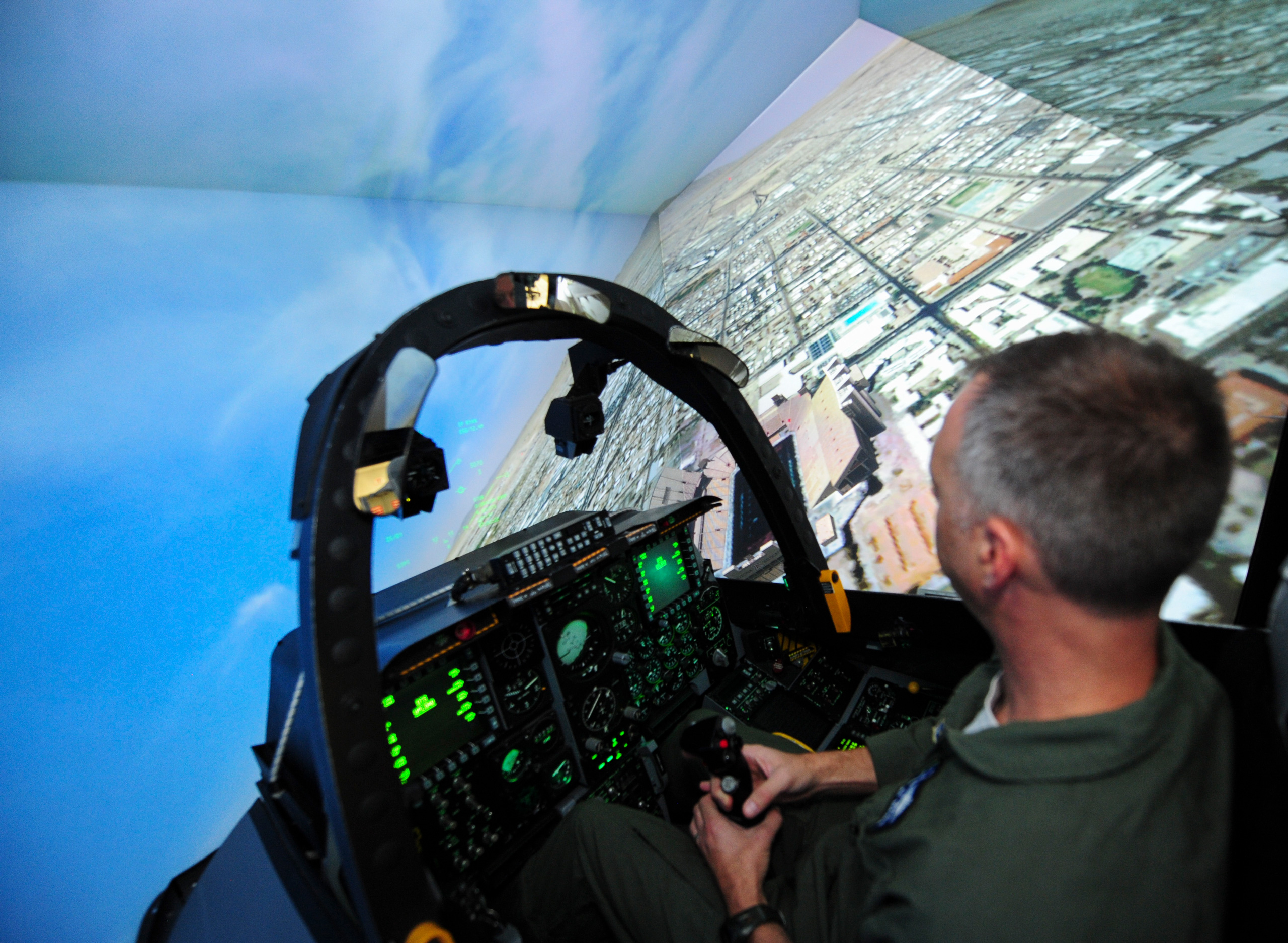 A 47th Fighter Squadron A-10 instructor pilot demonstrates the capabilities of an A-10 Full Motion Trainer (with VRSG) at Davis Monthan AFB. (U.S. Air Force photo/Airman Nathan H. Barbour.)
The MVRsimulation visual systems are delivered with government-furnished equipment (GFE) terrain databases that entail no cost or licensing fees available from the Simulator Database Facility (SDBF) at Kirtland Air Force Base. The 3D terrain databases are compatible with multiple customer applications of MVRsimulation technology such as in F-16 simulators.
All MVRsimulation visual systems were delivered with the latest version of VRSG software, which contains MVRsimulation's 3D content libraries. The 3D military vehicle library, which contains a significant number of unique entity models, includes the distributed mission training (DMT) 3D model set at no additional charge.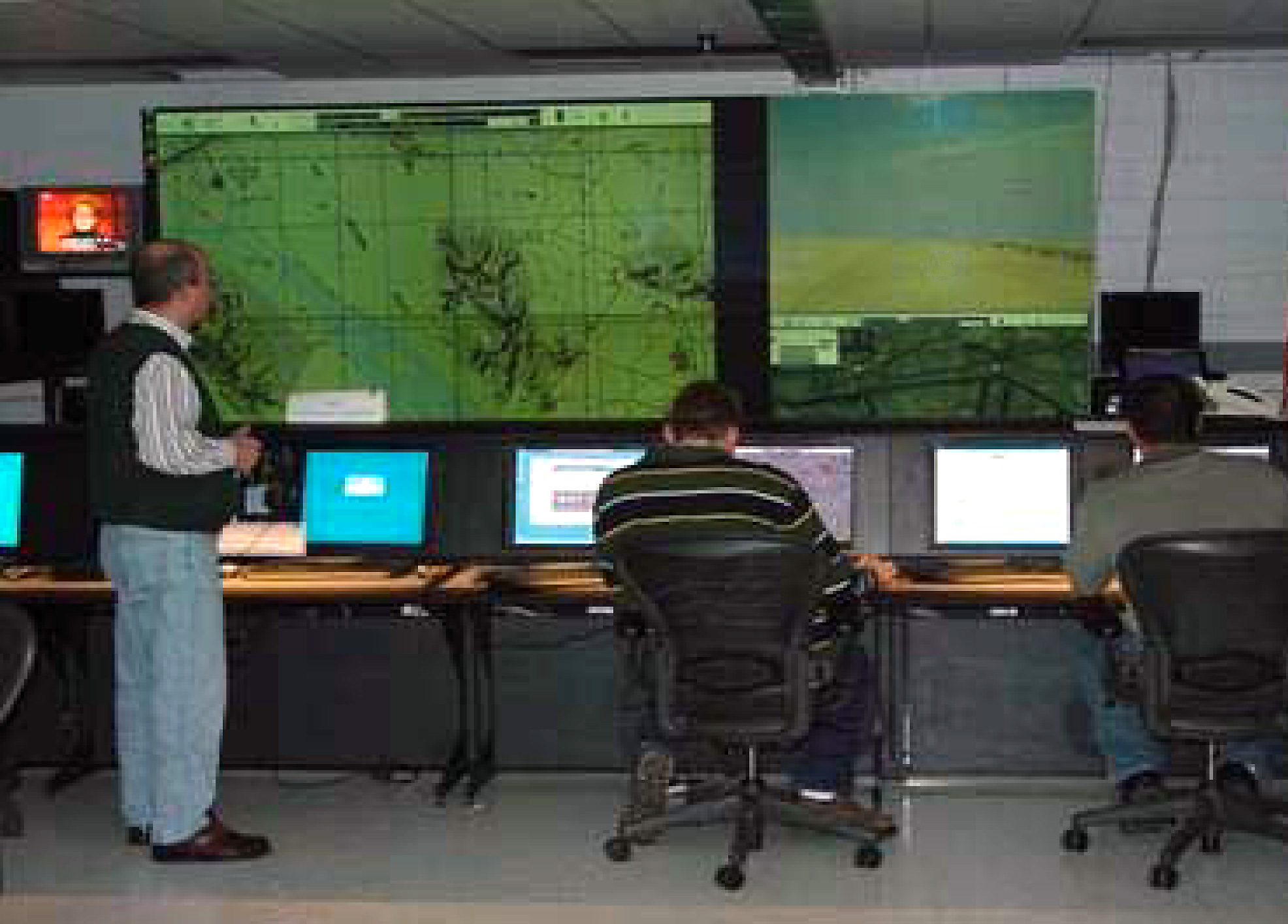 DTOC Event Control Center with VRSG running in the display on the right for observing and analyzing close air support missions. (Photo courtesy of the Air National Guard.)