AFRL F-16 Deployable Tactical Trainers (DTT)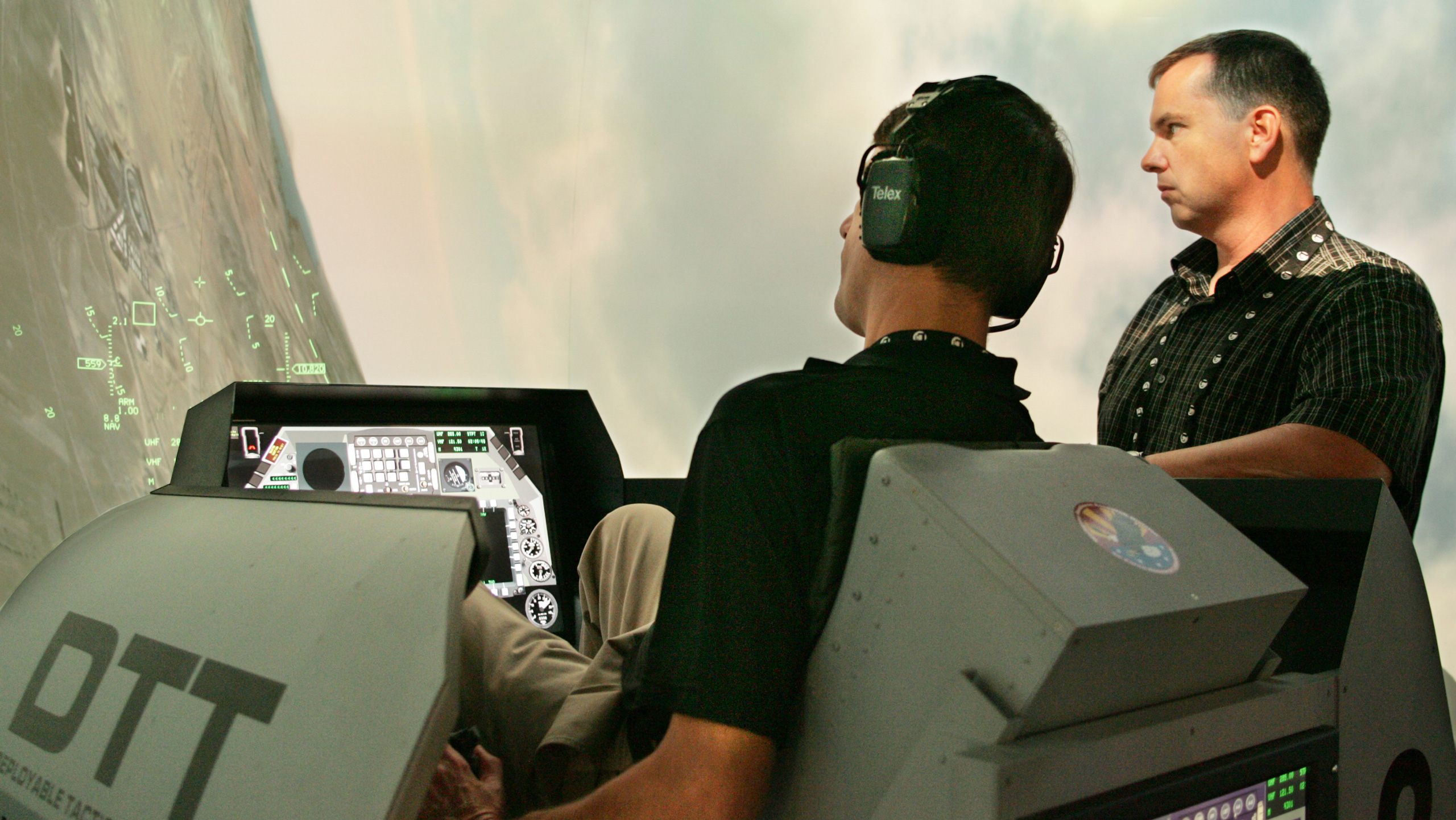 AFRL's F-16 DTT simulator using MVRsimulation multi-channel visual systems with a 3-meter dome display.
The Air Force Research Laboratory (AFRL), Warfighter Readiness Research Division, uses 26 MVRsimulation VRSG licenses in F-16 simulators at Wright Patterson Air Base, and in its F-16 Deployable Tactics Trainer (DTT) simulators located the USAFE Warrior Preparation Center at Einsiedlerhof Air Station, Germany. The F-16 DTTs are deployable, medium fidelity, in-theater dome training systems for keeping the warfighter proficient between missions. Each system consists of an F-16 Block 30 aircraft shell with the actual F-16 Operational Flight Program (OFP) and high-fidelity aircraft stick and throttle. These simulators provide the essential F-16 cockpit switches on a touch-screen LCD in front of the pilot.
Each F-16 DTT has six projected VRSG views on the partial dome in addition to a sensor view. Each system can be used as a standalone training tool or networked with other simulators to participate in larger exercises.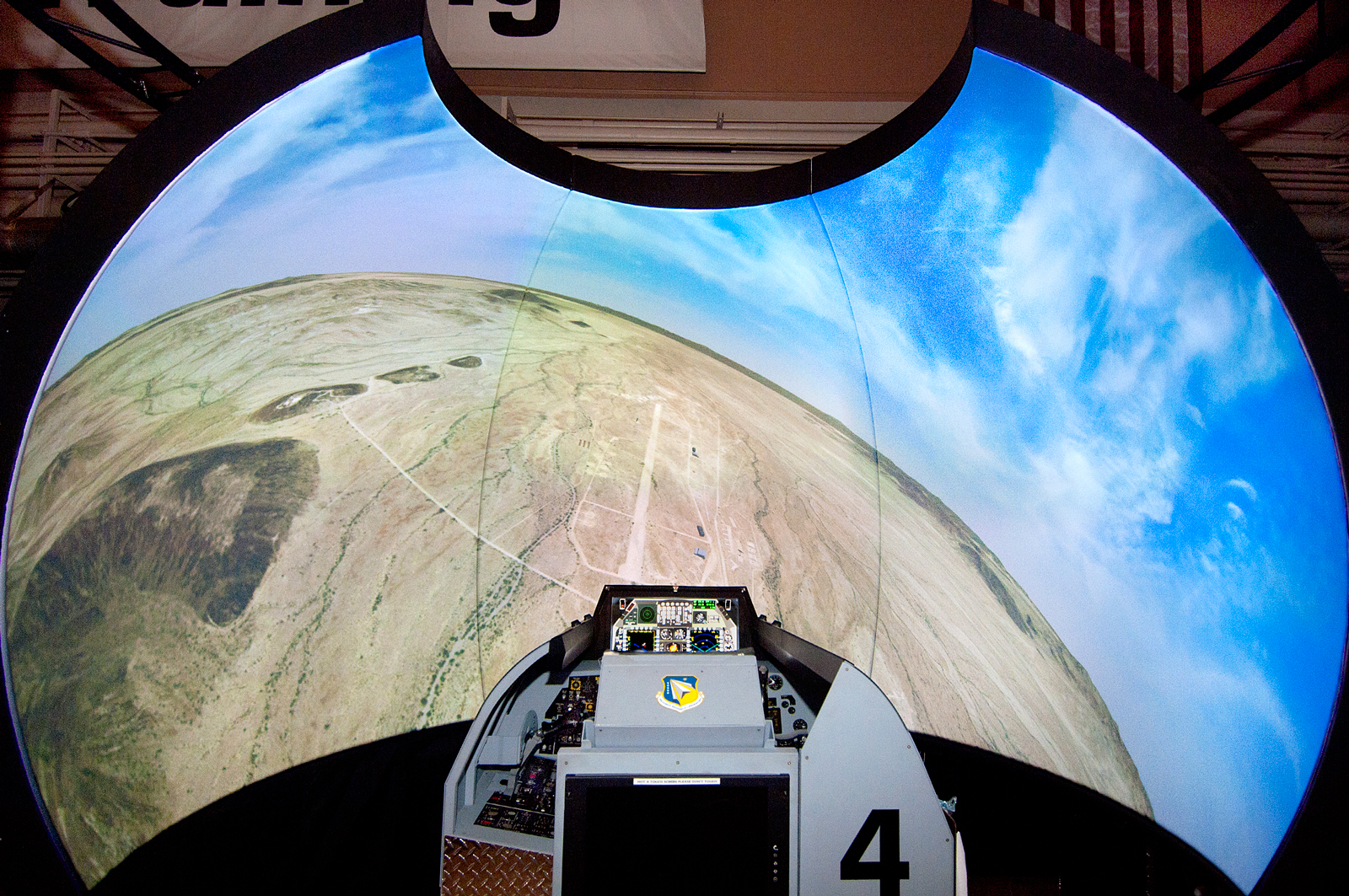 AFRL's F-16 DTT simulator using MVRsimulation multi-channel visual systems with a 3-meter dome display. (Note that the seams that appear in this test installation of the dome were eliminated in the final installation.) Photo courtesy of AFRL.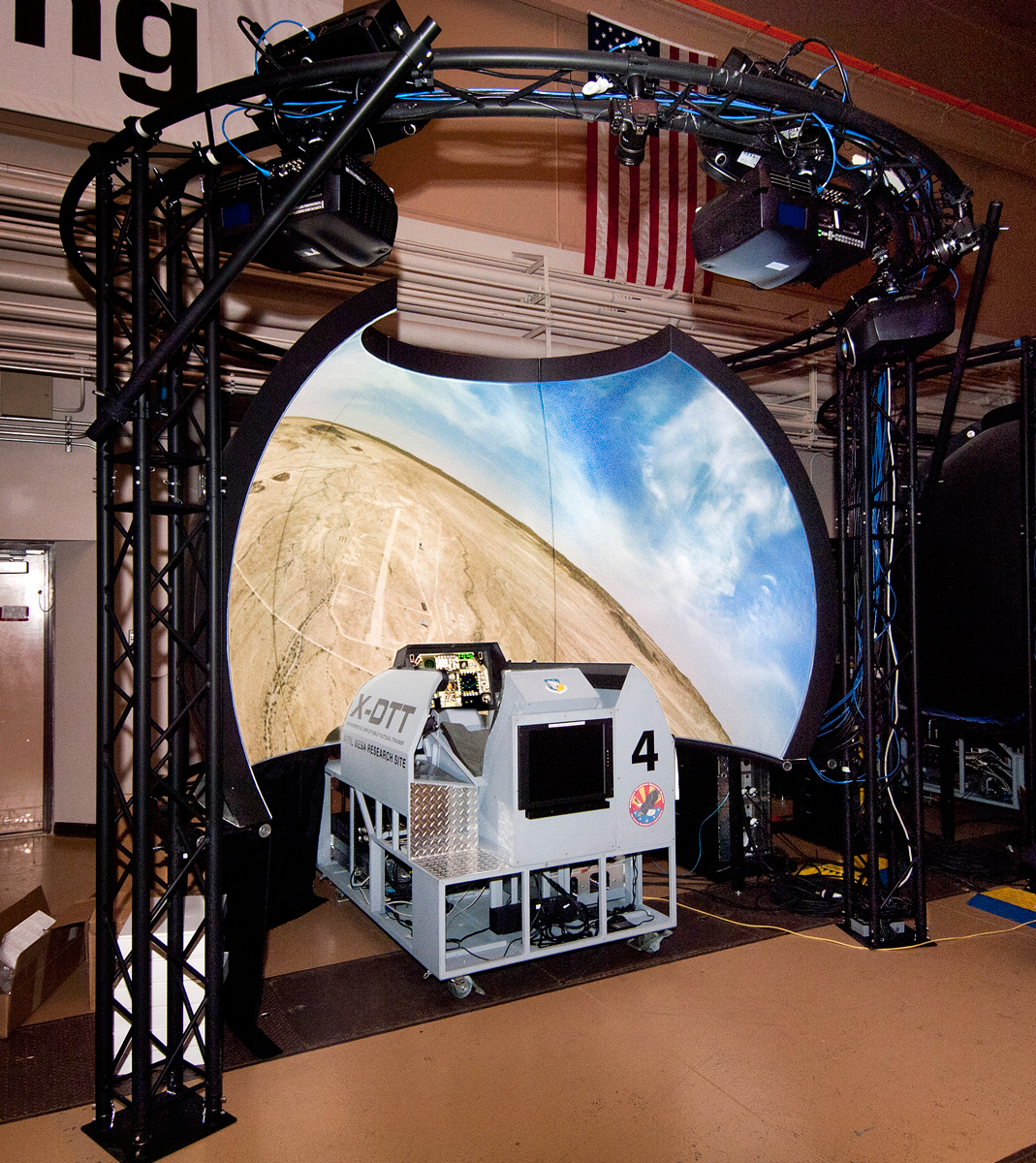 One of the F-16 DTT simulators at AFRL using MVRsimulation multi-channel visual systems. Photo courtesy of AFRL.
These F-16 DTT simulators were originally installed at the Aviano Air Base, Italy, where they were used for several years before being updated in 2019 and installed at the USAFE Warrior Preparation Center at Einsiedlerhof Air Station, Germany. (VRSG is also used at the Warrior Prep Center in other simulators, including the JTC TRS dome trainer.)
The goal of the DTT simulators is to provide pilots with the ability to practice and maintain air combat skills in forward operating locations. These simulators are intended for use by deployed pilots who generally perform missions in support of real world operations with limited or no sorties or flying range space available for training opportunities and who might incur deficiencies in critical mission skills needed for other theaters.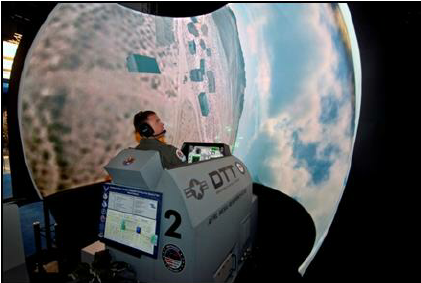 AFRL's F-16 DTT with MVRsimulation VRSG. Photo courtesy of AFRL.
The domes are constructed of fiberglass in order to provide the best possible surface that minimizes seams and reduces blemishes. Each dome is a 3.0-meter (diameter) display, providing 220-degree horizontal field-of-view (FOV) x 90-degree (+60/-30) FOV. The visual solution includes six Projection Design FL32 WUXGA projectors with wide-angle lenses; each projector has 1920 x 1200 pixel resolution. The integration of MVRsimulation VRSG with Scalable Display Technologies' warp/blend software provides for geometry warp and the auto alignment (edge blend) of all VRSG channels, resulting in a seamless image. The system has an average blended resolution of 11.5 million pixels, equals 4.8 arc-min/OLP. An integrated adjustable truss system supports all the projection equipment, auto alignment cameras, and the HUD projector. (The separate HUD projector is not shown in the photographs.)
AFRL is a research organization chartered to develop state-of-the-art training technologies and methods that support the 21st century warfighter. The primary goals of the research division are to develop or evaluate various technologies as training and research tools and to investigate training effectiveness through assessment in a distributed mission operations (DMO) environment. The training research environment at AFRL is comprised of various simulation systems and performance measurement tools that provide warfighters with opportunities to develop and refine their knowledge and skills required to be successful in a combat environment.
Background material for F-16 DTT at AFRL is extracted from the paper Impact of Visual Scene Field of View on F-16 Pilot Performance from the Proceedings of the Human Factors and Ergonomics Society Annual Meeting 2007.