AFRL PRINCE MQ-1/9 RPA simulator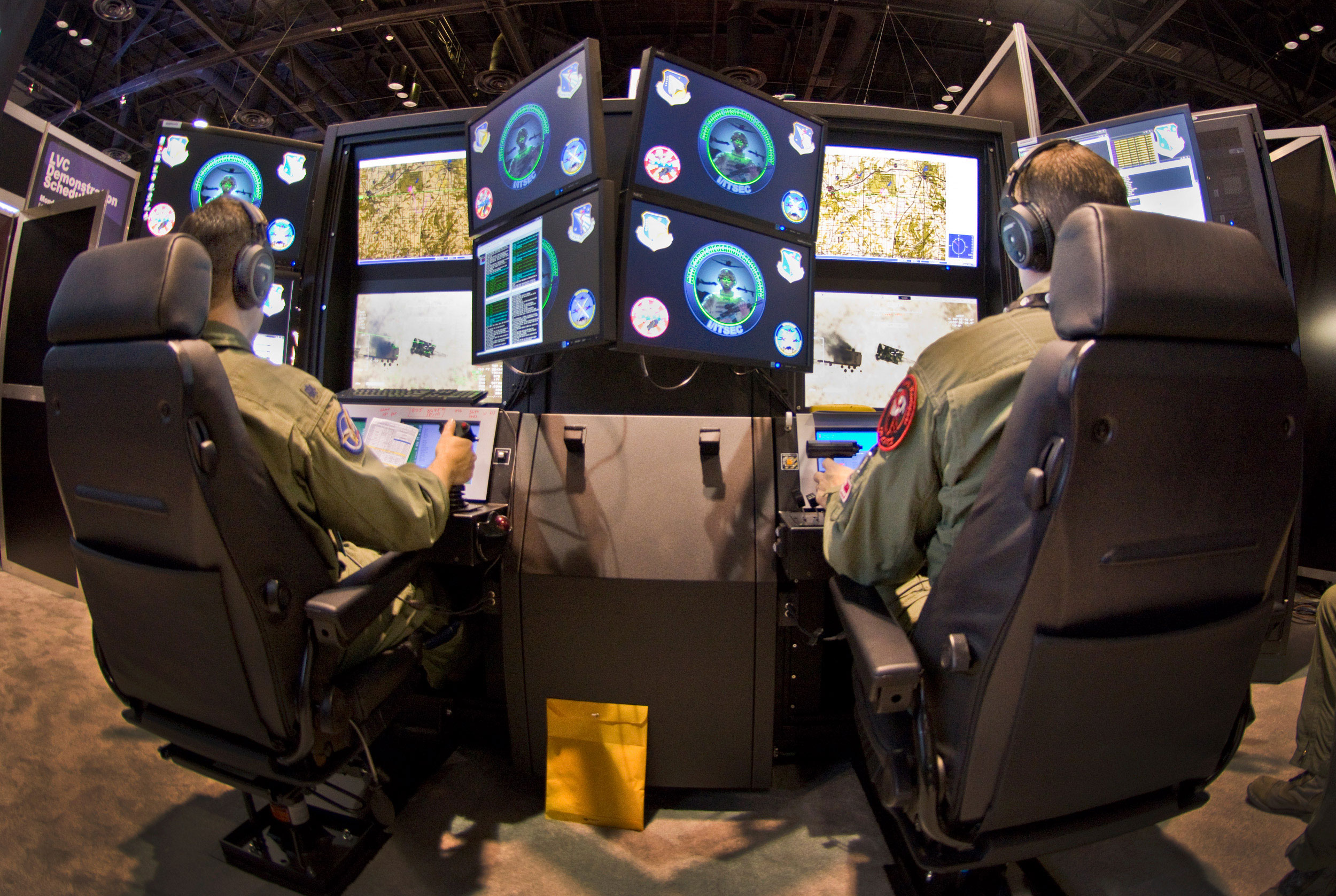 AFRL's PRINCE MQ-9 simulator with MVRsimulation visuals in "Cleared Hot" LVC demo. (Photo courtesy of AFRL Warfighter Readiness Division.)
PRINCE
One aspect of training UAS operators entails interacting with JTACs in joint mission training. Training together in a networked synthetic environment, the UAS operator and the JTAC on the ground work together to identify the same target in a scene.
The Air Force Research Laboratory's (AFRL's) Warfighter Readiness Research Division 711th Human Performance Wing at Wright Patterson Air Force Base has long used MVRsimulation's Virtual Reality Scene Generator (VRSG) in various training research simulators. AFRL was an early adopter of VRSG as the IG for their JTAC training dome (precursor to the current AAJTS and JTC-TRS dome systems).
Close air support (CAS) training missions that are run in their three JTAC dome systems now include an AFRL-developed Predator training-research simulator, called the Predator Research Integrated Network Combat Environment (PRINCE). PRINCE is a high fidelity, networkable MQ-1 and MQ-9 Remotely Piloted Aircraft (RPA) simulator, which serves as an R&D tactical simulator for Predator pilots and sensor operators. As part of AFRL's research in human performance methods and technologies that provide the warfighter the necessary knowledge and skill to dominate their operational environment, the objective of the PRINCE research program is to meet known training gaps in UAV tactical operations such as JTAC integration.
VRSG is currently integrated as the simulator's IG for cross-training with the JTAC dome systems. PRINCE team members use VRSG Scenario Editor to populate the 3D terrain with culture (such as building up dense urban areas) and for creating pattern-of-life scenarios. As an example, the PRINCE can take part in a CAS training mission that includes a convoy overwatch with enemy targets in the area; VRSG generates the simulated MQ-1 camera feed that appears on both the ground control station monitor and a video receiving device (ATAK or ROVER) used by the JTAC.
In an unrelated AFRL UAS project, VRSG has also been used for sensor simulation in the Vigilant Spirit Control Station package for several years. This system is now in use with the 558th Flying Training Squadron (558 FTS) at Joint Base San Antonio Randolph, with VRSG providing visuals for 52 RPAS simulators for the Undergraduate Remote Piloted Aircraft Training Ground Based Training Systems program.
NITE Lab
The AFRL also uses VRSG and Terrain Tools software for the Networked Integrated Tactical Exercise (NITE) synthetic training environment. VRSG provides visuals for the NITE testbed, which trains commanders, staff, and joint fires to solve time/speed/distance problems concerning collateral concerns adapting to varying terrain and conditions, and maximizing lethality using rapid weaponeering solutions against static and mobile targets.

This testbed incorporates multiple functional Joint Operations Centers (JOCs), PRINCE simulators (an MQ-1/9 simulator suite that replicates a GCS), S-100 UAS and manned ISR asset simulators. All asset video feeds are simulated by VRSG, and VRSG also provides the shared virtual world in which training missions take place, including 3D terrain and culture. The capability allows JTACs, Joint Fires and strike assets to train together via a DMO network in a way that closely replicates real-world missions.

This critical capability focuses not on individual platform training, but in creating a simulated environment that allows for problem-solving and collaborative decision-making processes – those that make or break mission success – between commanders, staff, and joint fires to be practised securely.

Most recently, the AFRL renewed 56 VRSG and two Terrain Tools software licenses for NITE Lab in Q2 2023.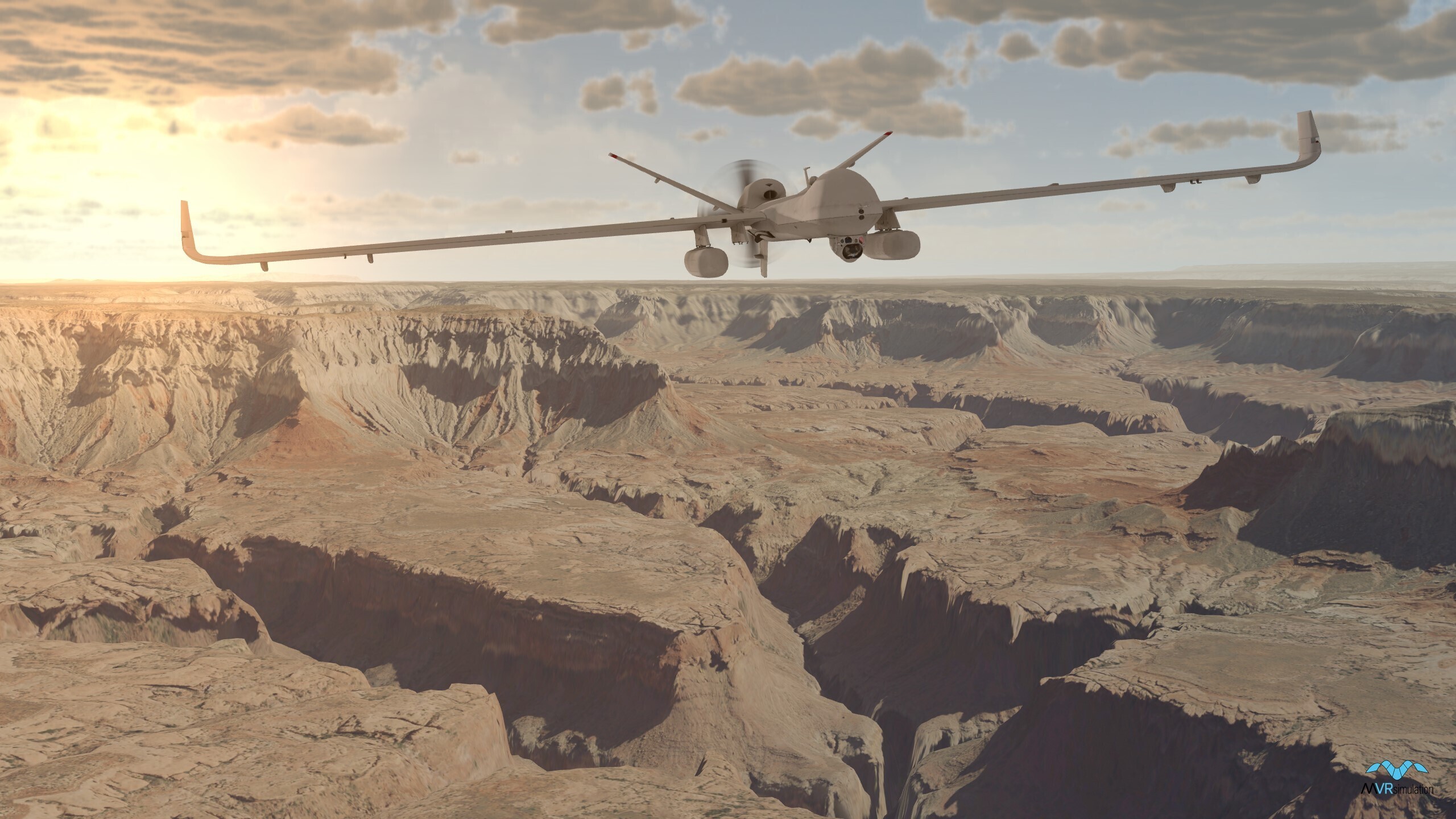 An MVRsimulation MQ-9 entity in flight over VRSG terrain of the Grand Canyon.