Aerial Refueling Training Programs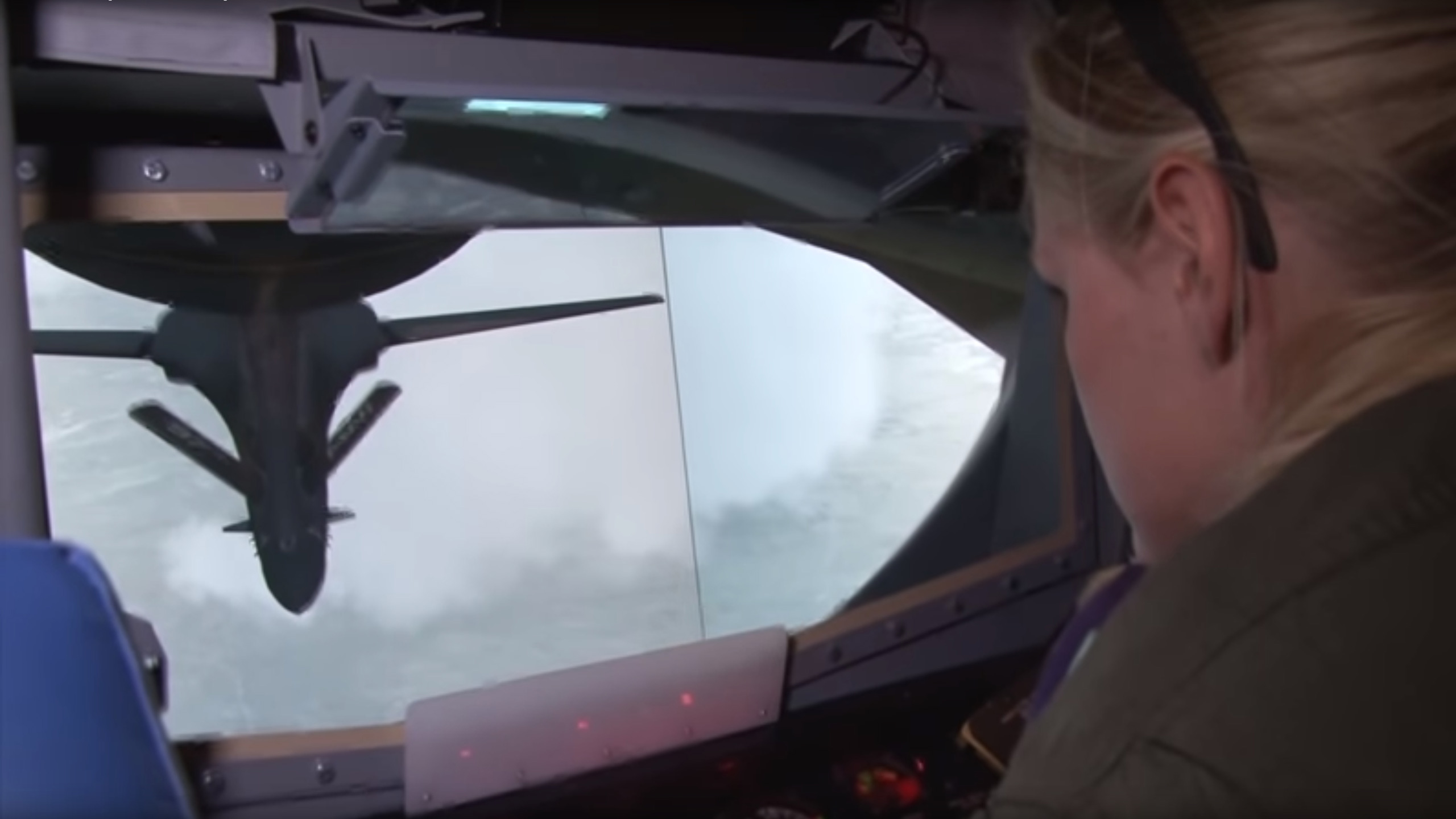 Image from Iowa Air National Guard video of KC-135 refueling simulation in the BOSS. (Photo: Still image from video by Master Sgt. Vincent De Groot 185th Air Refueling Wing, Iowa Air National Guard.)
MVRsimulation Virtual Reality Scene Generator (VRSG) is used in multiple aerial refueling simulation programs.
Mobility Air Forces Distributed Mission Operations (MAF DMO)
In Q4 2022, MVRsimulation received an order for 30 VRSG licenses to support the Mobility Air Forces Distributed Mission Operations (MAF DMO) program.
The MAF DMO program's mission is to train in a secure, realistic networked environment while reducing risk and operating costs, with capabilities that enable Live, Virtual and Constructive (LVC) participation in a wide range of MAF, U.S. Air Force, Joint and Combined exercises.
A major focus for the effort, led by prime contractor Northrop Grumman, is the provision of on-demand, cyber-secure, distributed training solution for training missions, including virtual air refueling, using virtual air refueling in geographically dispersed, networked, high-fidelity training simulators – representing the tanker aircraft, boom operator pod and the receiver aircraft.
As a long time enabler of CAF DMO, the geographically dispersed, networked simulation is a key capability of VRSG. We have also developed wide ranging support for high-fidelity aerial refueling simulation, including 3D military aircraft models that include geometric detail sufficient to support the aerial refueling mission.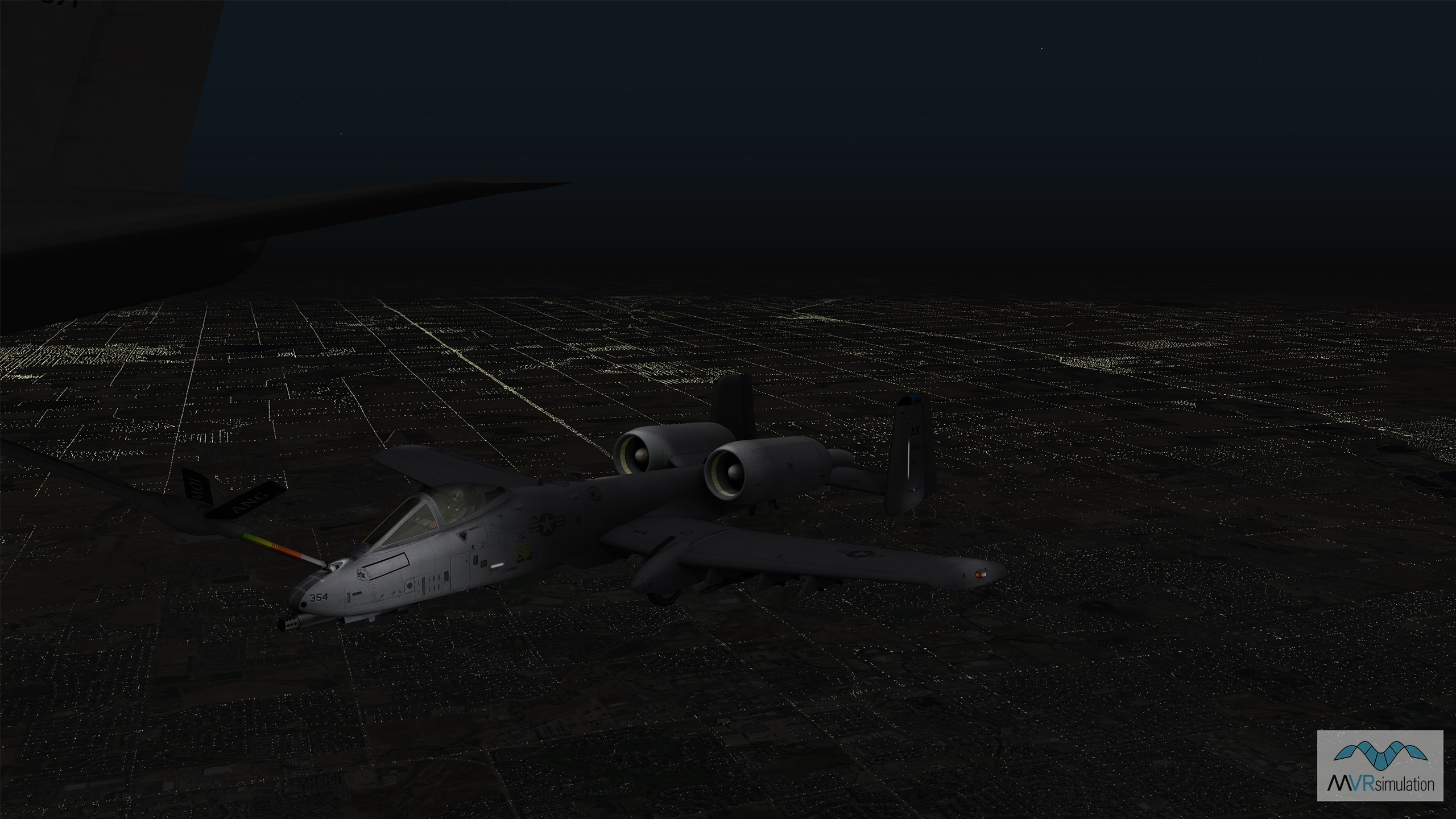 VRSG uses GIS vector data of road networks to place light points of random spacing and intensities, resulting in realistic nighttime scenes of urban areas from high altitude. Recognizable road networks are often used in nighttime refueling operations to enhance navigation and situational awareness for pilots.

ANG BOSS refueling simulator
The Air National Guard (ANG) Refueling Wing uses 143 VRSG real-time licenses in the KC-135R Boom Operator Simulator System (BOSS) at 17 units. This fully immersive Distributed Mission Operations (DMO)-capable refueling boom operator trainer is a high-fidelity replica of a KC-135R Block 40 boom pod, and has been certified by the U.S. Air Force for boom operator training missions in lieu of actual flight time.
The BOSS environment emulates the actual aircraft boom controls and includes associated operating systems, 4-channel image generation and projection systems, instructor operator station, physics-based tanker and receiver models, threat environment generation station, and ARCNet Gateway. Other technologies include head-tracking, voice recognition and synthetic response, and a recording/debriefing capability. The compact size of the BOSS (22' x 21') allows it to fit within a 27' x 30' room with 12' ceilings.
Click here to see a video of the KC-135 BOSS refueling simulator.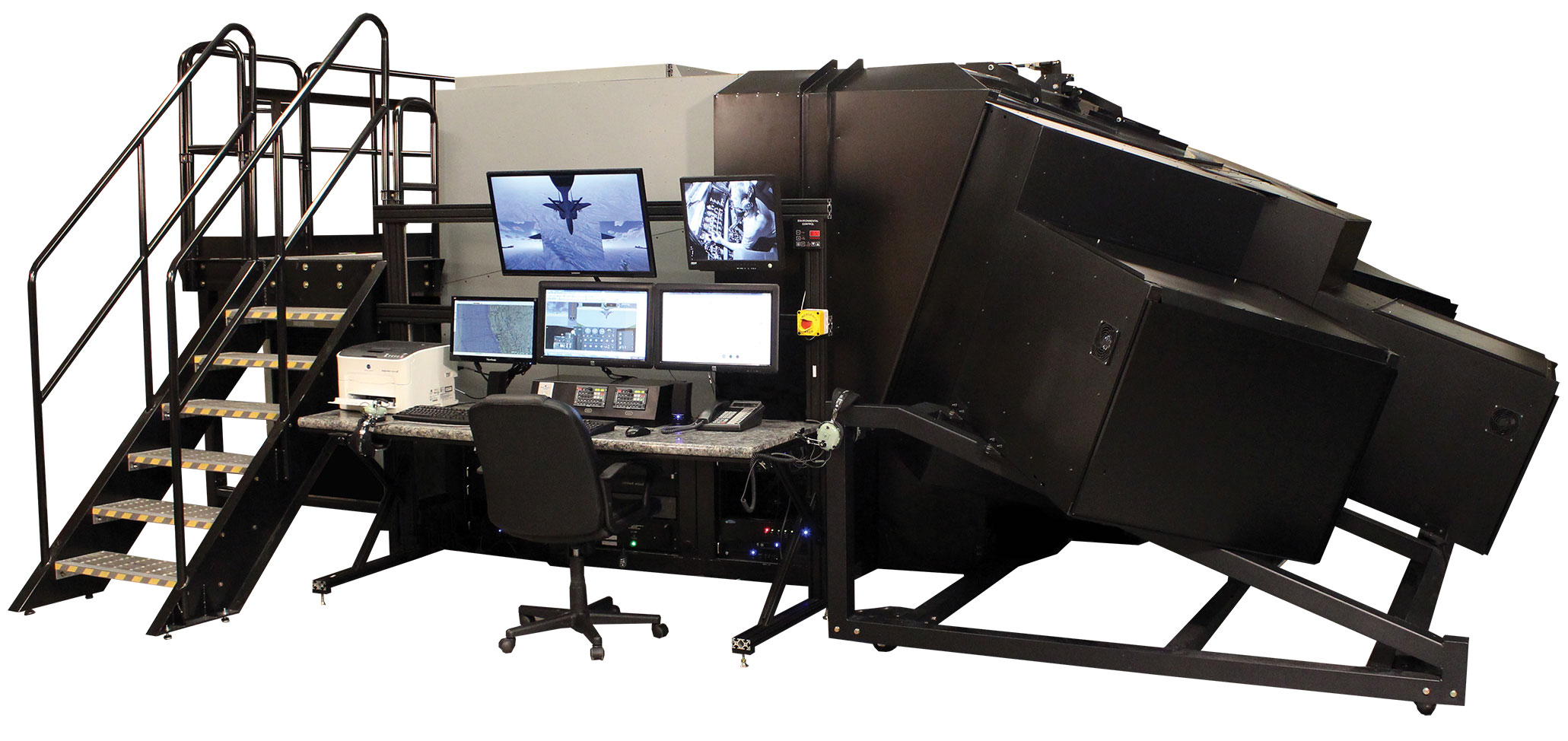 KC-135R ANG Boom Operator Simulator System (BOSS) with MVRsimulation visuals. (Photo courtesy of FAAC Inc.)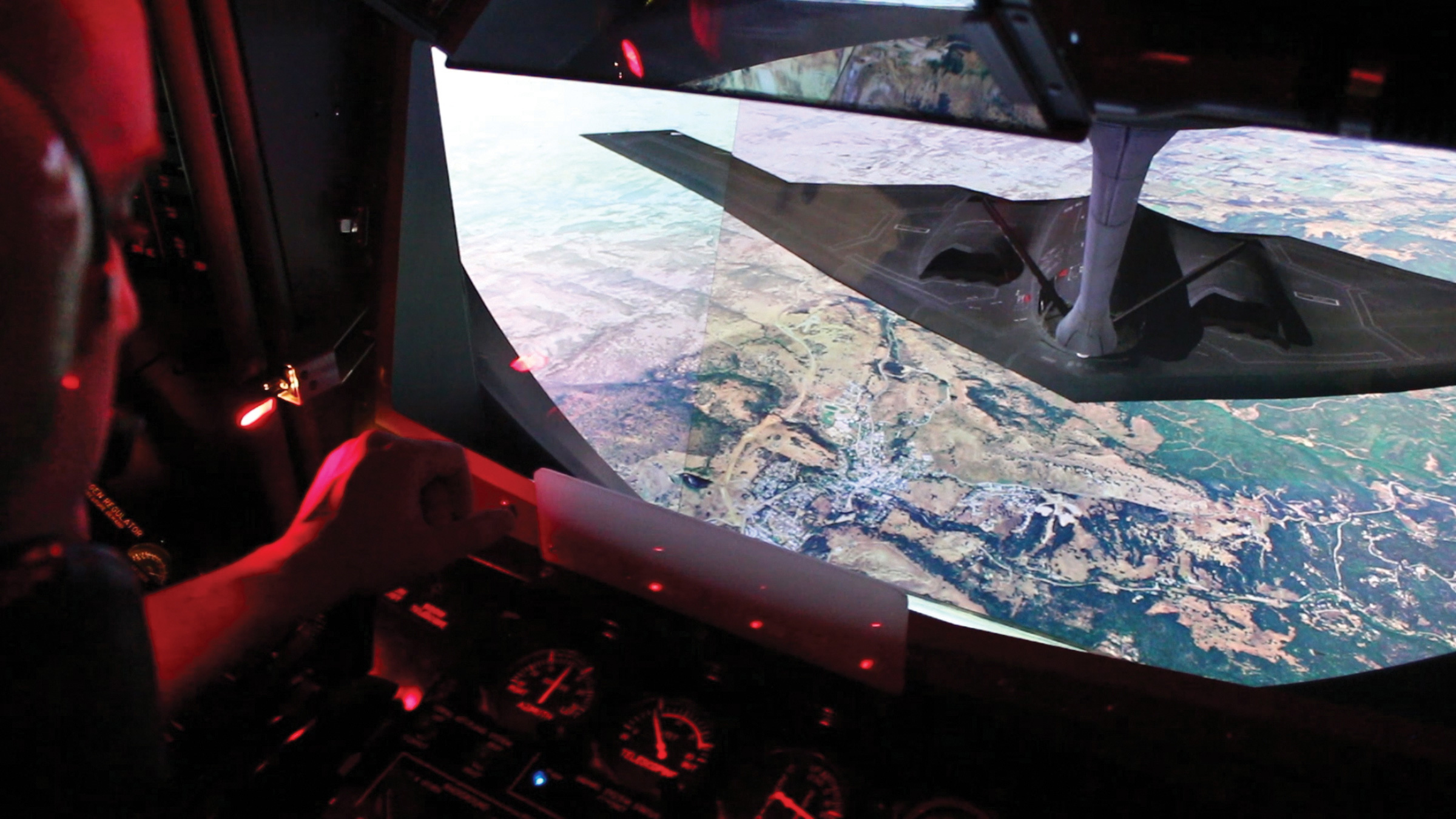 Inside the boom pod of the KC-135R Air National Guard (ANG) Boom Operator Simulator System (BOSS) with MVRsimulation visuals. (Photo courtesy of FAAC Inc.)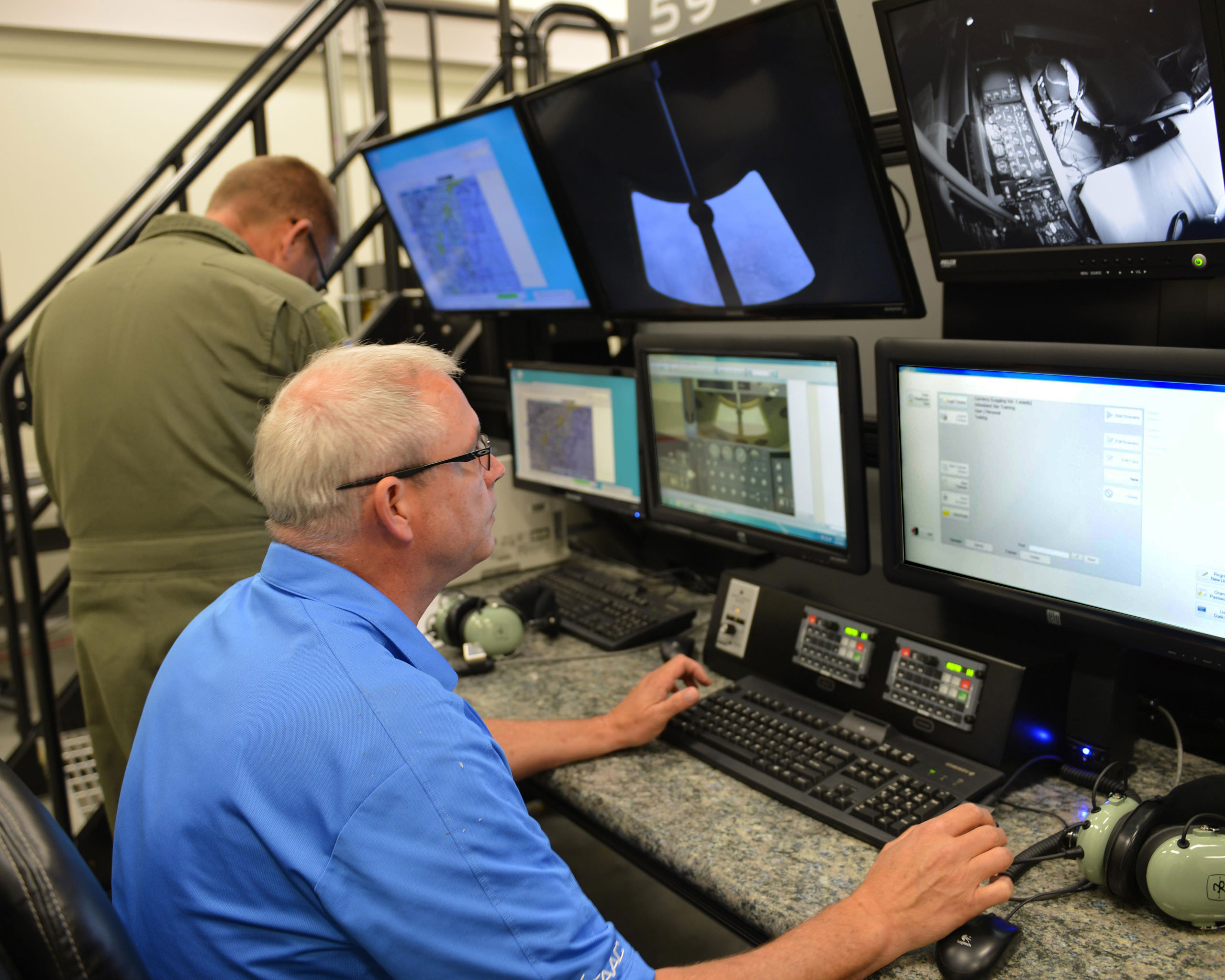 BOSS at the 155th Air Refueling Wing, Lincoln, Nebraska. (Photo: U.S. Air Force Staff Sgt. Mary Thach/Released)
The BOSS is intended for squadron-level training to be co-located with operational KC-135 air refueling wings. The BOSS systems are in use at locations across the US where fully qualified boom operators at the ANG KC-135R flying units use the BOSS for a complete training curriculum: initial qualification, difference qualification, certification, requalification, mission certification, and instructor upgrade training, and meet Aerial Refueling Airplane Simulator Qualification (ARASQ) standards. Mission-rehearsal DMO training is through the ANG Distributed Training Operations Center (DTOC).
As part of the initial delivery of VRSG licenses, MVRsimulation provided 4-meter CONUS++ 3D terrain enhanced with cultural lighting for all of the CONUS area. The terrain features cultural lights points that are geospecific to actual road networks.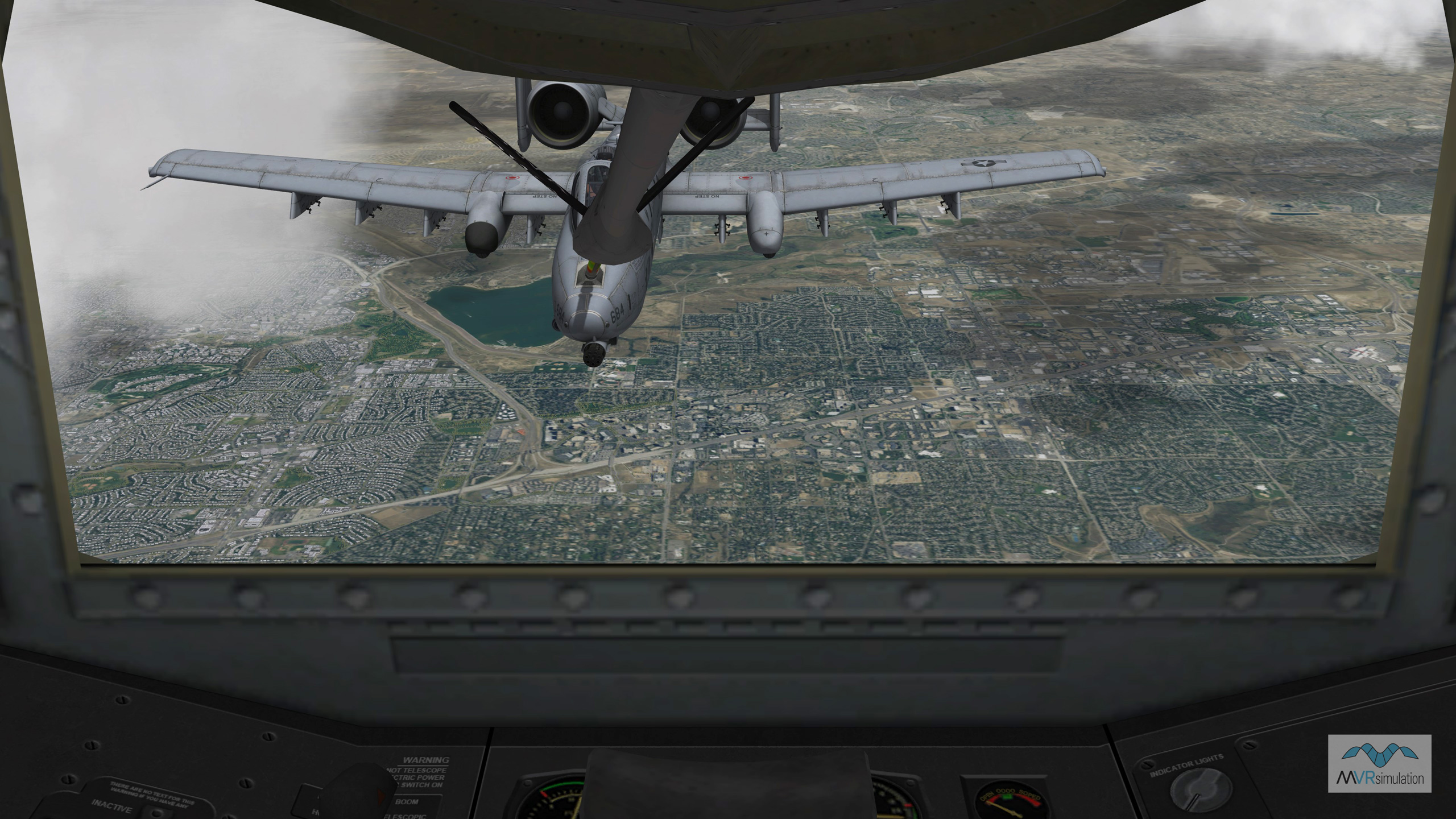 MVRsimulation VRSG real-time simulated boom operator view of a KC-135R entity refueling an A-10C over virtual Denver, CO. This scene also features volumetric clouds which cast shadows onto the terrain and culture below. Refueling-specific features of VRSG include support for up to 4 shadowable light sources.
MICROBOSS DESKTOP REFUELING SIMULATOR
The ANG also uses 25 MVRsimulation visual systems (game-level ruggedized rackmount PCs loaded with VRSG licenses) in its desktop training system which uses a computer-generated receiver aircraft to train KC-135R boom operators in refueling procedures. The Micro Boom Operator Simulation System (MicroBOSS) incorporates software features and capabilities of the ANG BOSS (described above) as well as the Air Education Training Command (AETC) Boom Operator Weapon System Trainer (BOWST). This desktop system uses selective-fidelity concepts in the hardware design to provide a realistic and cost-effective training environment. Through the use of photo-realistic graphical displays, touch screens, an aural cueing system, a high-definition out-the-window display, and representative joystick controls, the MicroBOSS provides the functional equivalent of a complete KC-135R boom pod station.
Using highly detailed visual models, the MicroBOSS can provide training on Air Force, Navy, and NATO receiver aircraft. Training personnel can adapt MicroBOSS scenarios to support each unit's unique mission profiles, or concentrate on high-interest training times from operational lessons learned. Mission preparation for air refueling profiles, including the Boom Drogue Adapter (BDA), enables the aircrew to be mission ready.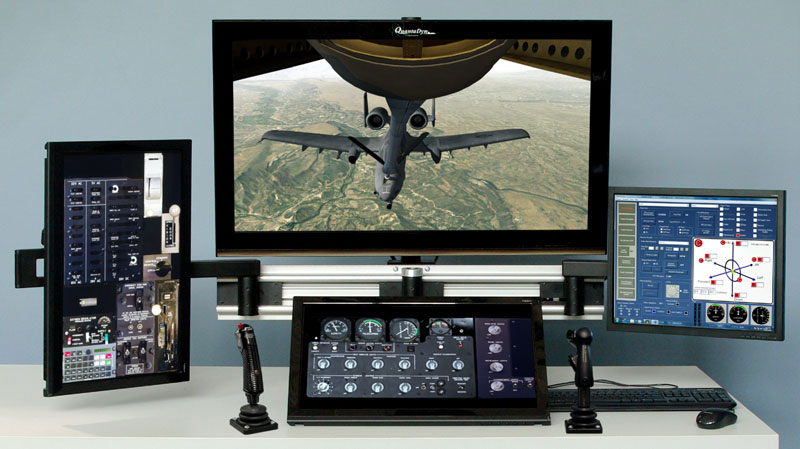 MVRsimulation VRSG in the MicroBOSS.
According to QuantaDyn, which developed the MicroBOSS, VRSG was chosen for this program for several reasons. From a boom operator's perspective, VRSG's high-fidelity graphical environment, atmospheric conditions, cultural lighting, and realistic precise shadow and lighting are very important components for providing realistic refueling training. The detailed ground representation of high-resolution terrain (such as MVRsimulation's Afghanistan virtual terrain) is important for identifying location; in daytime from the imagery on the ground, and at night, from the cultural lighting. The variety of sky models and cloud models and the ability to modify cloud effects and other environmental characteristics are all critical for maintaining situational awareness in the refueling operations, and provide the opportunity to train under adverse conditions. The high-resolution receiver models contain details useful in training. The shadowing of the boom on the receptor aircraft is fast and precise, which is important for replicating exactly what a boom operator sees while refueling the receiver aircraft. The external light profile, which enables one to adjust the lighting as a rheostat rather than having to use a step illumination, is a distinctive benefit.
RECEIVER AERIAL REFUELING PILOT SIMULATOR
AVT Simulation uses VRSG in its Receiver Aerial Refueling (RAR) Part-Task Trainer developed under the U.S. Navy's SBIR program. The simulator uses a head-tracked stereo head mounted display (HMD) with MVRsimulation visuals to provide the pilot a truly realistic view of the tanker and its refueling equipment.
In the simulator, the pilot can focus on formation flight realism and the final up-close refueling approach, making contact and maintaining contact during fuel transfer. Head tracking allows the pilot to see everything including the full interior and exterior of the aircraft which provides visual cues for aligning with the visual cues from the tanker aircraft equipment. The RAR features a small footprint and is built in a self-contained shipping container.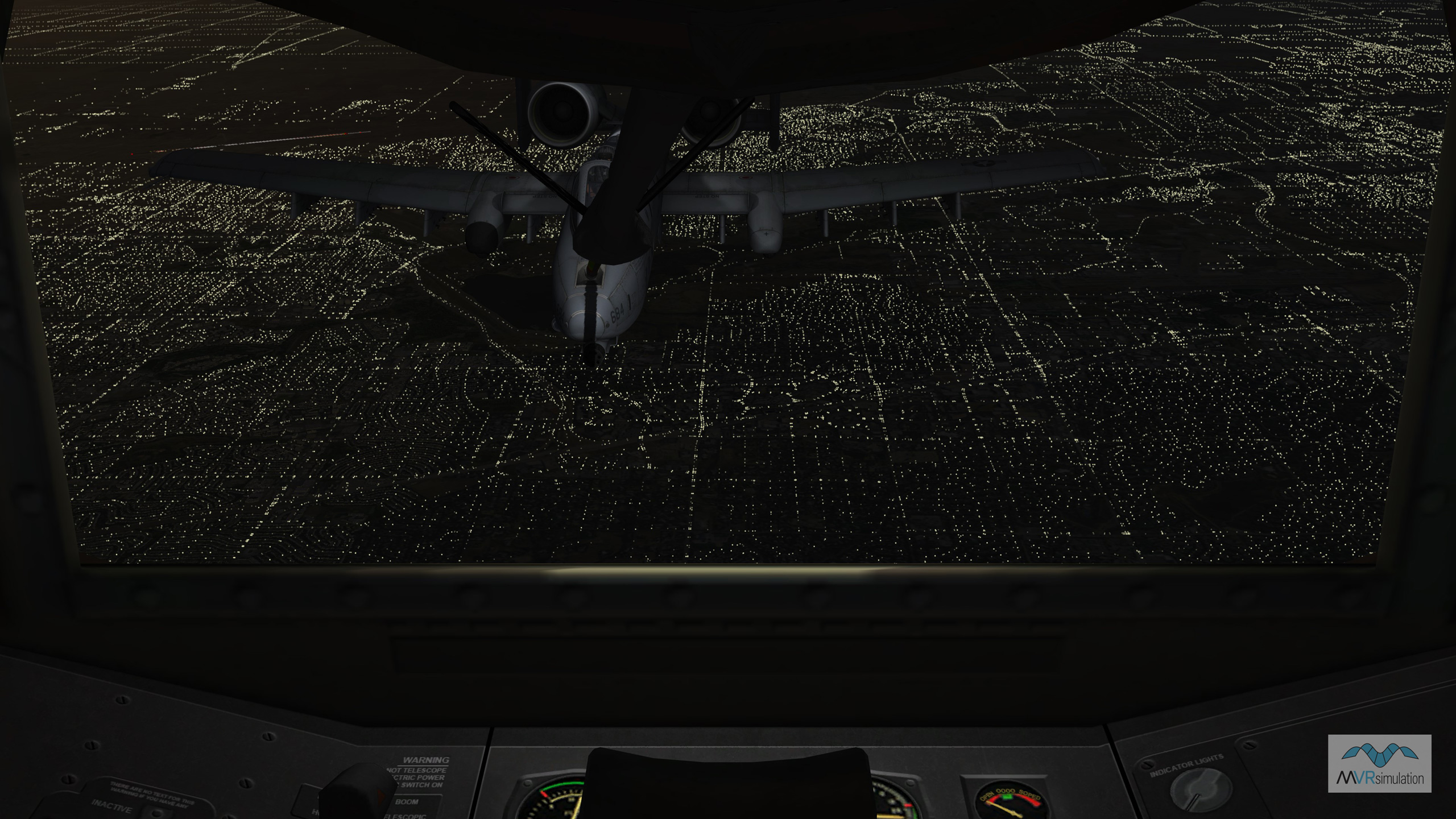 MVRsimulation VRSG real-time simulated boom operator view of a KC-135R entity refueling an A-10C during night operations over virtual Denver, CO. The scene features the shadows cast by the KC-135R's tail-mounted flood light illuminating the A-10C, and the cultural lights of Denver.