VRSG Integration with BSI Modern Air Combat Environment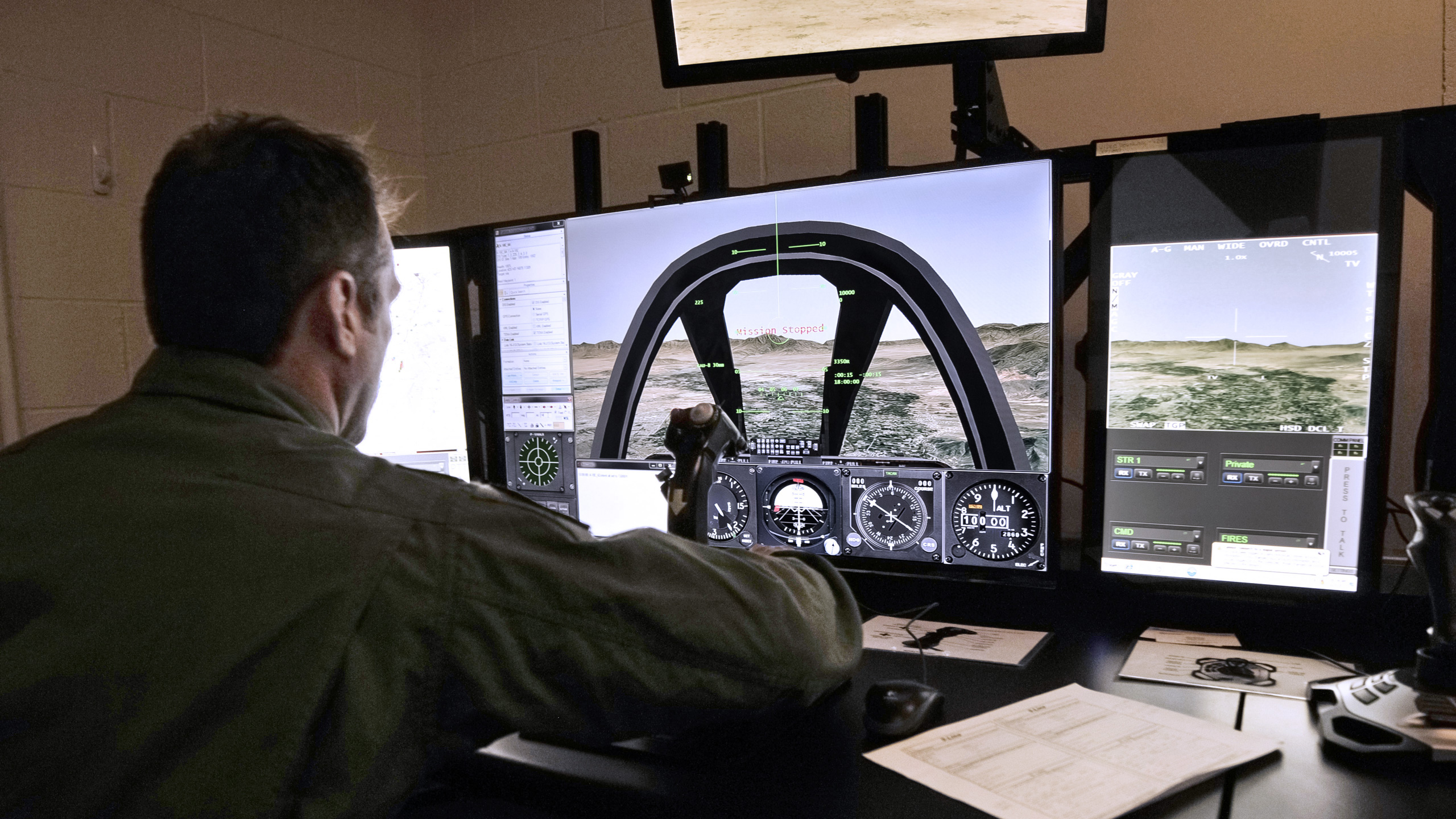 An air liaison officer with the 182nd Air Support Operations Group, Illinois Air National Guard, at the AAJTS pilot station with VRSG integrated in the BSI MACE user interface. (Photo courtesy of Iowa Air National Guard; photo by Staff Sgt. Lealan Buehrer/Released.)
Battlespace Simulations' (BSI's) Modern Air Combat Environment (MACE) is a holistic computer-generated/semi-automated forces (CGF/SAF) application used throughout the world for accredited Joint Fires training systems, electronic warfare training, and threat/entity generation. MACE is designed to work seamlessly with MVRsimulation VRSG, BSI's recommended image generator for MACE, and the two products are used together in over 150 fielded training systems for both UAS and JTAC training systems.
MACE provides a physics-based DIS-enabled simulation capable of being used in a wide variety of ways, including UAS and JTAC training scenario generation and management, threat generation, mission rehearsal, and part-task training.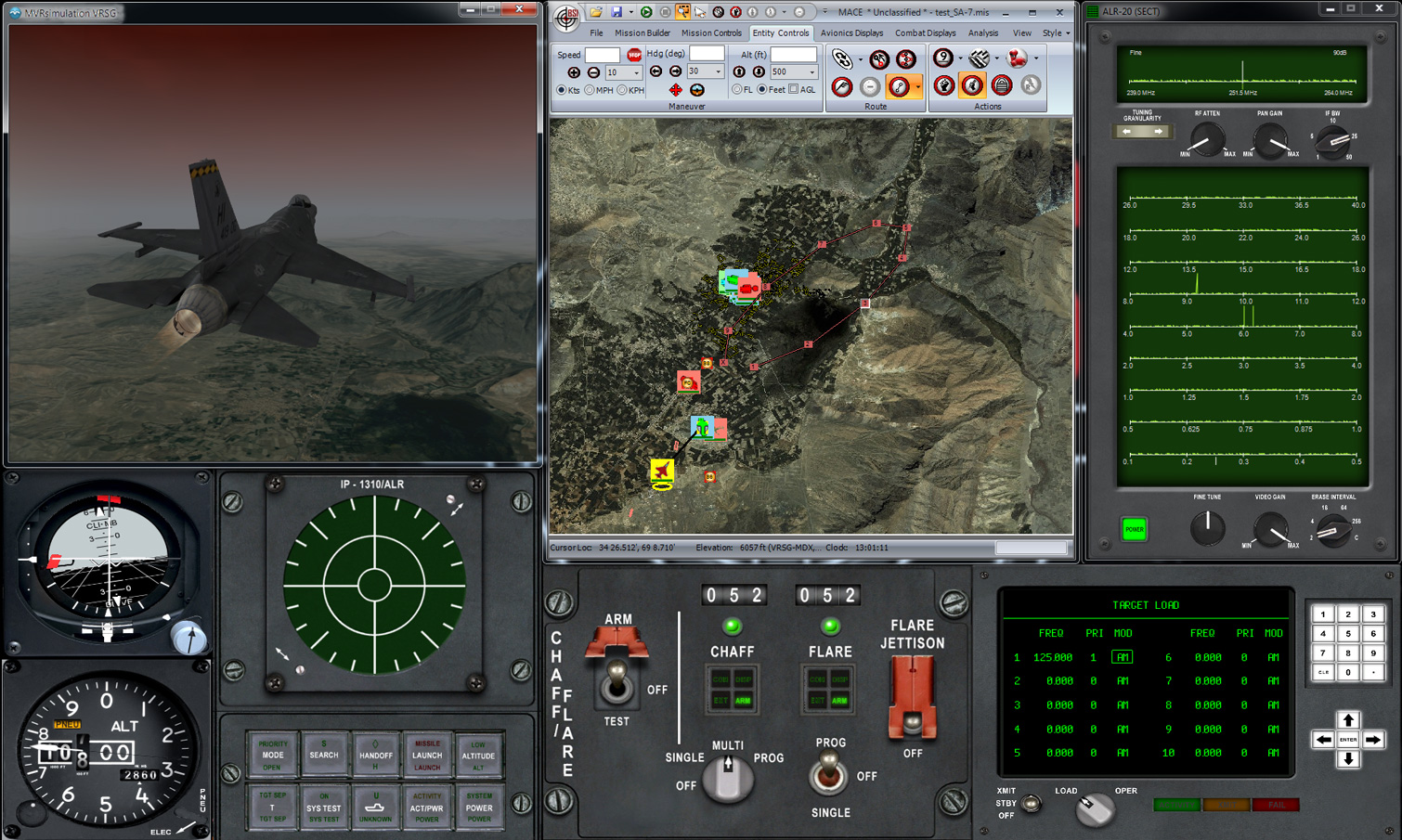 MACE user interface, with VRSG and fully correlated terrain. (Image courtesy of Battlespace Simulations (BSI).)
MACE can simulate an entire Integrated Air Defense System and/or provide constructive blue forces, and includes both Call-for-Fire (CFF) and 9-Line interfaces for rapidly assigning constructive entities to CFF/Close Air Support roles within the distributed simulation. Users can also take control over constructive aircraft and fly them with a pilot-in-the-loop using MACE's HUD overlay for VRSG.
MACE's interaction with VRSG includes:
Entity attachments
Full DIS interoperability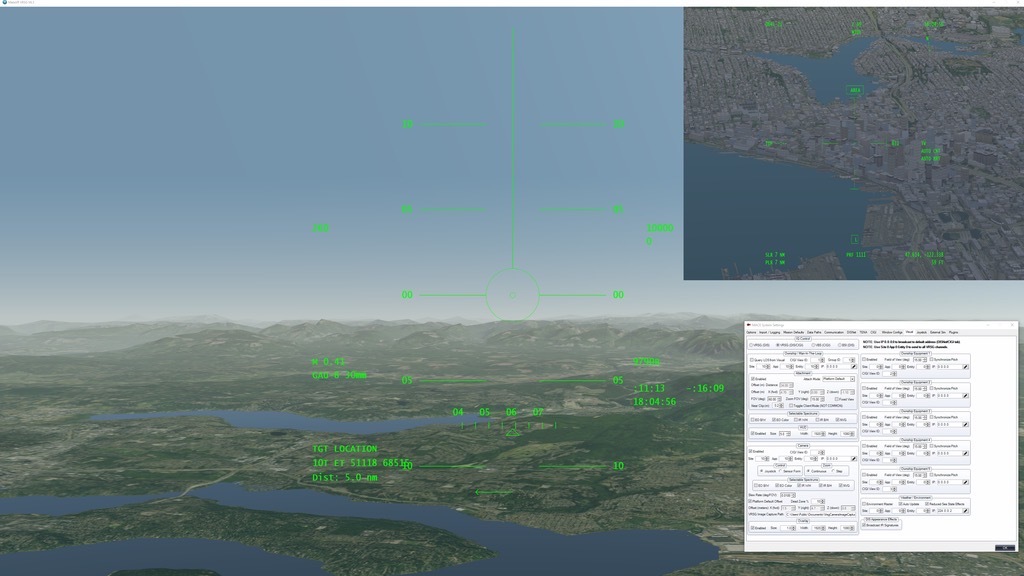 MACE CIGI control for VRSG enables multiple viewports with a single VRSG channel. (Image courtesy of BSI.)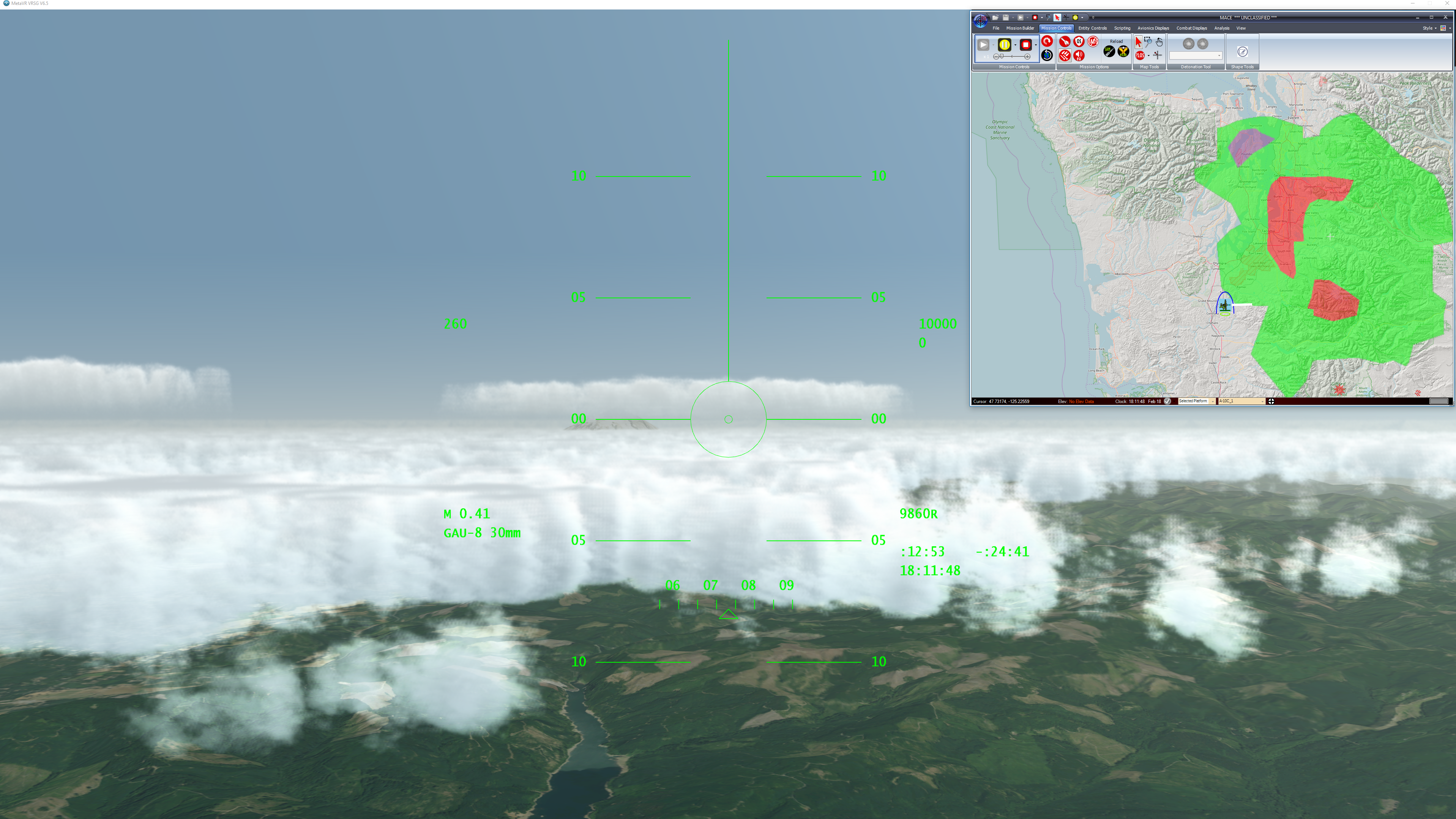 A storm system in VRSG and BSI's MACE. (Image courtesy of BSI.)
Because MACE can read MVRsimulation's round-earth VRSG terrain format elevation directly, MACE can use MVRsimulation's terrain tiles as elevation data source to achieve correlation. As an additional measure of correlation, BSI uses an OpenStreetMaps (OSM) plugin with MACE, to ensure OSM data built into MVRsimulation's terrain tiles will correlate.
MVRsimulation has collaborated with BSI on multiple training solutions, such as:
The accredited JTAC desktop simulation training system, which has been fielded at nearly 40 Air Force Special Operations Command (AFSOC), Air Combat Command (ACC), and Air Support Operations Squadron (ASOS) sites. The system was granted accreditation in 2012 by the Joint Fire Support Executive Steering Committee for JTAC training.
The U.S. Navy's Combined Arms Virtual Environment (CAVE) training dome and desktop systems, which are currently in use at three US-based facilities.


MACE is also coupled with VRSG in multiple other simulation training systems, including: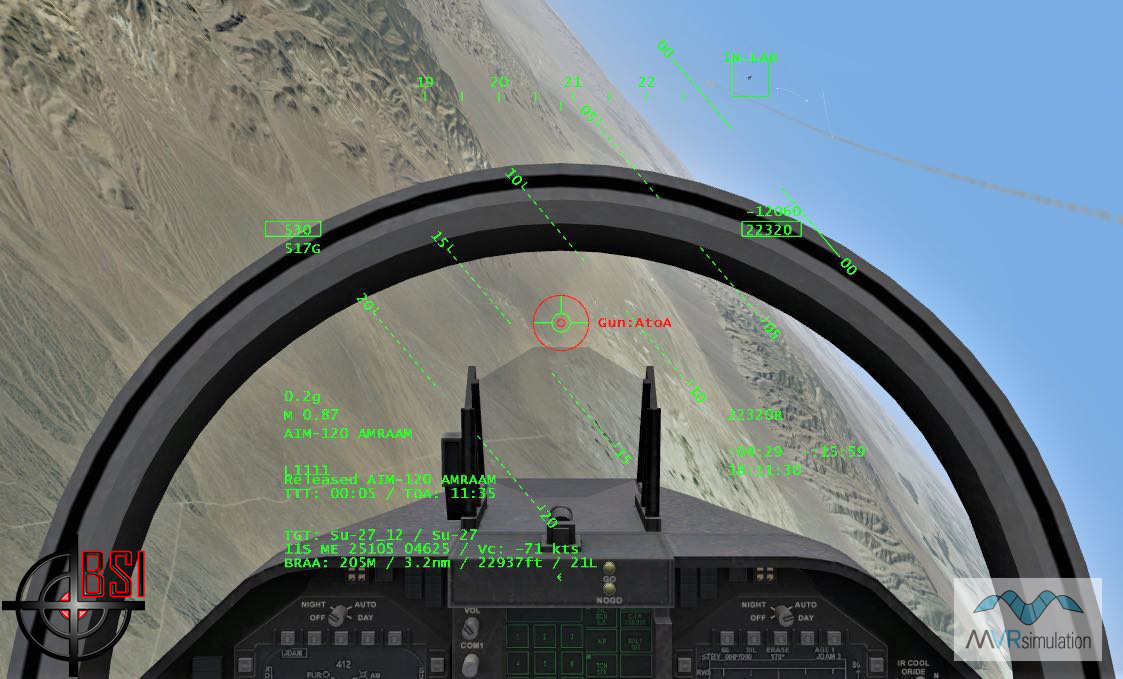 MVRsimulation VRSG rendering of NAS Fallon Range 3D terrain within BSI's MACE. The FA-18E model is shown with a HUD generated by MACE. (Image courtesy of BSI.)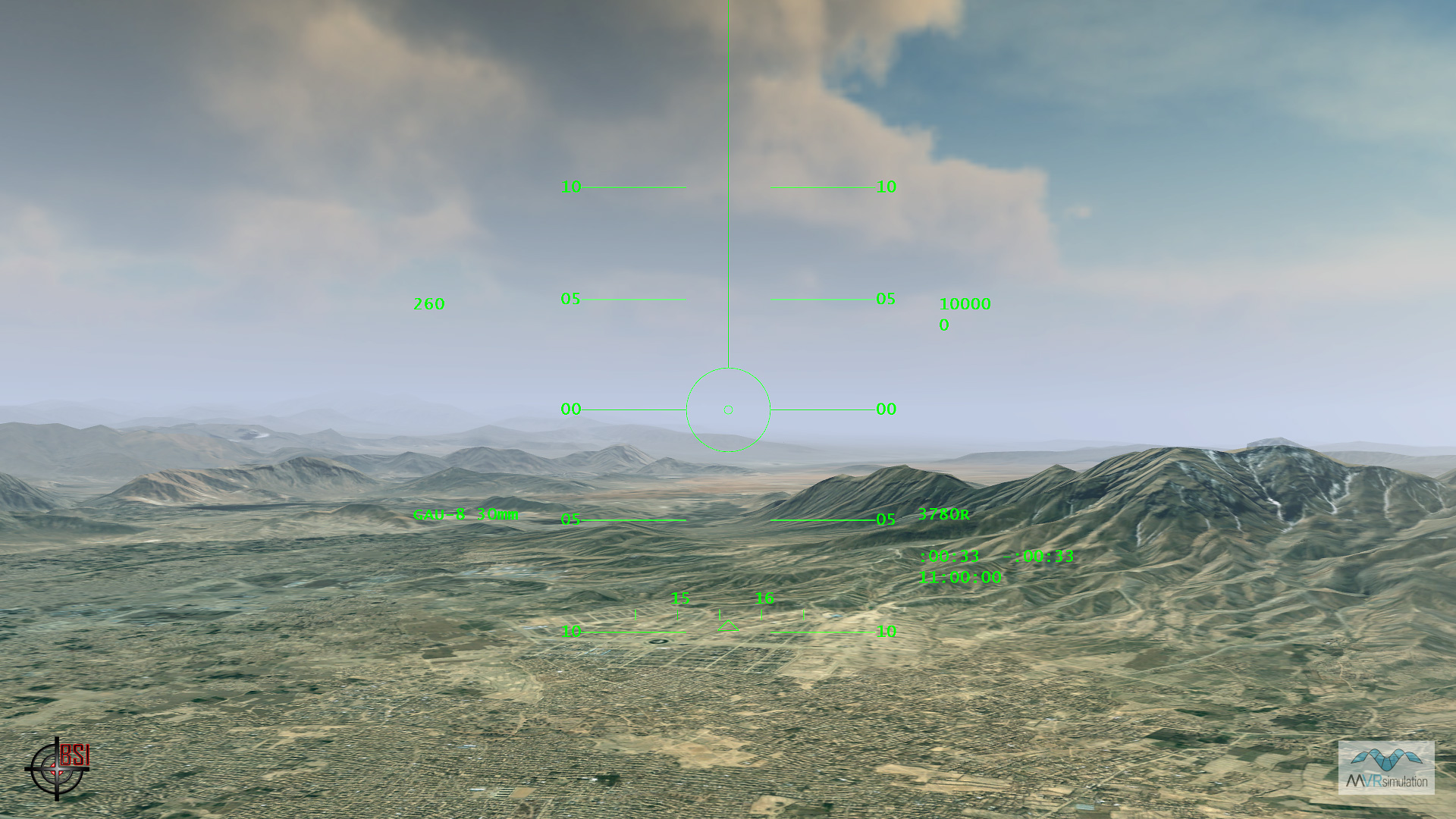 MVRsimulation VRSG rendering Afghanistan terrain within BSI's MACE, with one of MACE's 2D aircraft HUD overlay. (Image courtesy of BSI.)