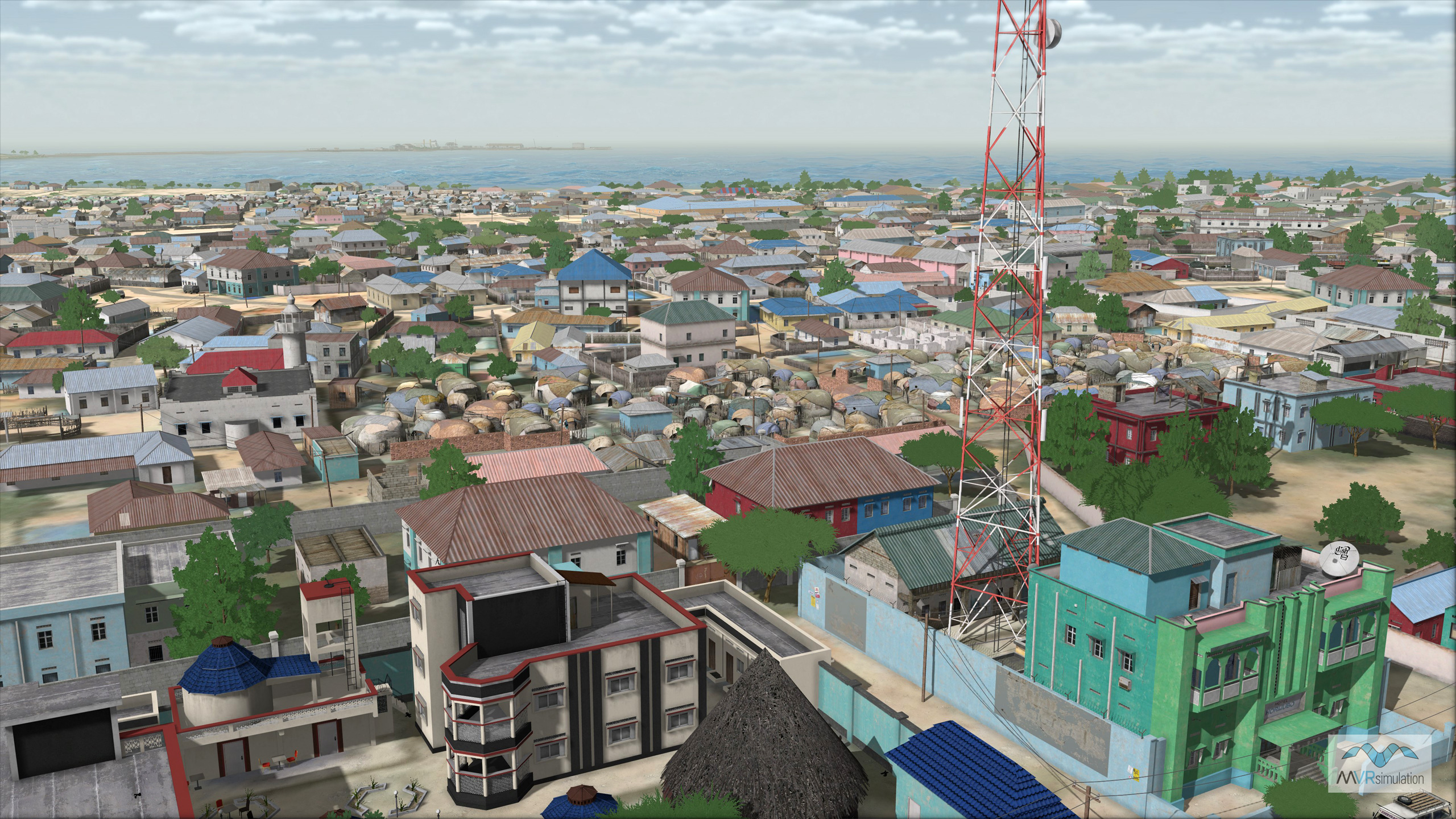 MVRsimulation VRSG real-time scene of virtual Kismayo, Somalia.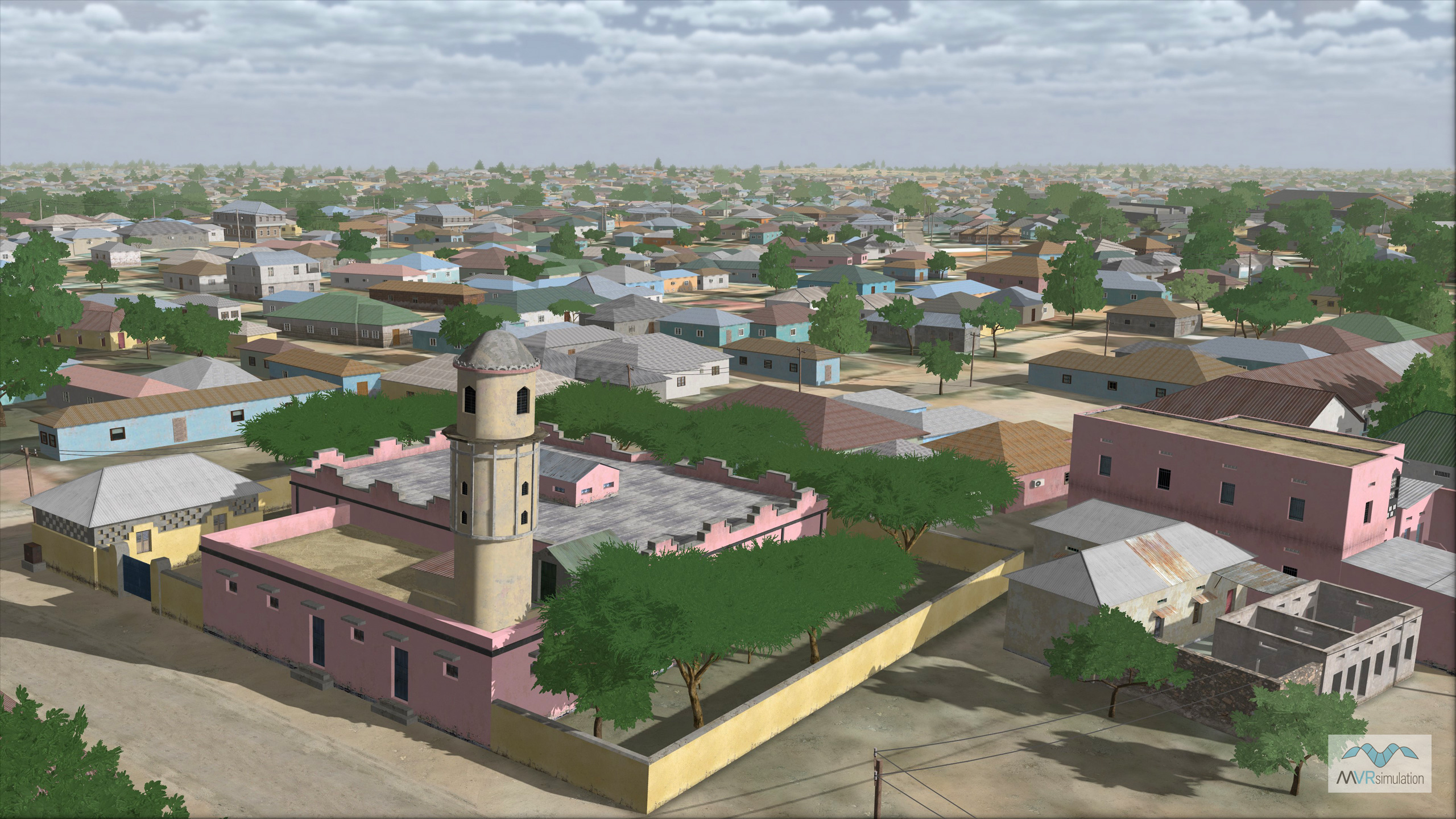 MVRsimulation VRSG real-time scene of virtual Kismayo, Somalia.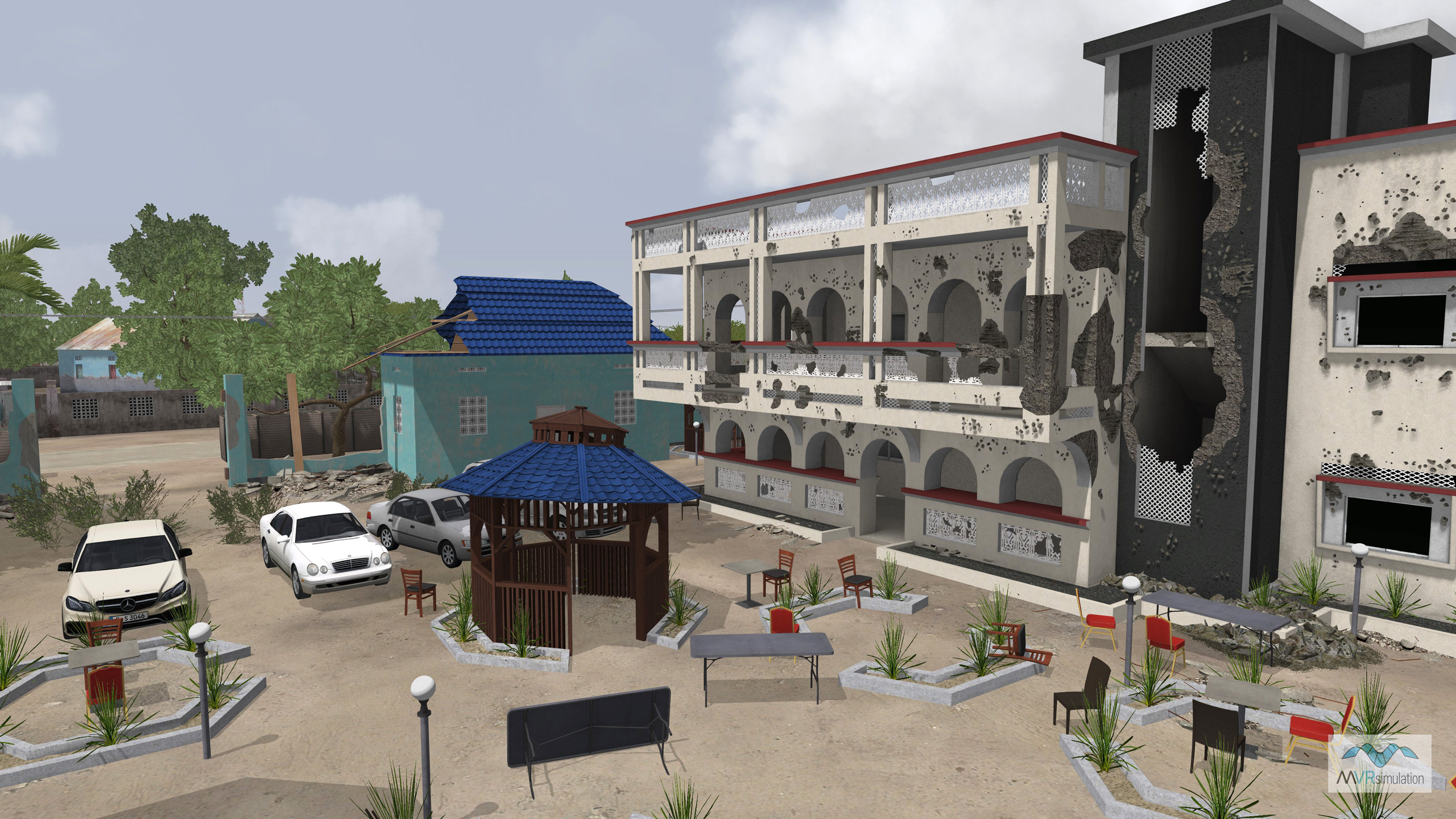 MVRsimulation VRSG real-time scene featuring the damaged state of the Asasey Hotel in Kismayo, Somalia, following the Al Shabaab attack in July 2019.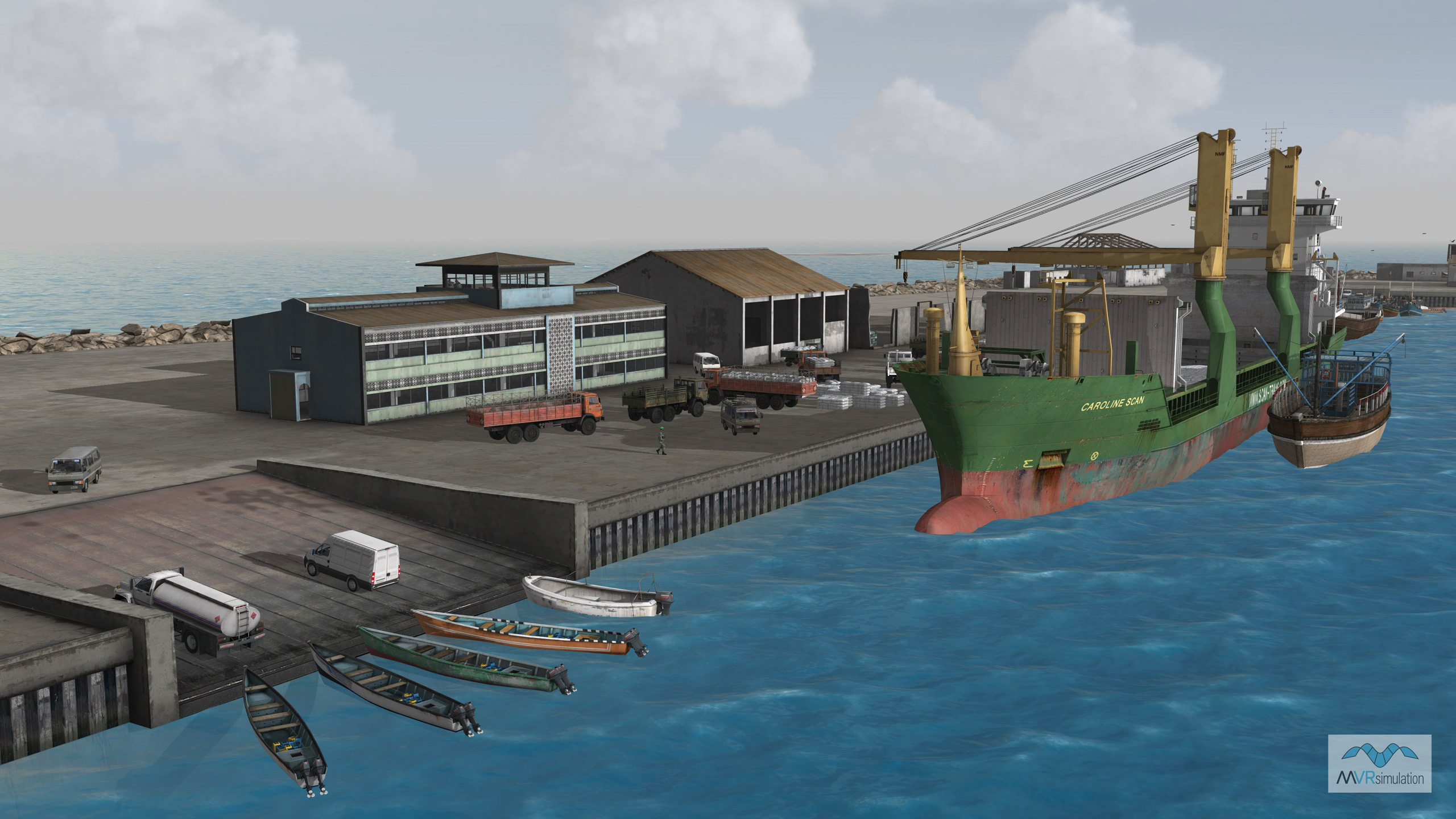 MVRsimulation VRSG real-time scene of docked commercial vessels at the port of Kismayo, Somalia.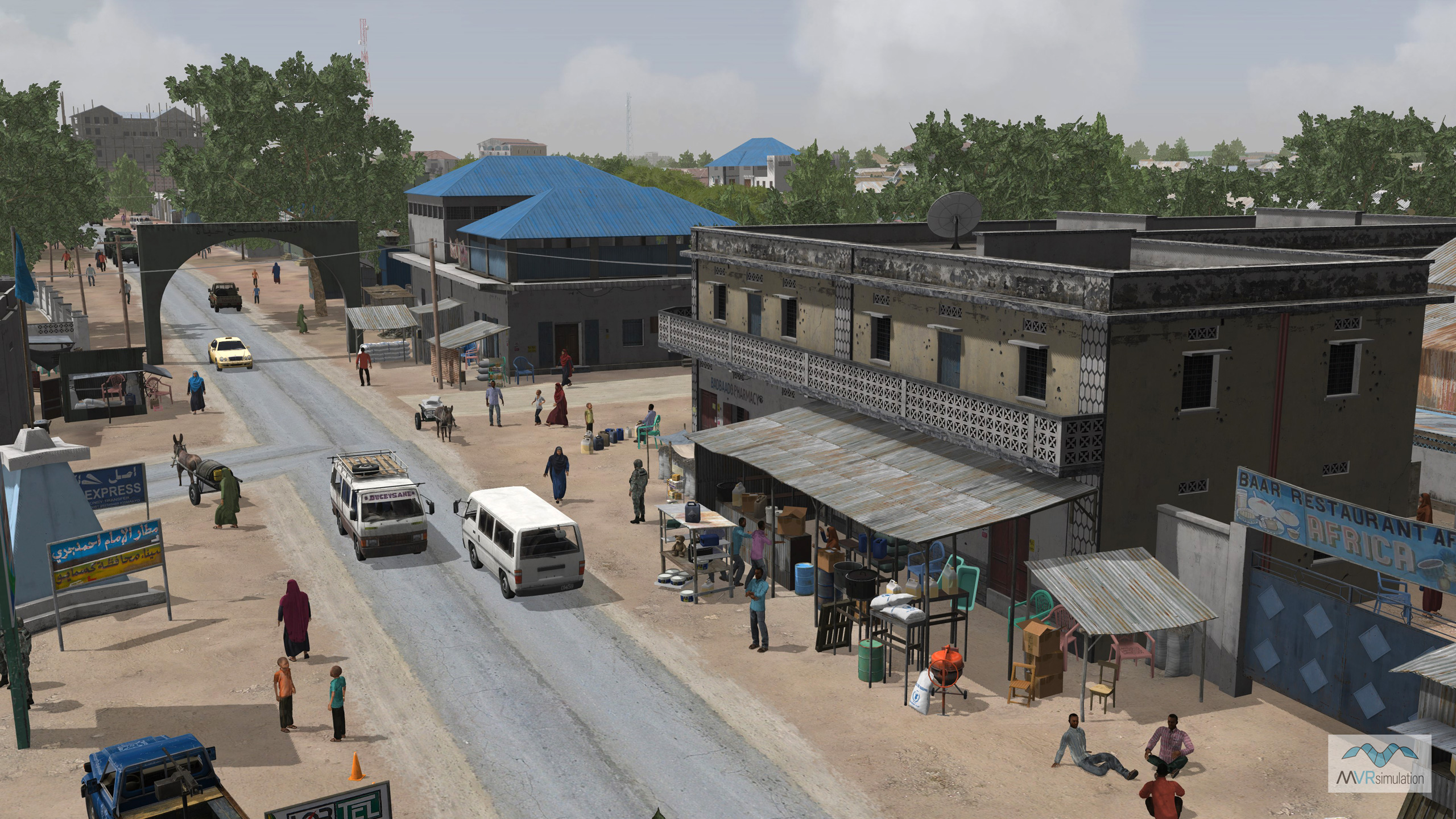 MVRsimulation VRSG real-time scene of a commercial section of Kismayo, Somalia.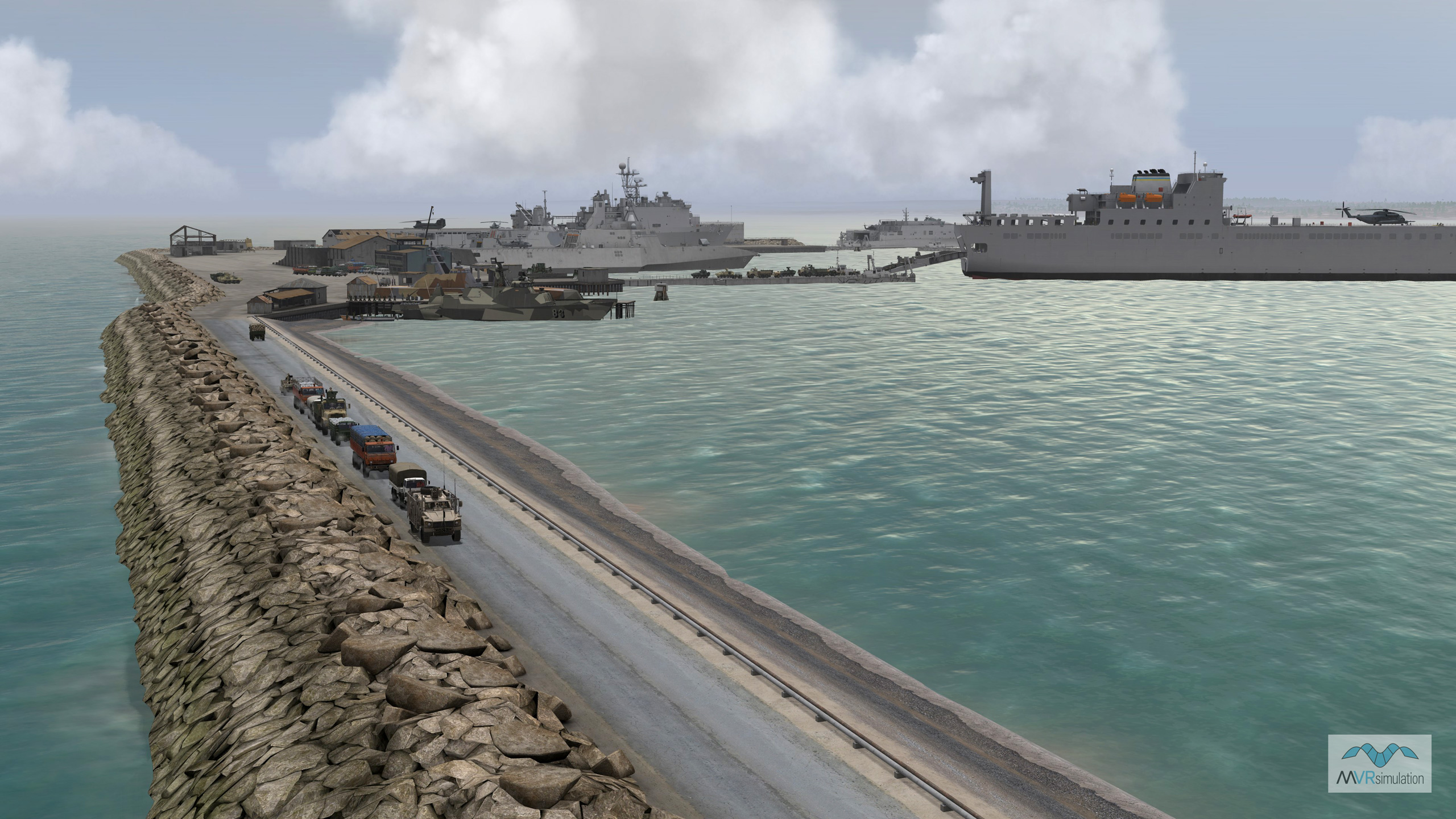 MVRsimulation VRSG real-time scene of Kismayo, Somalia.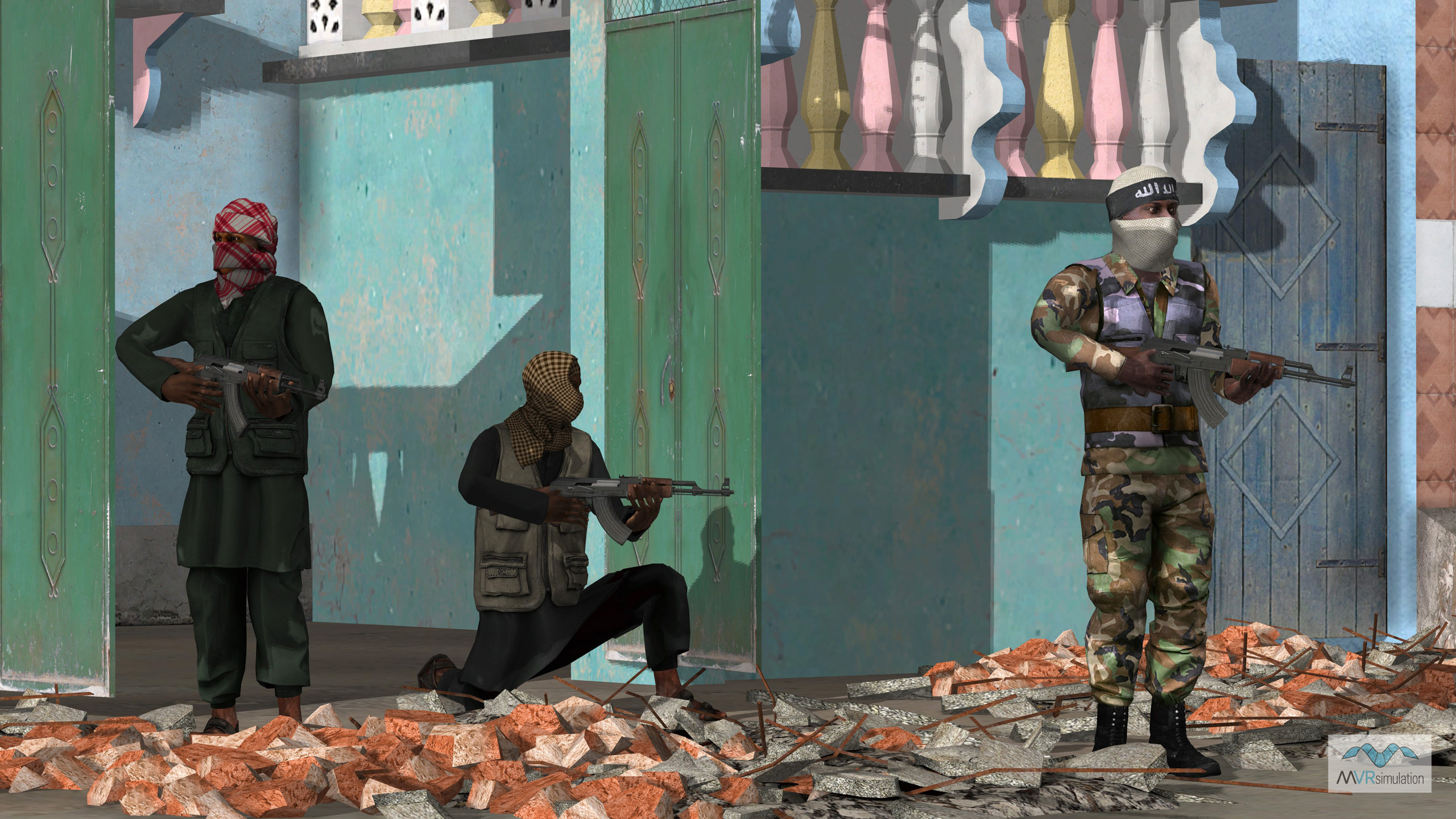 MVRsimulation VRSG real-time scene featuring Al Shabaab militant characters.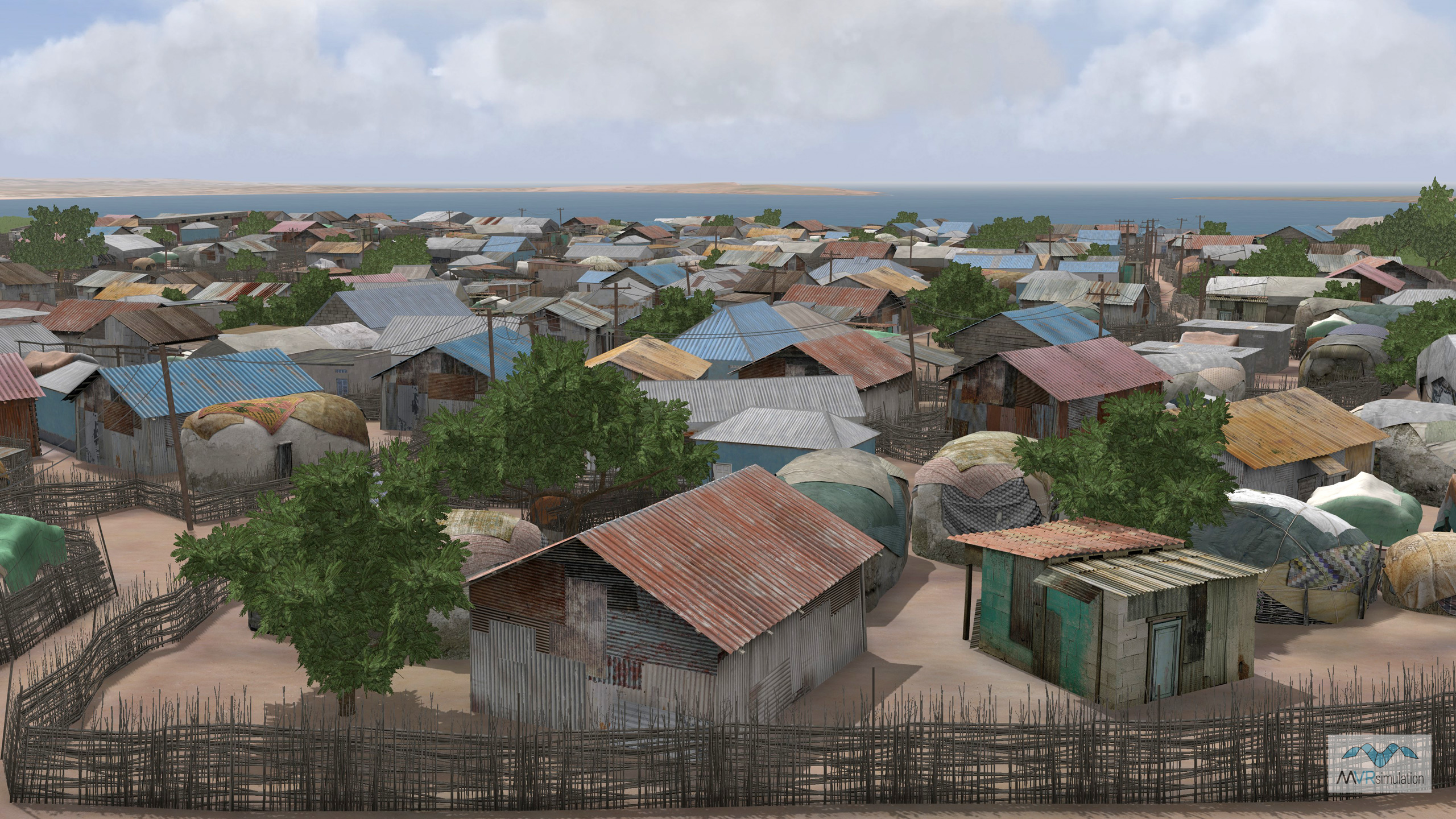 MVRsimulation VRSG real-time scene of huts and shelters in an encampment.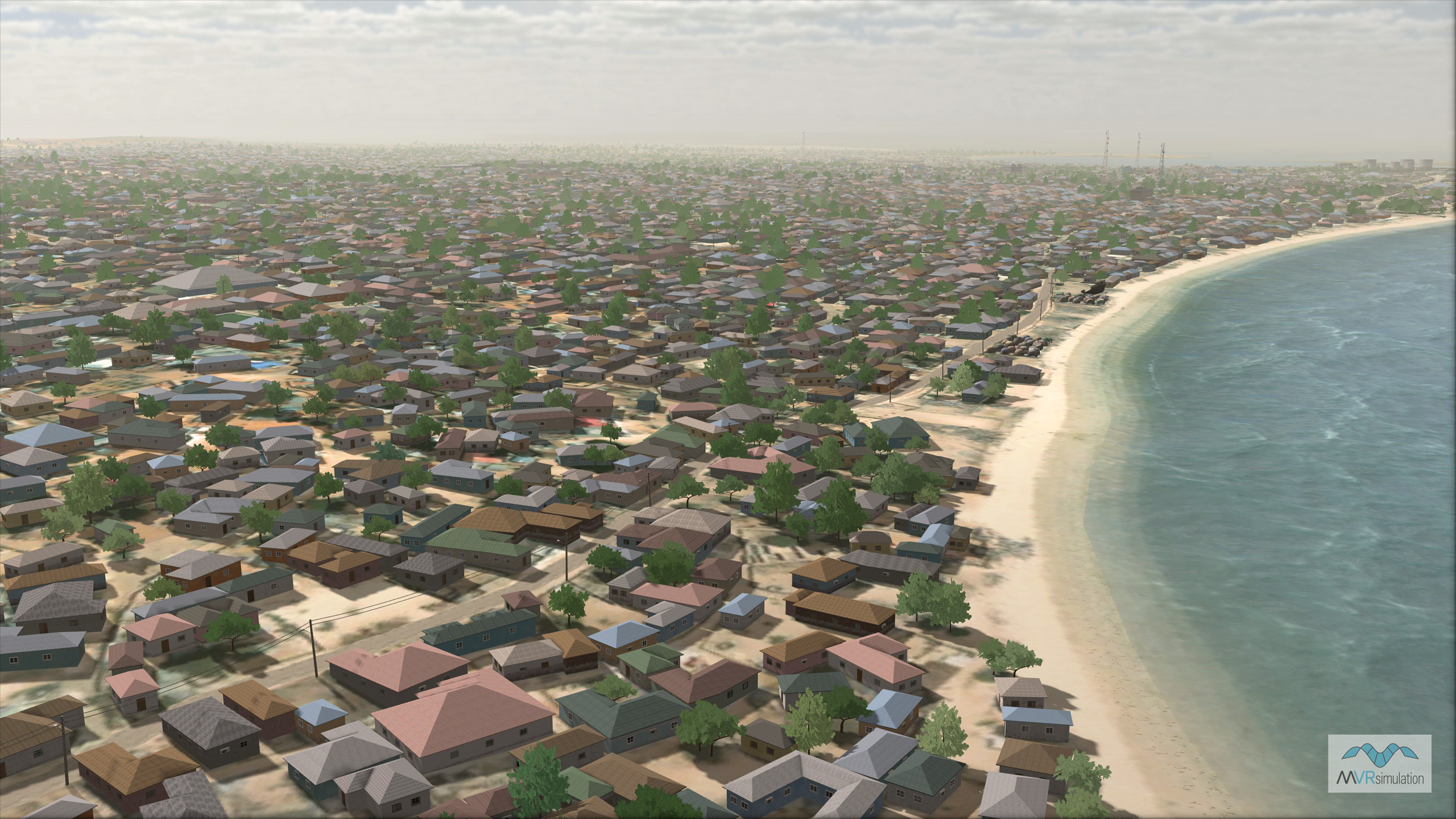 MVRsimulation VRSG real-time aerial view of Kismayo, Somalia.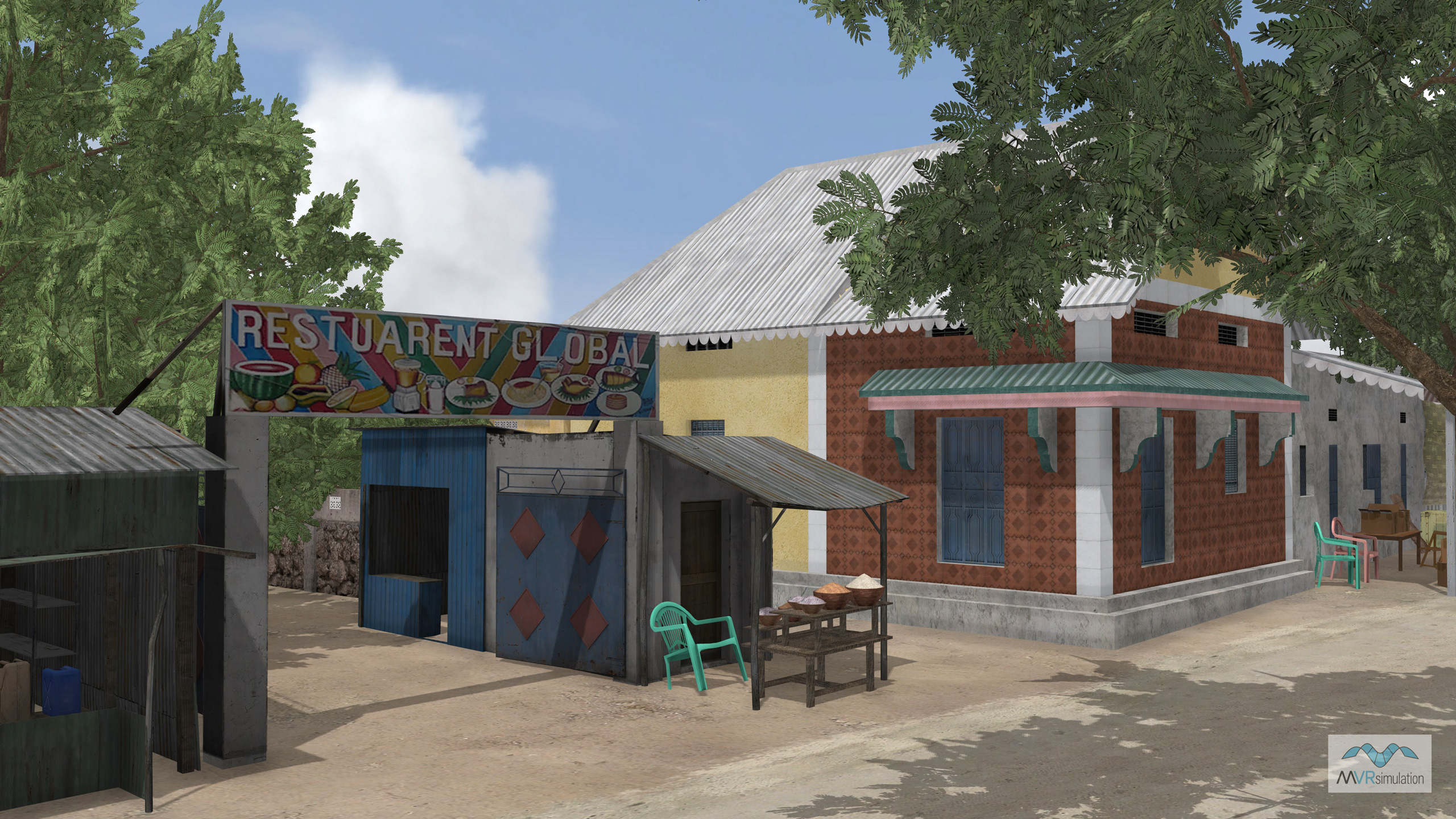 MVRsimulation VRSG real-time Kismayo scene featuring urban photospecific and geospecific buildings.
To meet a shifting focus of training and simulation needs by the U.S. military and its allies to the Horn of Africa, MVRsimulation has built a 3D virtual replica of the southern Somalia port city of Kismayo (also spelled Kismaayo).
The terrain is populated with hundreds of geographically specific culture models built from ground-level photographs taken on the streets of Kismayo. In addition to these geolocated and photographically specific models of buildings and other structures, several hundred other buildings were modeled by matching the structural footprints visible in the imagery as geographically typical models with culturally and architecturally accurate details. The models are combined with 50 cm per-pixel Digital Globe (GeoEye-1) satellite imagery covering 1,017 sq km of the southern Somalia port city and are blended into 15-meter natural view imagery of all of Somalia with SRTM void filled elevation source data.
This virtual terrain was built in MVRsimulation's round-earth format for visualizing in Virtual Reality Scene Generator (VRSG) and is available at no charge to customers with active software maintenance. The terrain database is an entirely internally-financed venture.
MVRsimulation chose to build the Kismayo 3D virtual environment because the city contains varied terrain representative of important training environments, from a built-up port to dense urban streets to a sparsely populated outer region that includes a commercial airport.
About the terrain dataset
Because of the highly detailed geospecific nature of the virtual Kismayo terrain, this terrain dataset can be used for a variety of training purposes: unmanned vehicle (UAV) operators practicing target identification, JTACs coordinating ground strikes, ground units participating in exercises of urban insurgent clashes, helicopter pilots practicing landing drills, amphibious operations, and littoral security missions. In each case, actual geolocated structures can be used as landmarks rather than the typical use of maps.
The terrain was built with MVRsimulation Terrain Tools for Esri® ArcGIS®. Culture models were built with Luxology Modo and Autodesk 3ds Max modeling tools. For placing persistent cultural features on the terrain such as geotypical buildings, street elements, vegetation, and rubble, Scenario Editor was used as part of the terrain workflow.
The urban density is augmented with 18,575 building models generated in Esri CityEngine from building footprint data, using textures from the 2,987 geospecific models of buildings and other structures originally built for the neighborhoods, commercial district, airport, and the port. To support nighttime viewing, the 3D building models contain emissive light-map textures, and powerlines and streetlights with light lobes are located along major roads. A total of 21,562 building models plus nearly 90,620 trees sit on the virtual terrain.
Users can expand the Kismayo terrain with additional 3D terrain built from imagery and elevation data of other areas of Somalia or elsewhere in Africa, and with Scenario Editor, rapidly build up culture with the 3D model libraries delivered with VRSG.

Comparison of a photograph of the peninsula area of the Kismayo port with a VRSG scene of the same area on the virtual terrain. Photo courtesy of AU/UN IST.
Located within the urban setting are dense geospecific displacement camps, which include realistic textures of various material types common to the area. Such materials are used on the makeshift huts and shelters that include open doorways and interiors.
Every structure on the virtual port has modeled interiors, including stairways. Some 2,000 street-level photographs of Kismayo with GPS coordinates are available to MVRsimulation customers as additional source information.
MVRsimulation has built models of all the major types of U.S. military ships, in particular ships and ground vehicles to support amphibious operations. The ships contain a level of detail that supports first-person level realism on the ship exterior. Several other sea vessel models, ranging from skiffs, dhows, and fishing vessels, to major transport ships are placed along the port; many more are in the 3D model libraries delivered with the database.
Other commercial vehicle models built to use with this database include charcoal transportation trucks which are specific to Kismayo and created using ground-level photographs, and donkey carts and minivan cabs. The trucks are modeled with and without charcoal bags or sacks of World Food Program (WFP) relief food.
A set of Somali civilian, AMISON soldier, and Al Shabaab character models are included in the model libraries with the database. The Al Shabaab characters have authentic scarf patterns on their uniforms that match actual photographs of the militants from Internet sources.
Scenario Editor was used to create multiple scenarios that are delivered with the terrain. One such scenario features US Special Forces with UAVs and AMSOM troops who identify Al Shabaab militants coercing local civilians to engage in the illegal charcoal trade. The Al Shabaab forces are tracked to a hut area on the outskirts of town that is reinforced with additional insurgents and technical vehicles.
A significant amount of vehicular and human activity was added to Kismayo scenarios created in Scenario Editor to create realistic patterns of life.
About Kismayo
Located in southwest Somalia in the Lower Jubba region, Kismayo is situated 328 miles southwest of Mogadishu and 143 miles south of Barawe. With a population of approximately 200,000 people, Kismayo is the third largest city of Somalia. In 2012, the African Union-United Nations Information Support Team, serving with the African Union Mission in Somalia (AMISOM) helped capture the strategically and economically important port city of Kismayo from Al-Shabab, which had controlled most of the city such that Kismayo became an economic hub to the militants. Kismayo is still actively contested by the Al-Shabab and is routinely patrolled by AMISOM forces.
The charcoal trade, a major part of the city's economy, grew substantially under Al-Shabab and became the insurgent's most lucrative source of income. The ongoing, illegal charcoal trade has led to significant deforestation of Somalia. The charcoal is shipped to the Middle East by traders using small traditional dhow sailing vessels.
Actual And Simulated Views
The following set of images compares the ground-level photographs taken on the streets of Kismayo with the corresponding virtual building or other structure on the 3D terrain rendered in VRSG.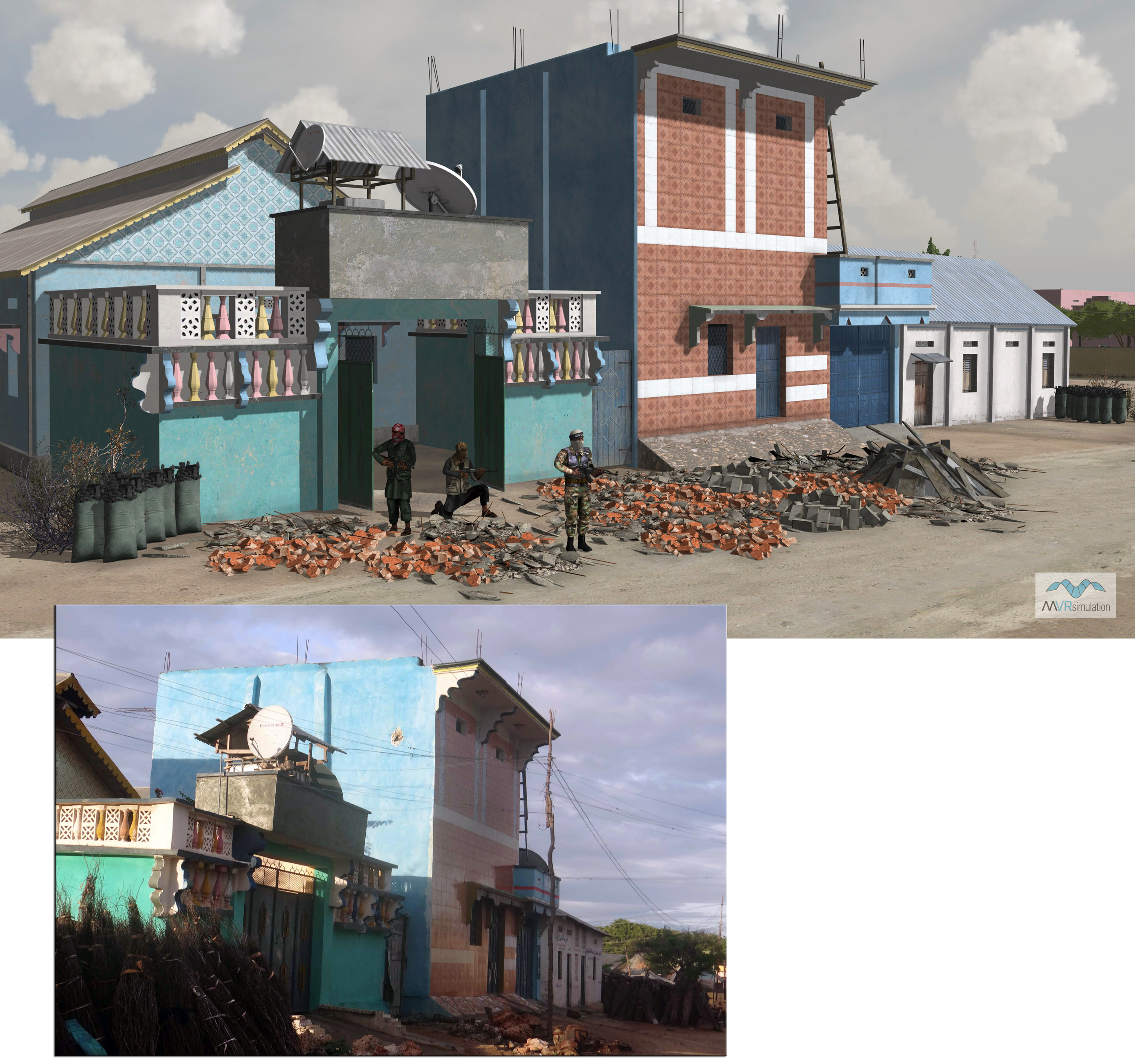 MVRsimulation VRSG real-time scene of a virtual building complex. Inset is of the actual photo of the building in Kismayo on which the model was based.
Photos taken on the streets of Kismayo, Somalia
VRSG screen captures of the same scene
MVRsimulation's Kismayo database is available free of charge in MVRsimulation's round-earth terrain format to customers who are on active software maintenance and are US Government or NATO agencies or contractors (for official use only). The terrain is provided in MVRsimulation's round-earth terrain format and will only run with a valid VRSG software license with valid software maintenance.