3D Terrain of Continental USA Plus Alaska and Hawaii (CONUS++)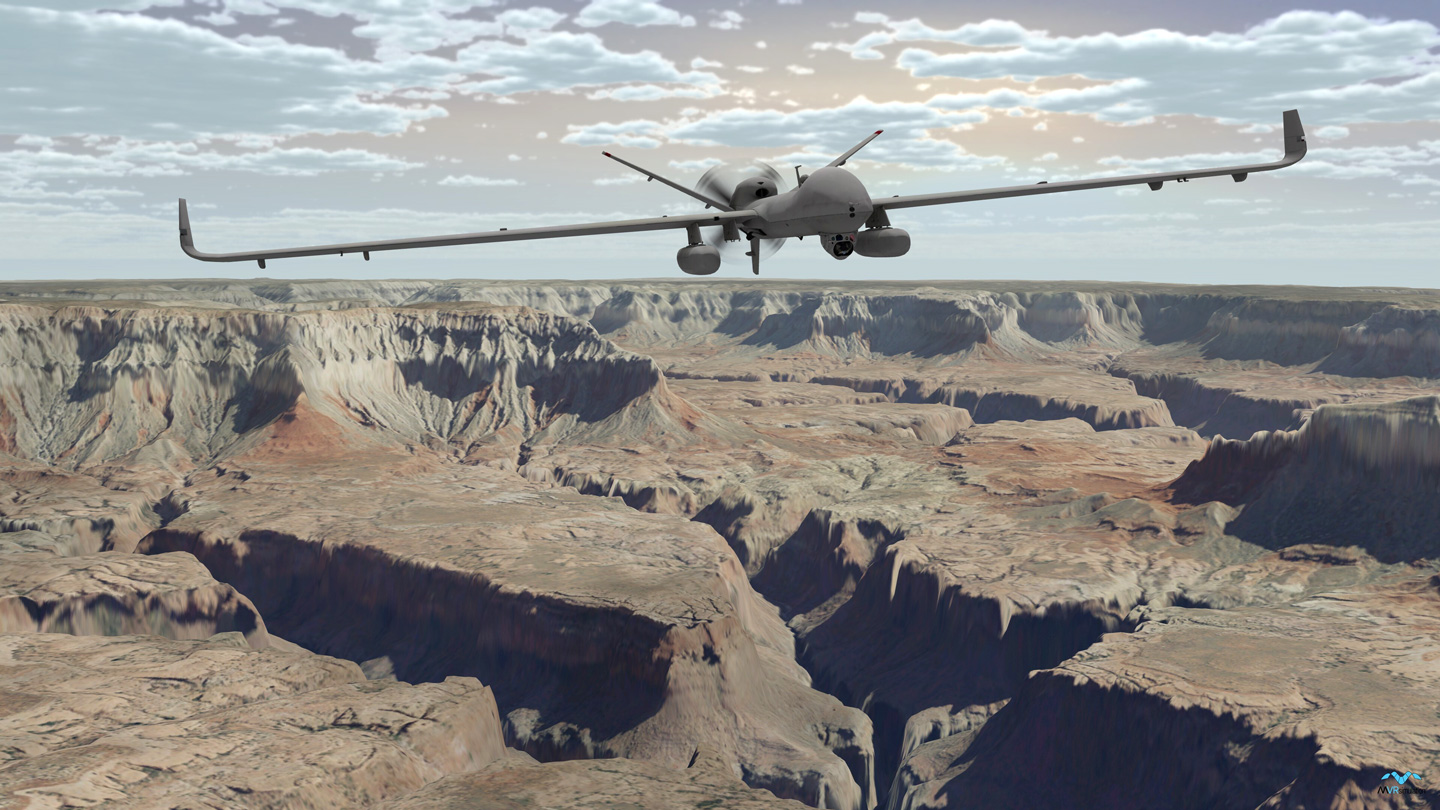 VRSG real-time scene of an MQ-9 Reaper UAV entity loitering over3D terrain of the Grand Canyon. Terrain was built with NAIP imagery.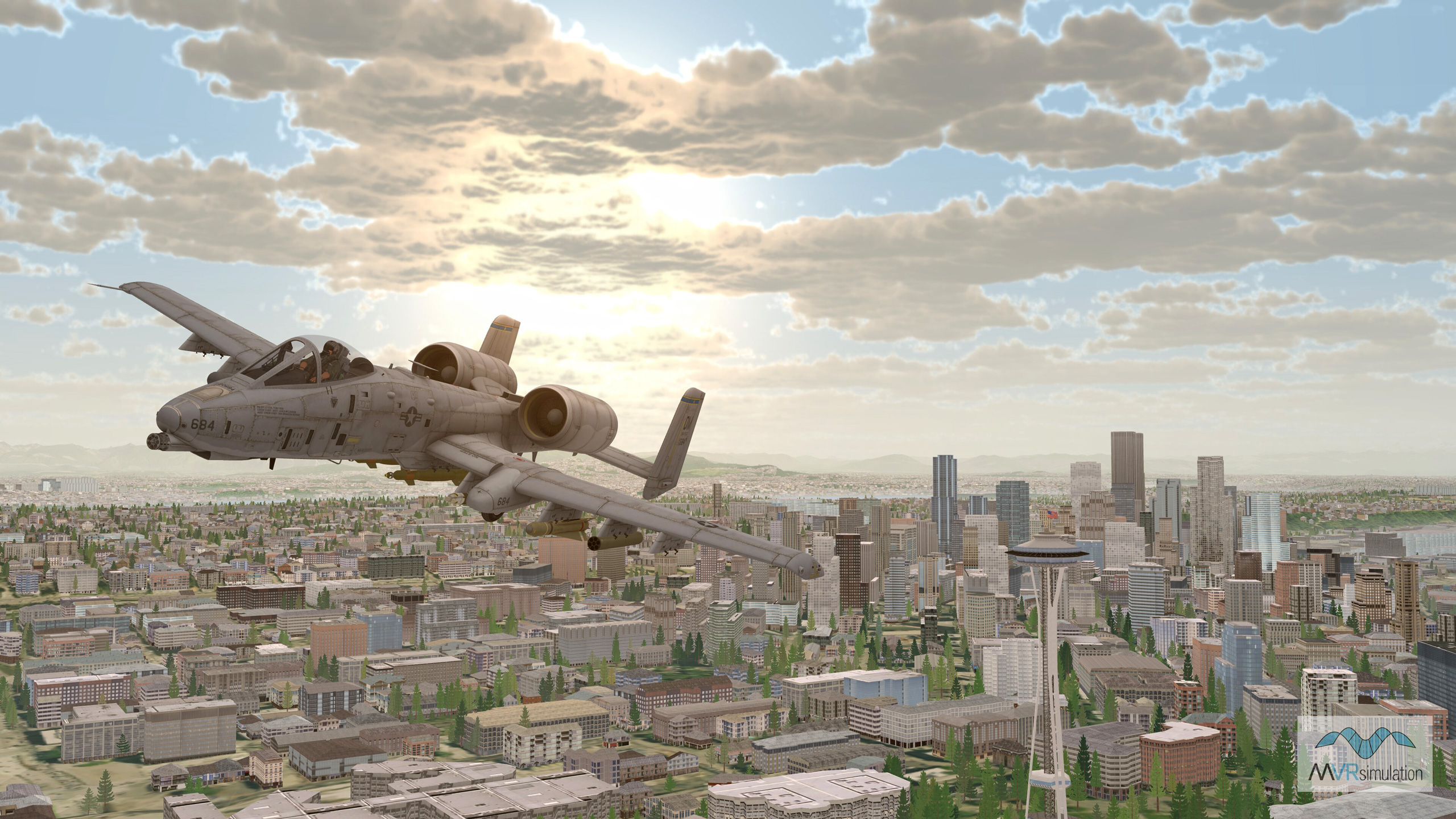 VRSG real-time scene of an A1-0 entity in flight over virtual Seattle, WA, featuring version 7's atmospheric model with improved light, haze, and cloud interactions. Culture generated with Esri CityEngine.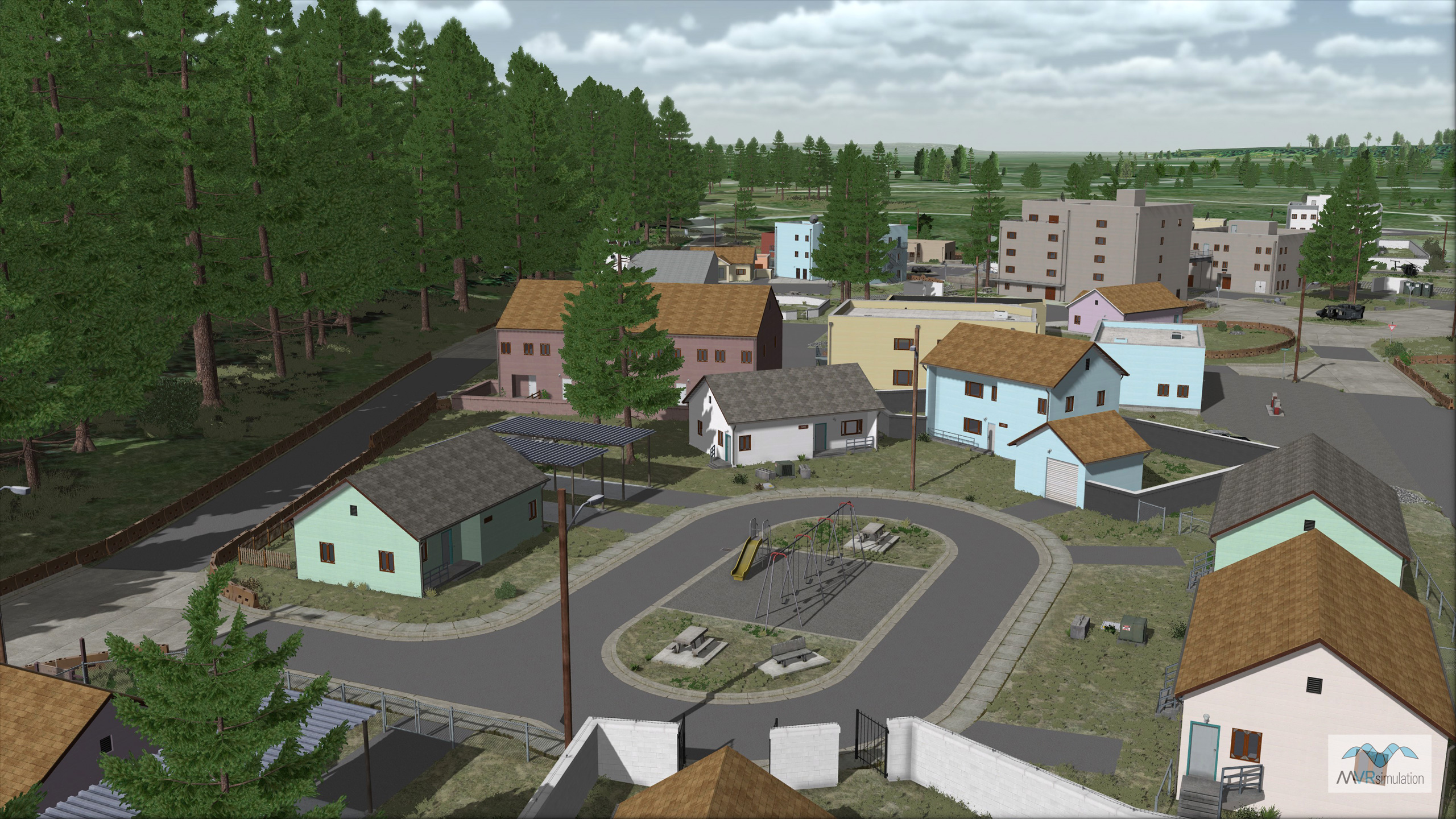 VRSG real-time scene of a neighborhood in the virtual Leschi Town MOUT site at Joint Base Lewis-McChord (JBLM), WA.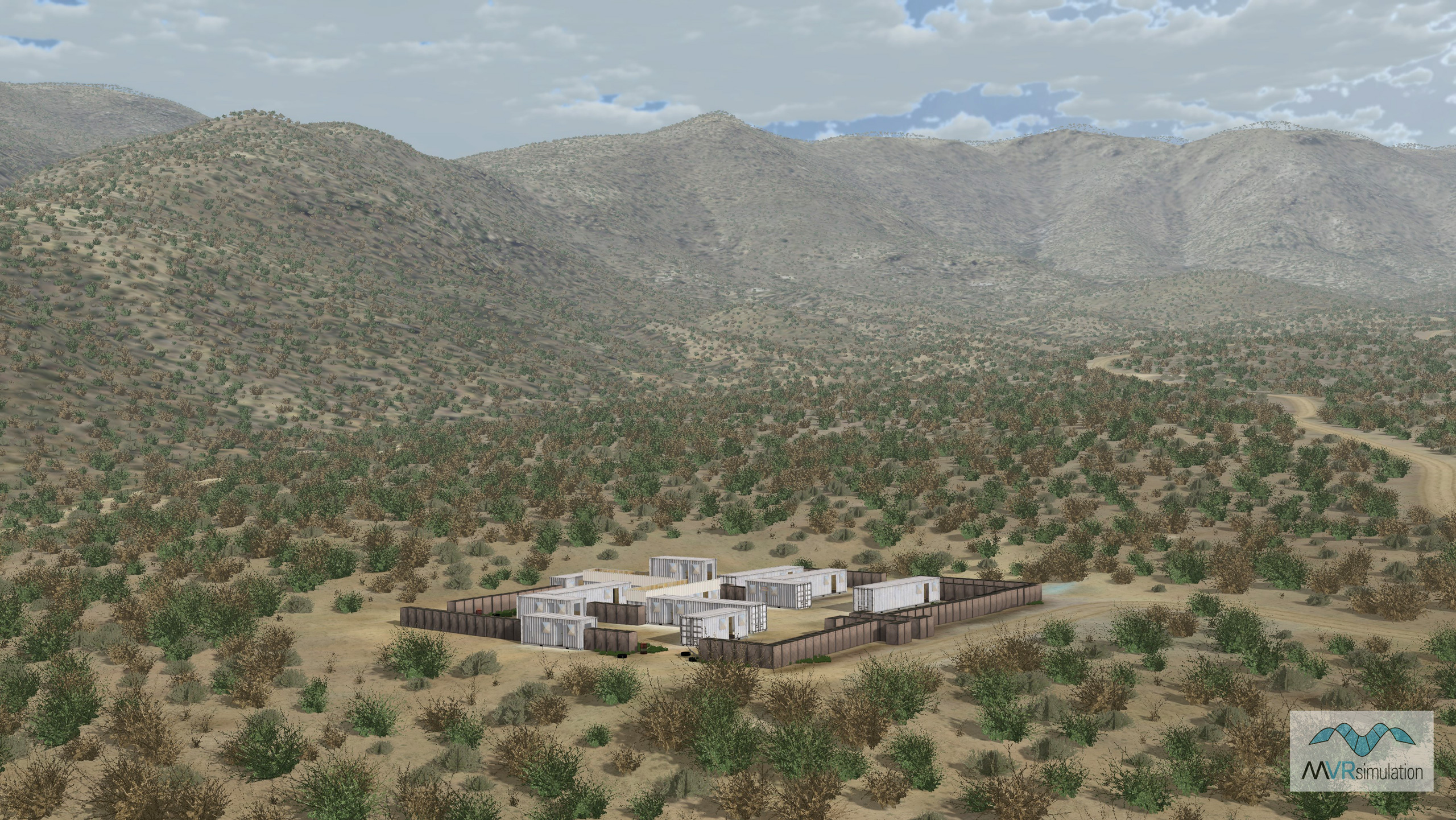 VRSG real-time scene of virtual White Sands Missile Range (WSMR). Terrain was built with NAIP imagery.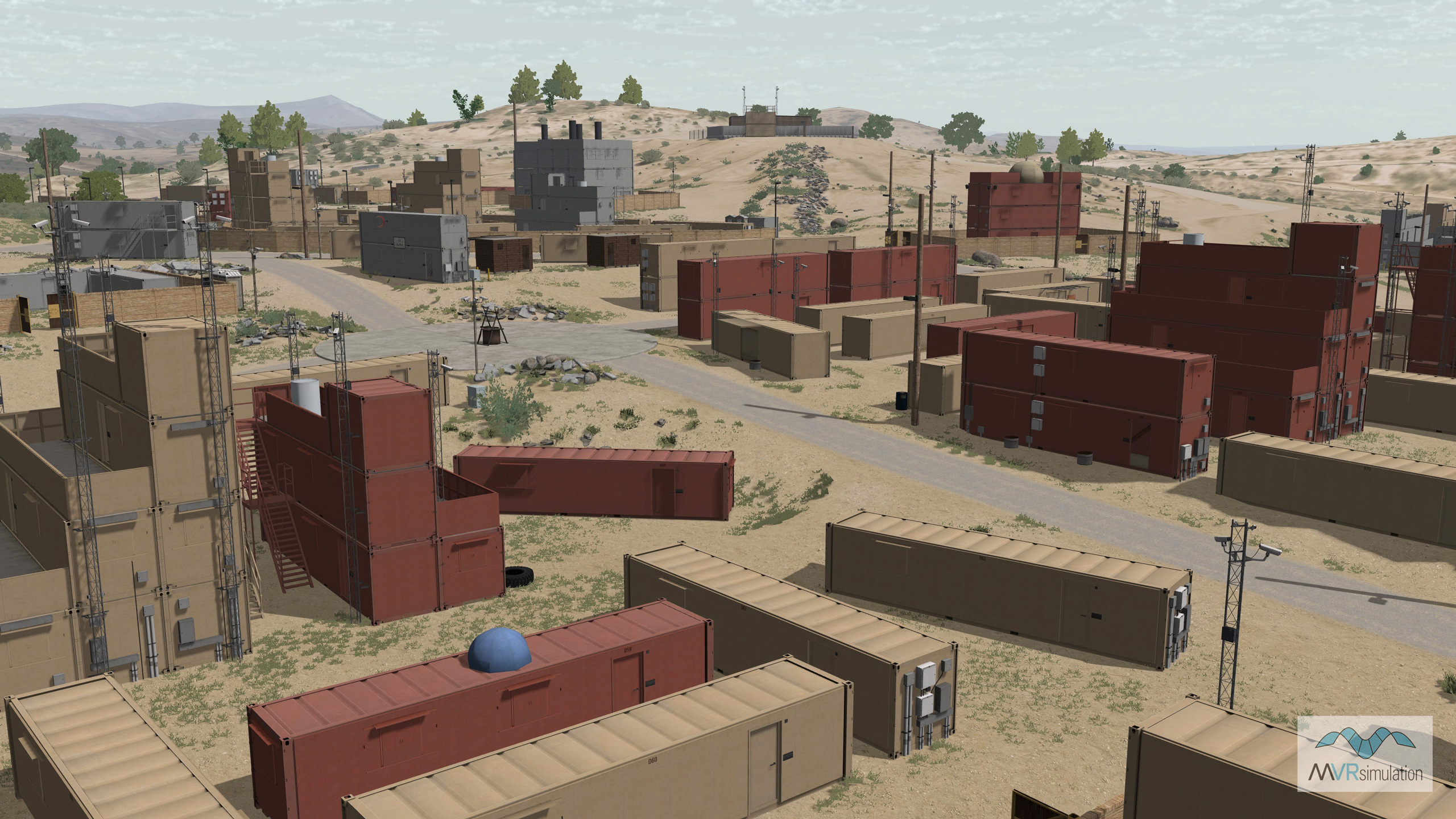 VRSG real-time scene of the modeled Kilo 2 training site on virtual Camp Pendleton terrain.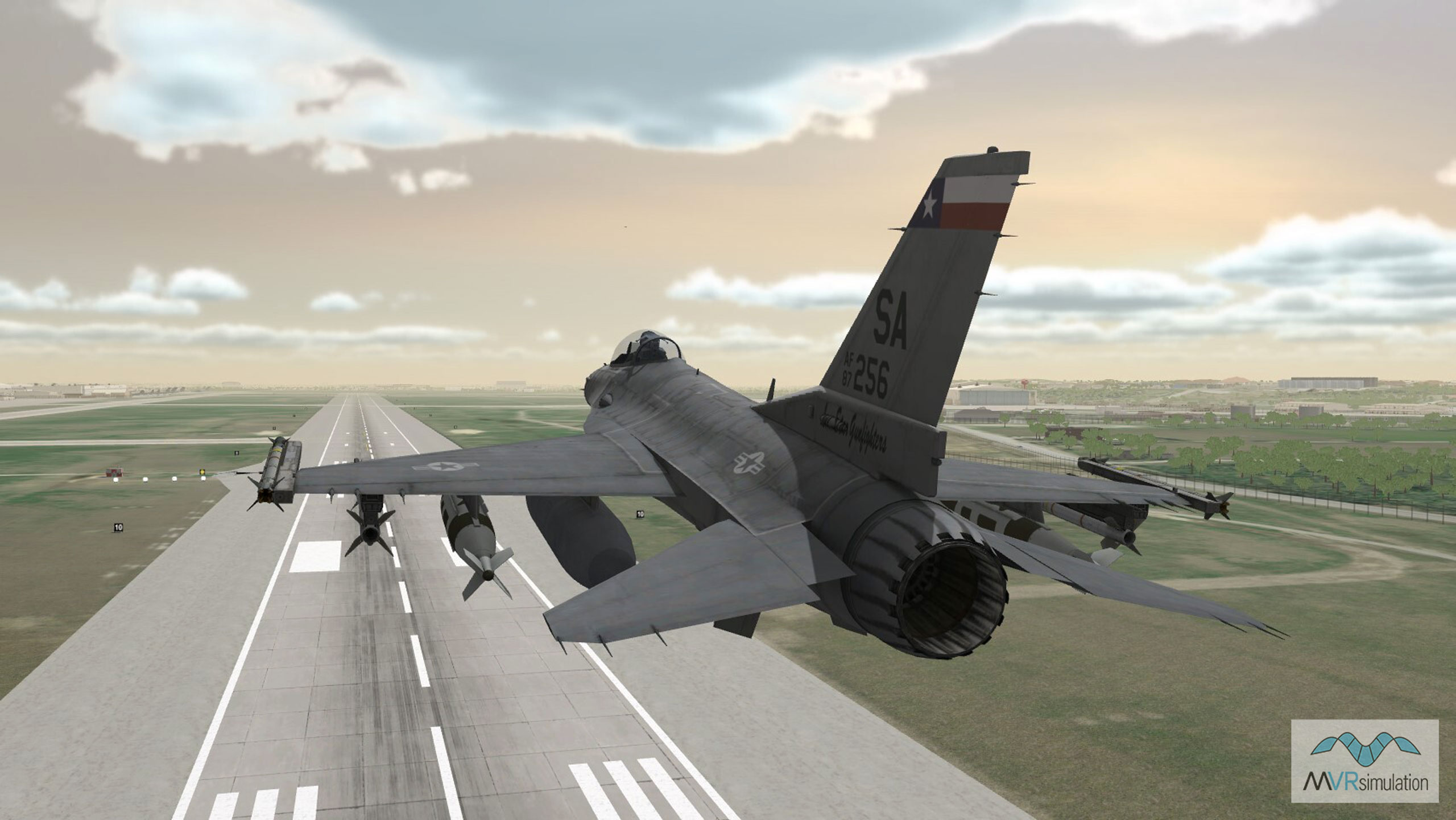 VRSG real-time scene of an F-16 entity approaching the runway at virtual Kelly Field at Lackland Air Force Base.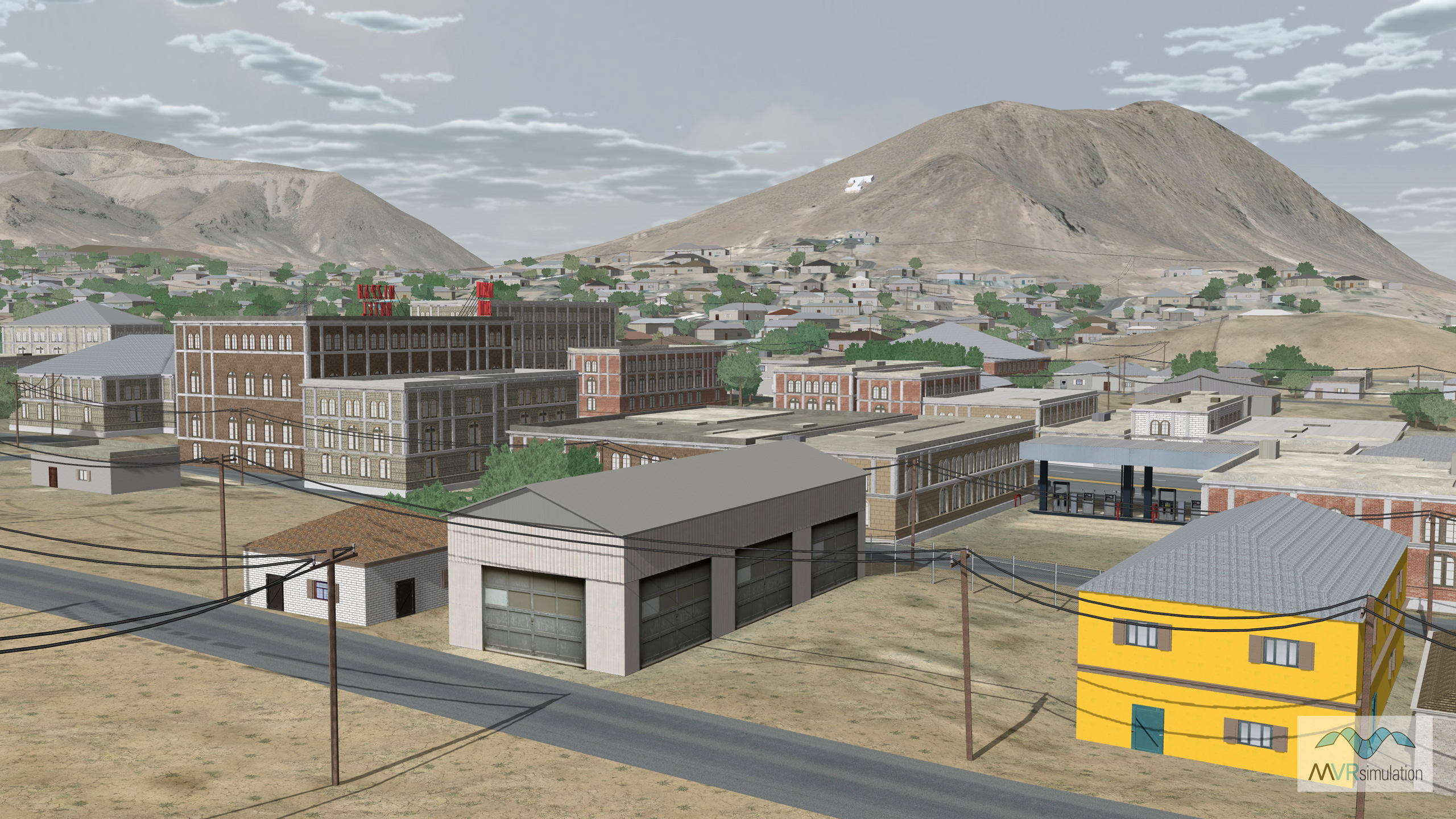 VRSG real-time scene of Tonopah, Nevada, 3D terrain.
VRSG real-time scene of an F-16 entity in flight over a rugged section of virtual CONUS terrain of the Tonto National Forest, AZ, built with NAIP imagery.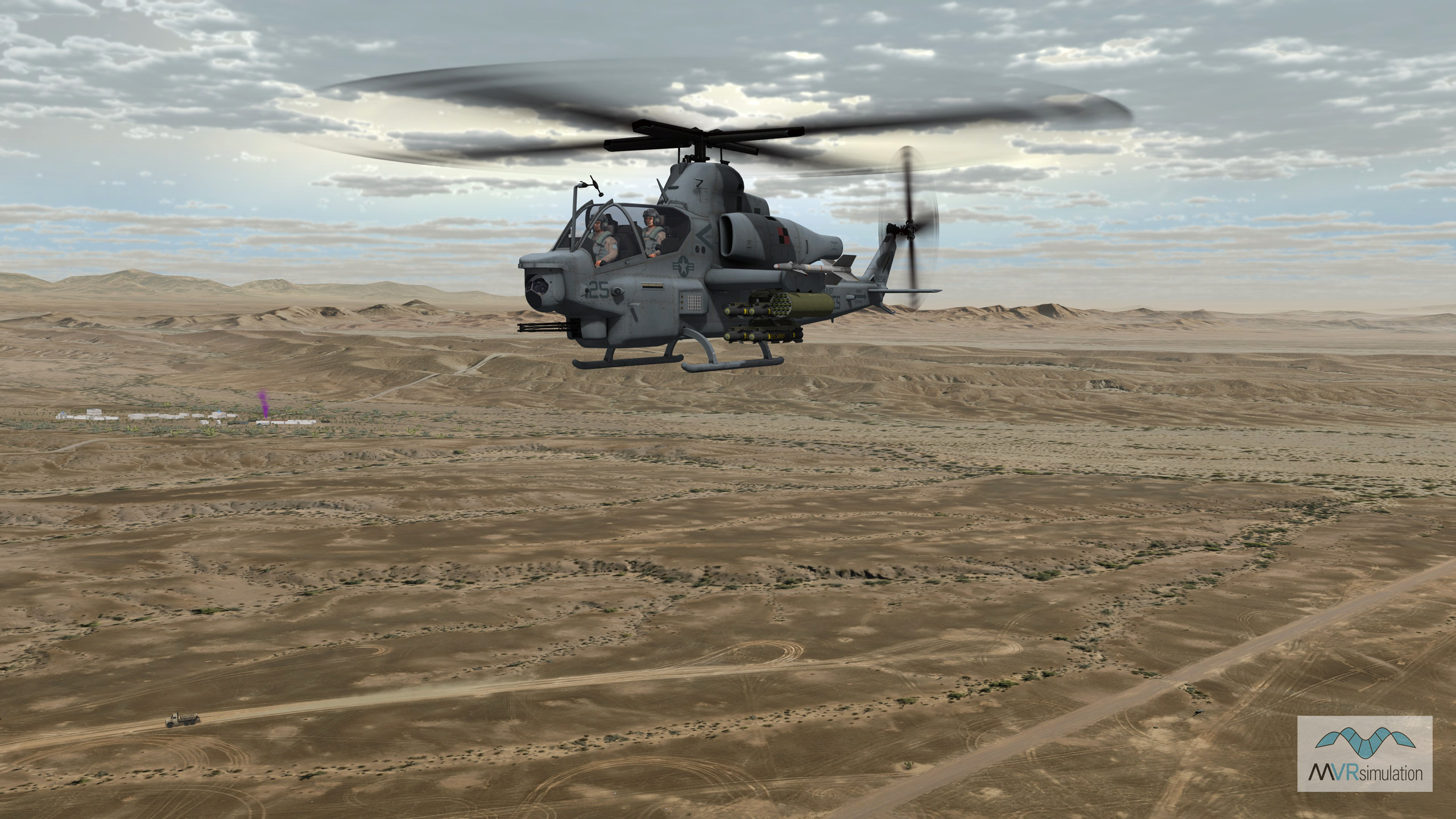 VRSG real-time scene of AH-1Z entity in flight over geospecific Yuma Proving Ground 3D terrain, built with sub-inch UAV imagery.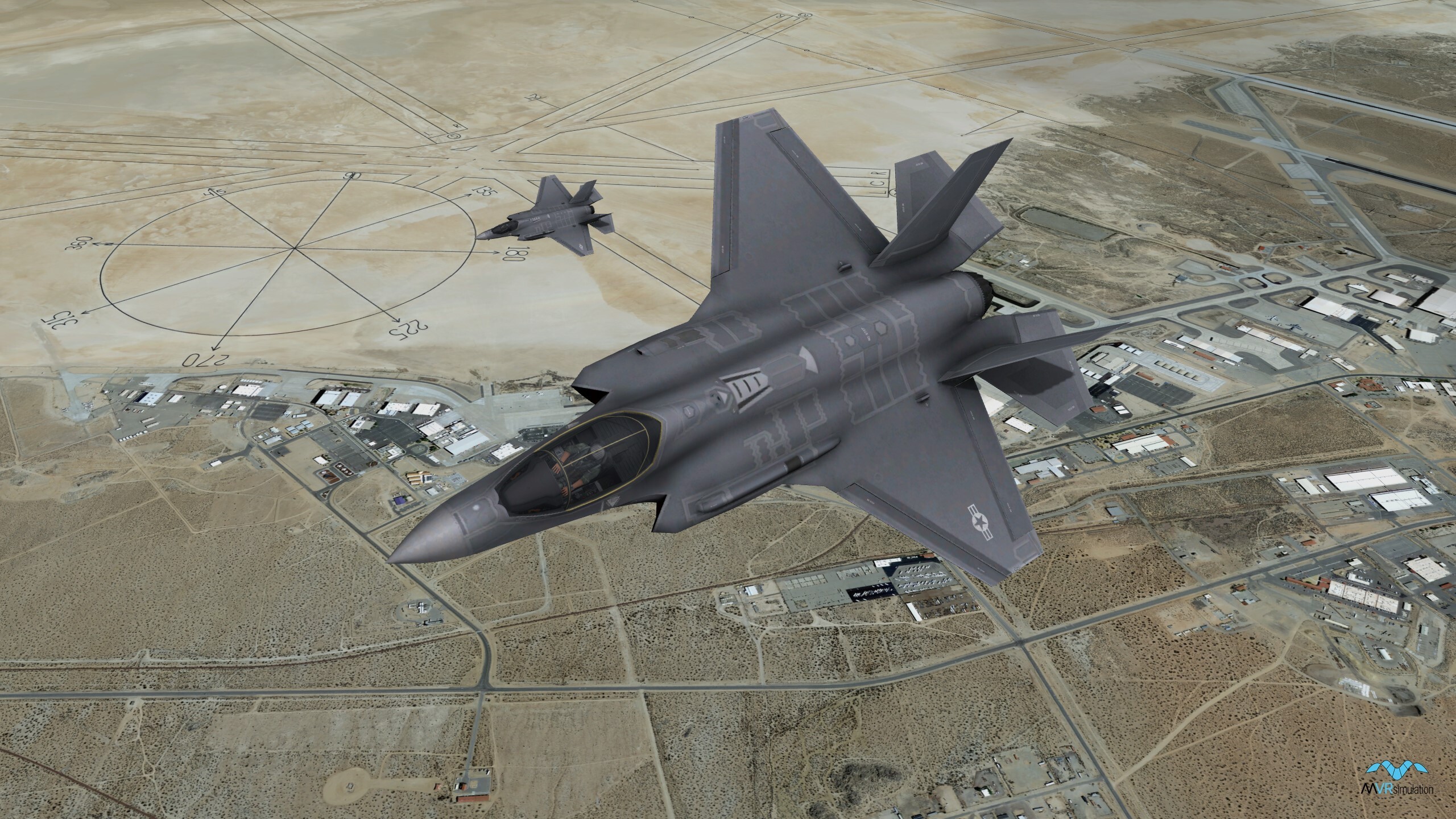 VRSG real-time scene of two F-35A entities in flight over virtual Edwards Air Force Base terrain at Kern County, CA, (with 15 cm resolution imagery, no culture). The dirt runway markings are for US space shuttle landings, and for testing C-17 takeoff and landing on non-paved surfaces.
MVRsimulation's seamless 3D terrain of Continental US plus Alaska and Hawaii (CONUS++) is constructed with high-resolution geospecific orthoimagery and varying levels of digital elevation models. The baseline terrain consists of 1-meter per-pixel (mpp) National Agriculture Imagery Program (NAIP) imagery (except for Alaska and Hawaii) combined with 10-meter per-post NED elevation data.
Overview
Covering an area over 1,900-geocells, the terrain includes high-resolution insets of several areas of interest (AOI) including military installations and urban areas. Each high-resolution inset contains image data ranging in resolution from 0.025 mpp to 0.75 mpp. Built with MVRsimulation's Terrain Tools for Esri® ArcGIS®, the round-earth VRSG terrain tiles reside in a geocentric coordinate system. These tiles are suitable for real-time visualization and simulation applications that use MVRsimulation VRSG, including synthetic vision, glass-cockpit displays, intelligence surveillance, and reconnaissance (ISR) applications, close-air-support (CAS) exercises, and fixed-wing cockpit simulation.
The CONUS++ dataset can also serve as a baseline to which you can add higher-fidelity information to refine the database in a given area of interest. For example, you can add high-resolution aerial imagery or LIDAR elevation data, GPS point surveys, or 3D point features such as buildings, trees, targets, and runway models. You can make these additions as they become available, even in real-time if information is provided directly from sensors in the field. The VRSG terrain architecture automatically signals any listening runtime visualizations that new data is available to be paged into memory. This update flexibility is:
Efficient - conventional simulations applications do not need to recompile entire dataset upon receipt of new data.
Scalable - independent assets can be applied to both construction and visualization.
Innovative - mission rehearsal and battle damage assessment tasks can now include a 3D visualization component that is sensor-data driven.
MVRsimulation updates this 3D terrain on an ongoing basis as new source data become available. The CONUS++ 3D terrain is "Additional Materials" and is provided "as is" as described in our software license agreement. Although MVRsimulation might modify or enhance the original source imagery, some visual artifacts from the source imagery might remain in the terrain tiles.
MVRsimulation and many of its customers use Esri's CityEngine 3D modeling software to generate geotypical procedural building models compiled in Terrain Tools. CityEngine is used for creating huge procedural cities using CGA code and building footprint data. The buildings can be compiled directly into the terrain from a rule package containing compiled CGA rule files. MVRsimulation provides customers its CGA rule packages for specific terrain to use in Terrain Tools.
You can add culture assets from MVRsimulation's robust model libraries and construct pattern-of-life scenarios using MVRsimulation's Scenario Editor. You can also build higher-resolution terrain tiles with Terrain Tools for Esri ArcGIS with your own source data to refine the terrain for a given area of interest. You can also request terrain enhancements or higher resolution terrain tiles from MVRsimulation.
Areas of Interest
The CONUS++ terrain contains Several high-resolution 3D culture areas are included throughout the CONUS++ terrain including military training sites, airports, and urban centers. Many of these areas are modeled from photographs taken at the actual sites.

The CONUS ++ terrain contains three AOIs built with sub-inch resolution imagery collected by MVRsimulation's small UAS. Virtual terrain created with sub-inch resolution imagery is critical for real-time simulation; high-fidelity visual cues such as helicopter landing areas, vehicle targets, and small craters left from exploded ordnance are visible on the terrain and bullet holes are visible on targets. These AOIs include:

Among the CONUS++ culture AOIs MVRsimulation has modeled are nearly 30 virtual airports. All have the CONUS++ base imagery of 1 mpp or better resolution. All include higher-resolution insets, with imagery ranging from 0.15 mpp to 0.60 mpp, blended with the underlying 1 mpp NAIP imagery. Elevation sources for most airports are 10 meters-per-post and are blended for a seamless transition to the underlying terrain and to a custom elevation that matches FAA airport elevations with at least 95% accuracy.

Many virtual airports were built at the request of customers. In most cases, a site-specific control tower was built (based on publicly available photos) and used with a combination of geotypical airfield models from MVRsimulation's extensive culture model libraries. Cultural features for some airports are geospecific, based on photos of the buildings and other structures.

All airports contain accurate runways and runway lights, markings, and signage. Cultural features on some are geospecific, based on photos of the buildings and other structures.
Specifications
Below are specifications for MVRsimulation's CONUS++ terrain dataset in round-earth VRSG terrain format (MDS).
Coverage
14,900,000 sq km
Size On Disk
37.3 TB
Terrain Post Spacing
10 meters-per-post
Elevation Source
NED 10m
Terrain Imagery
1 meters-per-pixel (mpp) natural color imagery from the Simulator Database Facility (SDBF) at Kirtland Air Force Base, distributed for government simulation training only, with high-resolution imagery ranging from 0.24 to 0.50 mpp for several urban areas and most US military installations.
Also 0.025 inset imagery collected by MVRsimulation's SUAS.
Total Size on Disk
93.7GB

Alaska

Coverage
1,717,854 sq km
Terrain Post Spacing
50 meters-per-post
Elevation Source
DTED0, DTED1, DTED2, SRTM, and GTOPO30
Terrain Imagery
15 mpp NaturalVue Landsat, 5 mpp Fairbanks and
Anchorage, 1 mpp imagery Fairbanks and Wainwright,
60 cm imagery Anchorage, Eielson AFB, Allen Army Airfield.
| | |
| --- | --- |
| Hawaii | |
| | |
| Coverage | 28,311 sq km |
| Terrain Post Spacing | 10 meters-per-post |
| Elevation Source | NED 10 m |
| Terrain Imagery | 0.25 mpp, 0.30 mpp and 2 mpp of Island of Hawaii, 0.30 mpp of Maui, Kahoolawe, Lanai, Molokai, Kauai, and Niíihau, 0.50 mpp of Oahu Hickman AFB. |
Delivery
MVRsimulation's CONUS++ 3D terrain is delivered on six external hard drives. Each drive includes geospecific terrain of a region constructed from natural color imagery ranging from 0.24 to 1 mpp resolution. Each drive also includes 4 mpp resolution tiles derived from the 1 mpp terrain for customers who need a more compact version of the terrain. The hard drives are organized by region as shown in the following table. Click the thumbnail image of a region to view an enlarged image:
| | | |
| --- | --- | --- |
| Region coverage map | Culture areas of interest | Size |
| | Albuquerque Int'l Sunport/ Kirtland AFB, Barry M Goldwater Range, Buckley AFB (KBFK) and Greater Denver, Camp Pendleton MOUT sites (2), Fallon Range Training Complex, Fallon NAS Van Voorhis Field (KNFL), Los Alamitos Army Airfield (KSLI), Luke AFB (KLUF), Nellis AFB (KLSV), NTC with Tiefort City, Pinal Airpark (KMZJ), Prescott, Ryan Airfield (KRYN), Stockton Metropolitan Airport, (KSCK), Tonopah, Nevada, Tucson International Airport (KTUS),White Sands Missile Range (with MOUT site), Yuma Proving Ground Laguna (KLGF) and Yuma SOTACC Village MOUT site | 9.3 TB |
| | Adams Field/Clinton National Airport (KLIT), Austin Bergstrom International Airport (KAUS), Corpus Christi, Ft. Worth-Naval Air Station JRB/Carswell Field (KNFW) and downtown Ft. Worth, Laredo International Airport, Kelly Field at Lackland AFB (KSKF) and Greater San Antonio, Razorback Range, and Rick Husband Amarillo International Airport (KAMA). | 4.73 TB |
| | Charleston AFB/International Airport (KCHS), Ft. Rucker Cairns Airfield (KOZR), Homestead AFB (KHST), McEntire JNJB (KMMT), Redstone Arsenal (KHUA), Ft. Benning McKenna MOUT site | 3.48 TB |
| | Aberdeen Proving Gound with MOUT site, Burlington International Airport (KBTV) VT ANG Air Base, BWI Airport (KBWI), Lancaster Airport (KLNS), Martin State Airport (KMTN), Muir Army Airfield (KMUI) | 5.24 TB |
| | Bismarck Municipal Airport (KBIS), Ft. Riley, Lincoln Airport (KLNK) | 8.25 TB |
| | Leschi Town CATC Facility at Joint Base Lewis-McChord, Seattle, WA; Martinez CATC Facility at Ft. Wainwright, Fairbanks AK; Seattle, WA. | 5.97 TB |
How to Order
The terrain is provided in MVRsimulation's round-earth terrain format and will only run with a valid VRSG version 7 software license or later, with current software maintenance.
MVRsimulation's CONUS++ 3D terrain is available for purchase to customers who are US Government agencies or contractors (for official use only). Customers can duplicate the data at their discretion as long as the data is used in conjunction with a valid VRSG license. MVRsimulation's CONUS NAIP terrain is now exportable to locations beyond the borders of the United States (excluding Alaska and Hawaii terrain).
The CONUS++ 3D terrain is available in regions (as described in the table above). Regions are distributed on portable, external drives.
The entirety of CONUS++ can be obtained by purchasing:
All six region terrain drives.
Complete world terrain (which includes CONUS++) delivered on a direct-attached, large-volume (DALV) storage device compatible with laptop/notebook and desktop computer configurations requiring USB 3.1.
A fee covers processing large quantities of data into round-earth VRSG format and hard drive distribution media.
You can request a quote for the CONUS++ 3D terrain directly from MVRsimulation by consulting the Price List and then filling out the quote request form and providing the name of the region (as described in the table above).
Other Resources
Terrain products from the Simulator Database Facility (SDBF) at Kirtland Air Force Base. SDBF is a central repository and distribution point of terrain databases (including MVRsimulation's terrain) that are available for DOD programs.
Terrain products from the Air National Guard Visual Database Development Team. This team produces high fidelity and fully immersive visual databases to support multiple Air National Guard training devices. These databases are in MVRsimulation's round-earth terrain format to provide out-the-window VRSG views in both ground based and flight training devices.