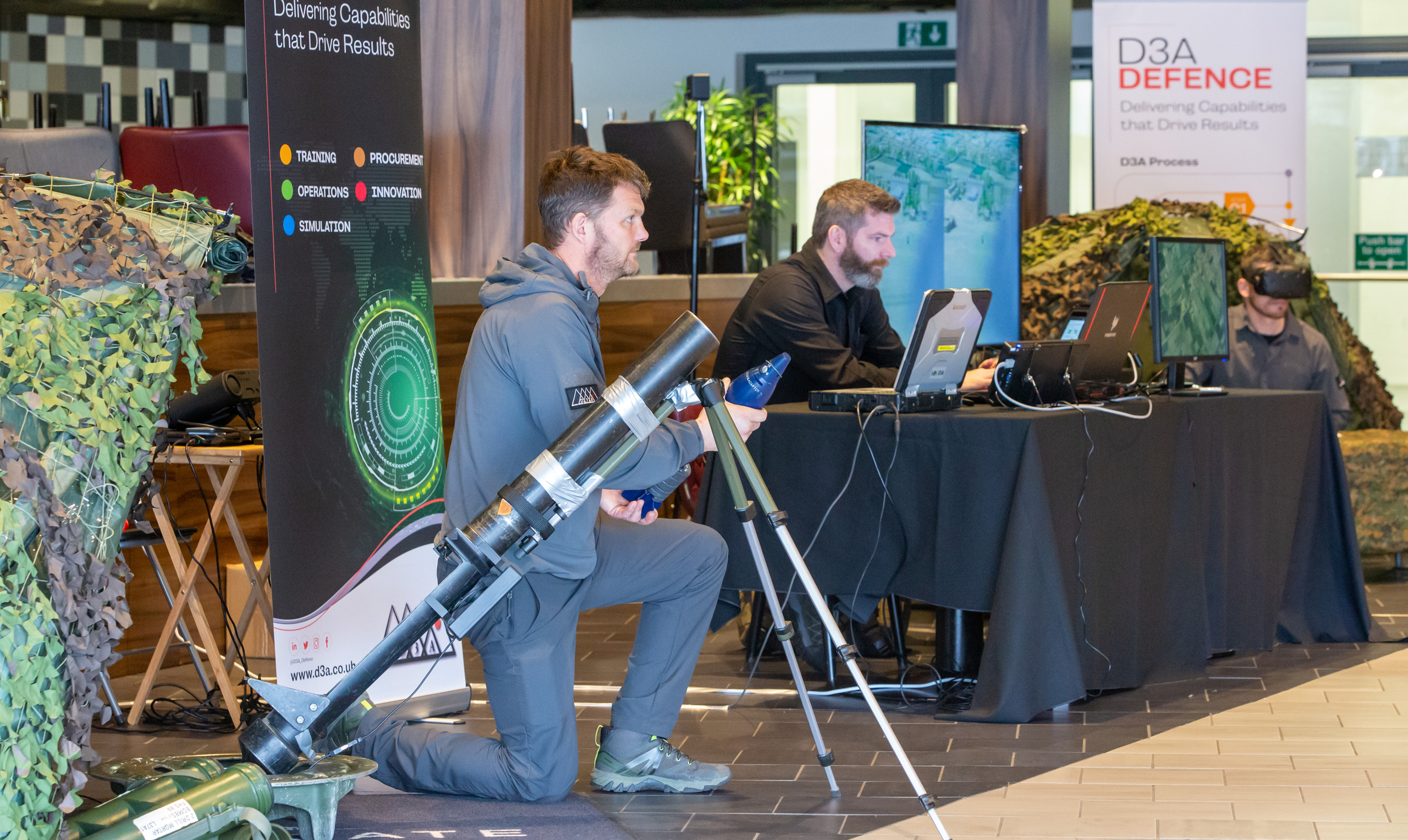 D3A's virtual training system concept for mortar operations, at DSET 2020. The concept demonstrator includes MVRsimulation visuals and 3D content. (Photo courtesy of D3A.)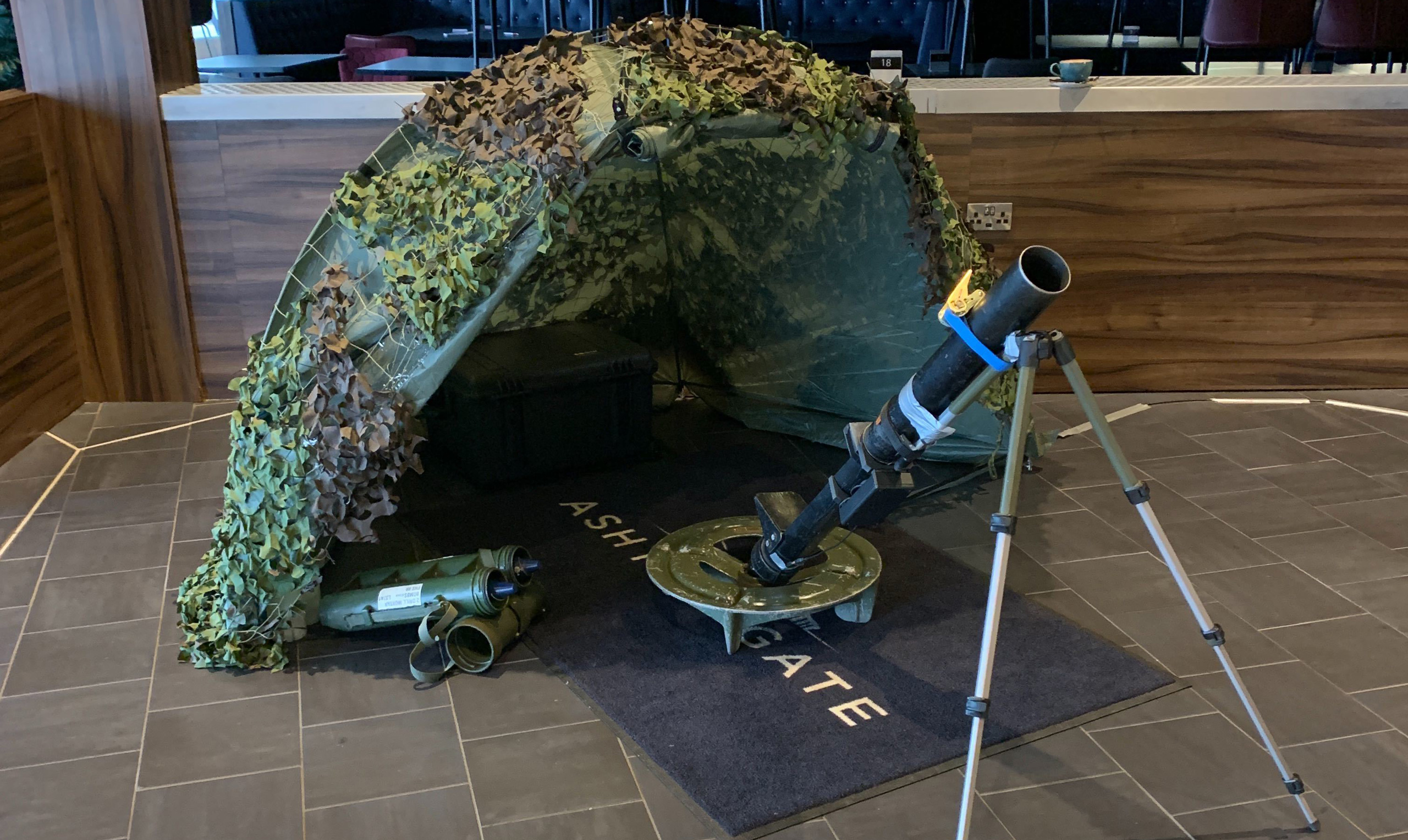 Mortar crew station of D3A's virtual training system concept at DSET 2020. The mortar operations concept demonstrator includes MVRsimulation visuals and 3D content. (Photo courtesy of D3A.)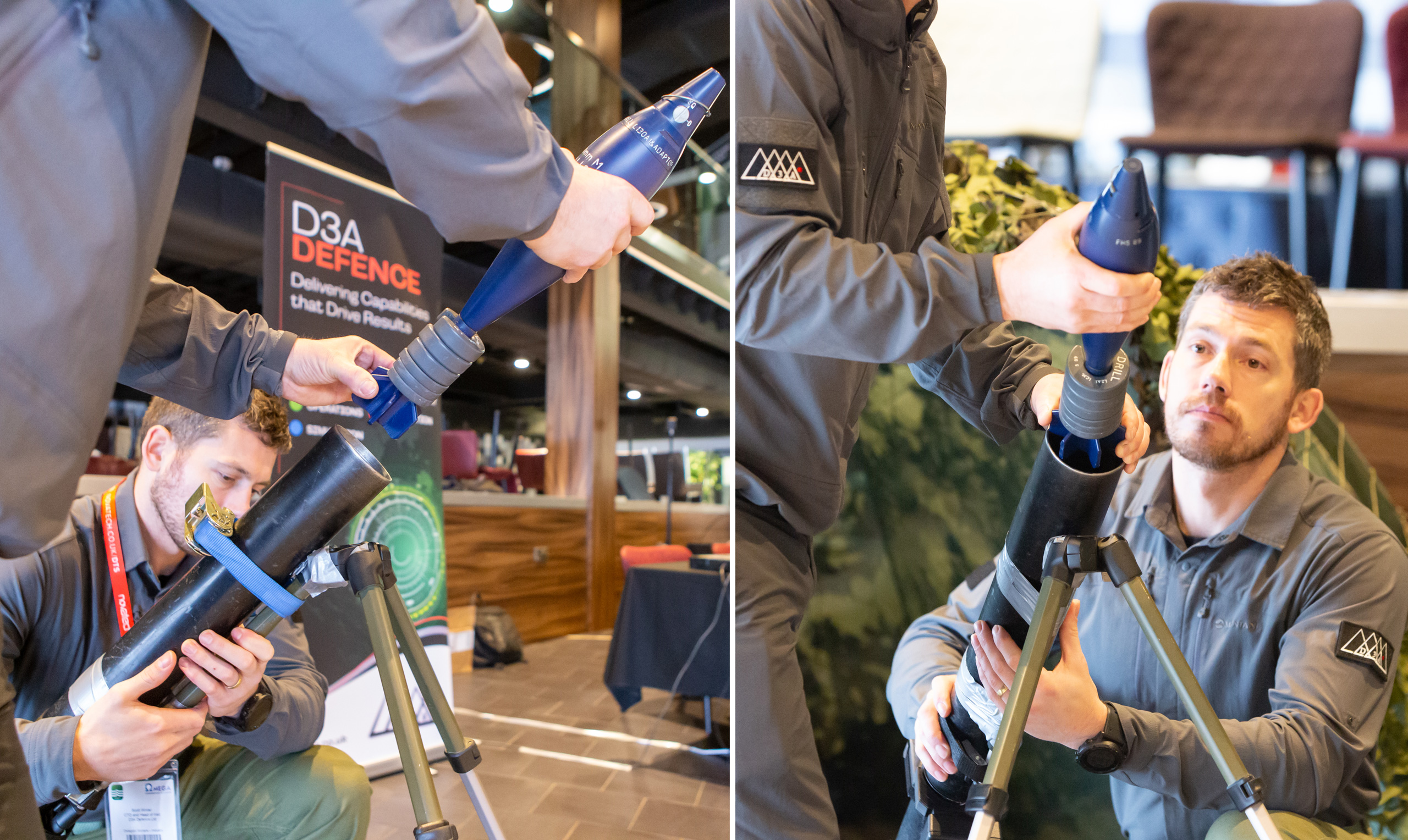 Loading a shell at the mortar crew station of D3A's virtual training system concept at DSET 2020. The mortar operations concept demonstrator includes MVRsimulation visuals and 3D content. (Photo courtesy of D3A.)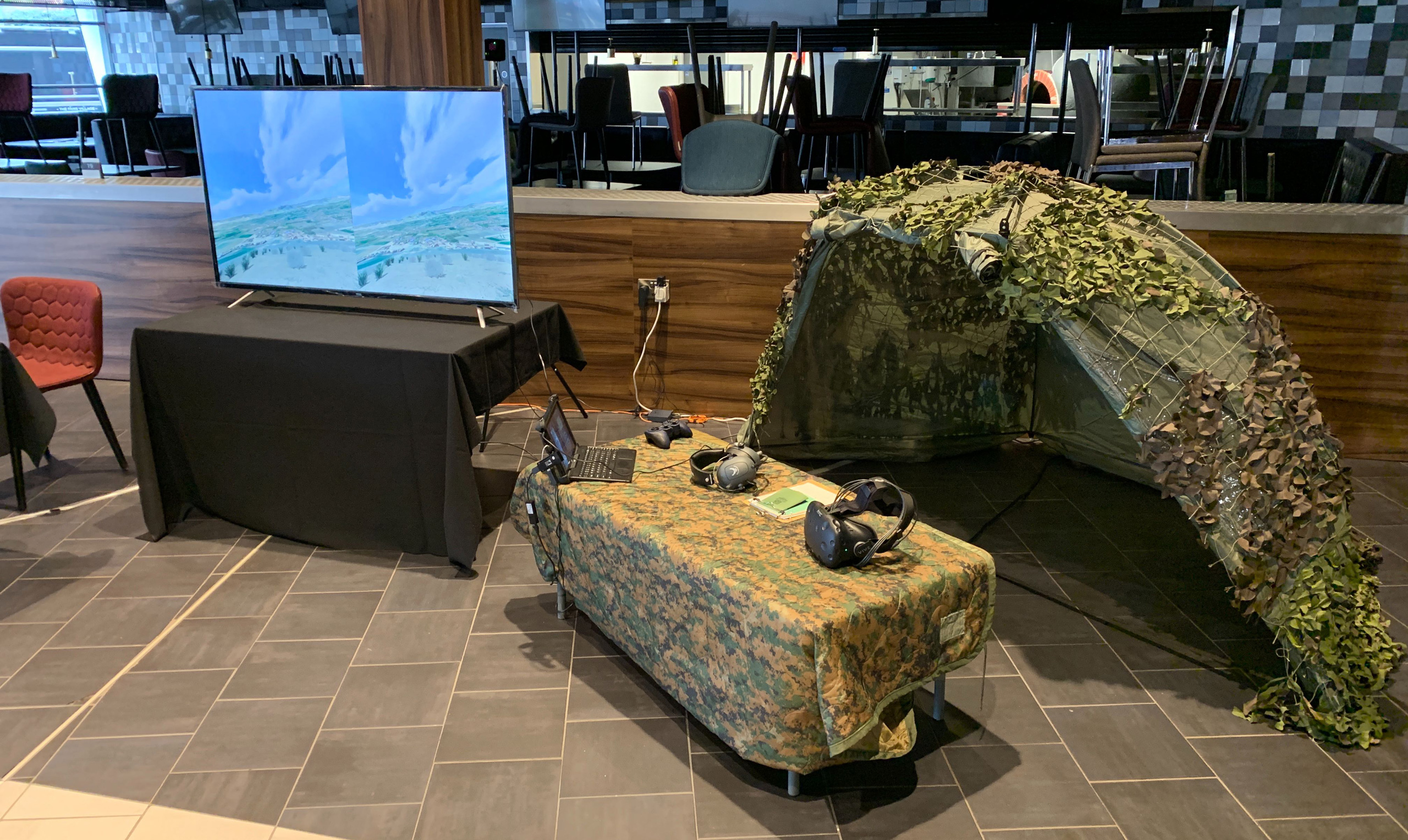 Forward observer station of D3A's virtual training system concept for mortar operations, at DSET 2020. The concept demonstrator includes MVRsimulation visuals and 3D content. The VRSG scene on the flat screen shows what the observer sees in the VR headset. (Photo courtesy of D3A.)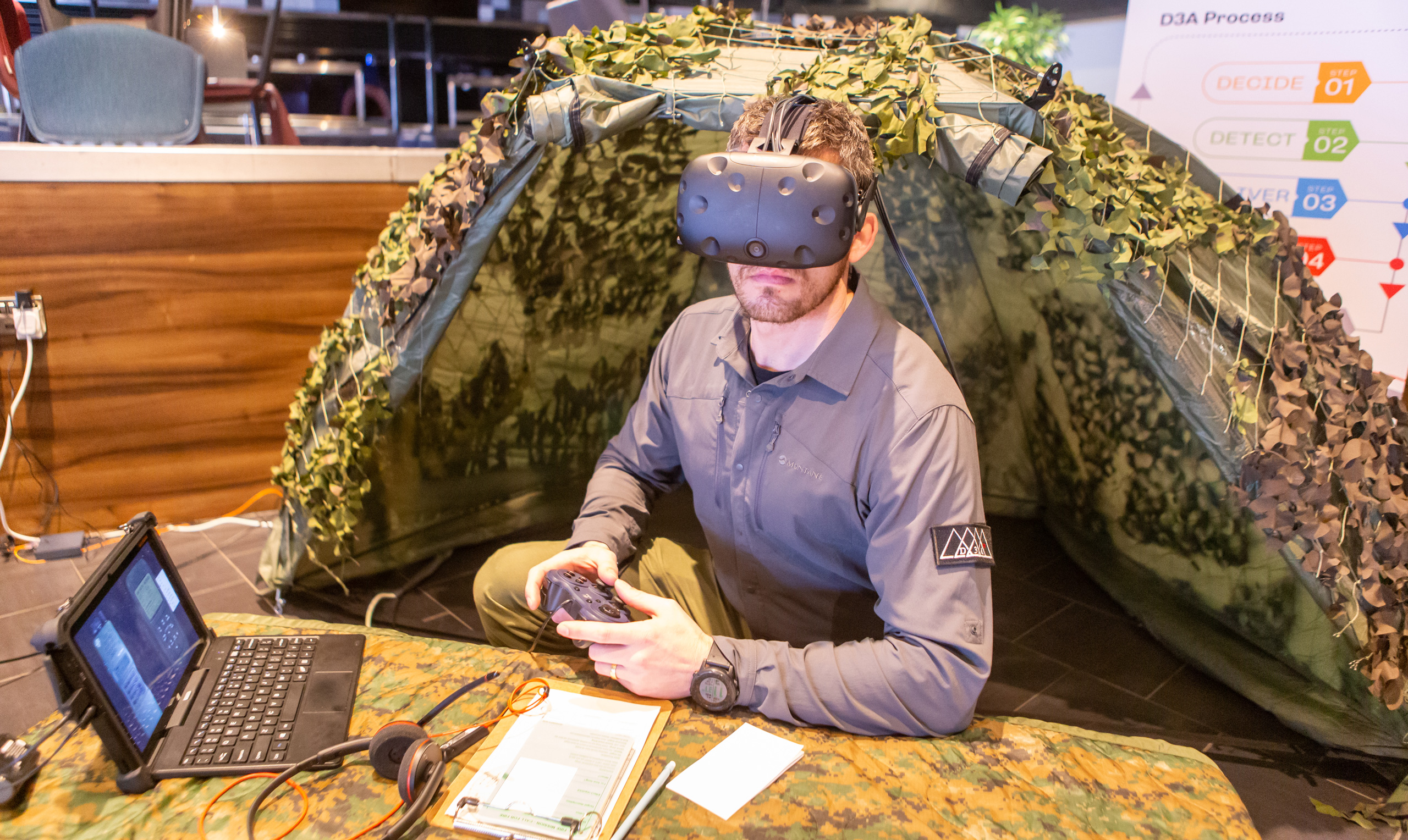 Forward observer station of D3A's virtual training system concept for mortar operations, at DSET 2020. The observer wears a VR headset and uses tools such as BSI's Viper DIS radio. The concept demonstrator includes MVRsimulation visuals and 3D content. (Photo courtesy of D3A.)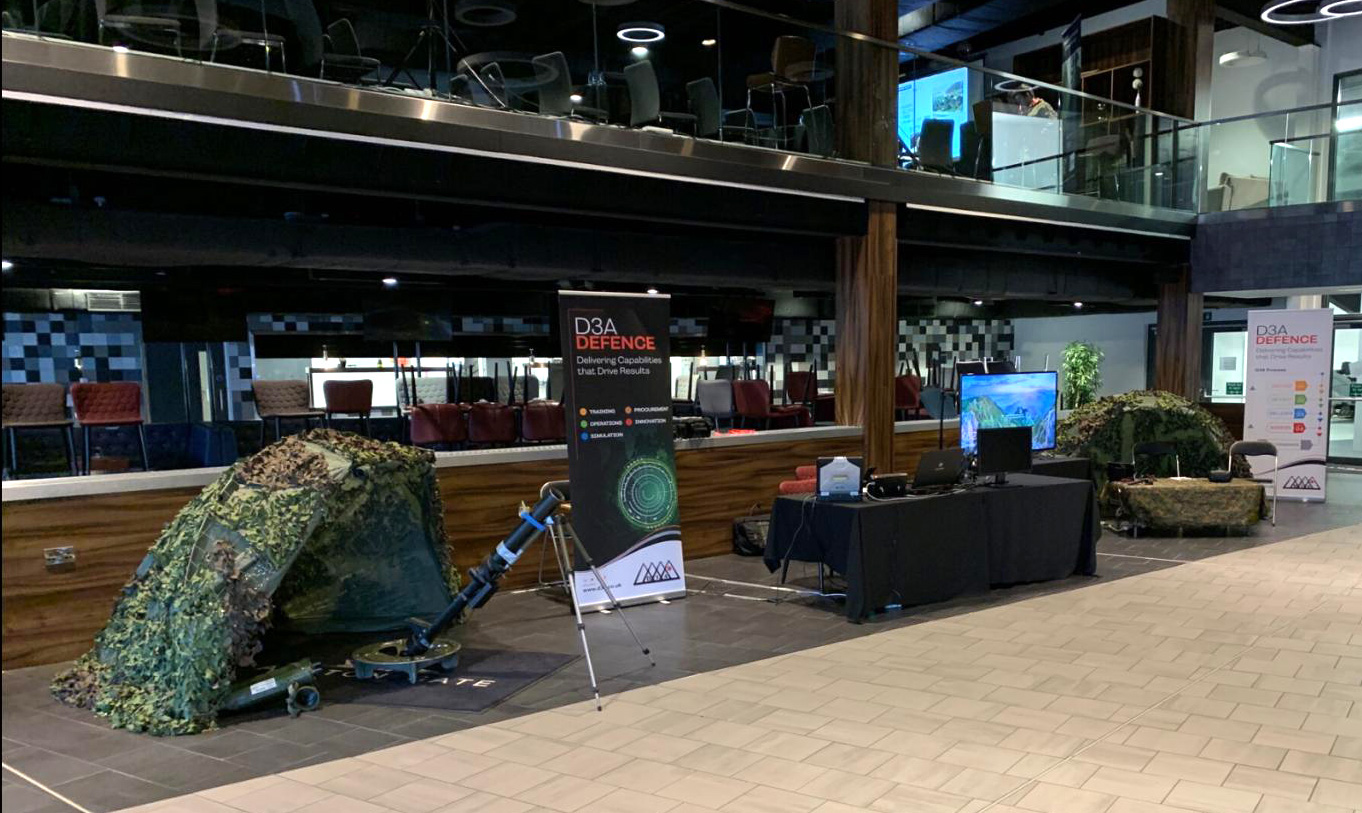 D3A's setup of their virtual training system concept for mortar operations, at DSET 2020. The concept demonstrator includes MVRsimulation visuals and 3D content. (Photo courtesy of D3A.)
An industry team led by D3A Defence and including MVRsimulation, Battlespace Simulations, and Minerva Simulation & Training demonstrated a "bring your own mortar" end-to-end virtual training system concept for mortar operations at the DSET conference in Bristol, UK, on March 10-11, 2020.
This training system concept demonstrated the power of distributed roleplay in a virtual reality training environment with computer-based training solutions that are easy to use and quick to deploy. Demonstrations of the system were conducted on the D3A stand (on the ground floor in the sports bar area) throughout the event.
The concept demonstrator consisted of three networked training stations for:
Mortar Fire Controllers (MFC) and/or Forward Observers (FO). The virtual reality MFC station operator was equipped with in-service hardware representative binoculars and laser range finders (LRFs) and a head-mounted display with visuals, 3D terrain, and models provided by MVRsimulation VRSG. The trainee was immersed in a 360 degree virtual world that allowed them to interact with the virtual world through VRSG while handling and operating hardware equipment in the real world. The MFC sent fire missions to the CP and mortar crew via emulated radios.
Mortar/artillery Command Post (CP) operators. The CP station represented the mortar or gun line CP enabling the management of fire orders, facilitated by a laptop running BSI's Modern Air Combat Environment (MACE) integrated with VRSG. Together, VRSG and MACE provided real-time ballistic information and replicate effects of fired ordnance accurately within the virtual environment.
Mortar crew, integrated to enable training for mortar operations within a joint training environment. The mortar crew station featured a physically representative mortar fitted with specialist equipment provided by Minerva Simulation & Training. The mortar was integrated into the virtual environment so that firings were replicated in the virtual environment with accurate falls of shot.
The demonstration scenario took place in a common virtual world rendered by VRSG and shared by all three operators. The high-resolution geospecific 3D terrain built in MVRsimulation Terrain Tools for Esri ArcGIS in MVRsimulation's round-earth terrain format enabled trainees to conduct challenging exercises within a dense Middle Eastern urban area.
Designed to enable flexible, quick-deploy training capabilities for mortar operations, the solution can be packed and transported in a single two-person portable ruggedized case, with all the equipment needed to set-up and run training scenarios within minutes. The live mortar system can be fulfilled with any 81mm mortar weapon of the customer's choosing.
Scott Winter, Chief Technology Officer & Head of IRaD, D3A Defence, gave a presentation on the system during Day 2 of the conference, describing the system and its advantages.