Army National Guard UH-72A Lakota Synthetic Flight Training Systems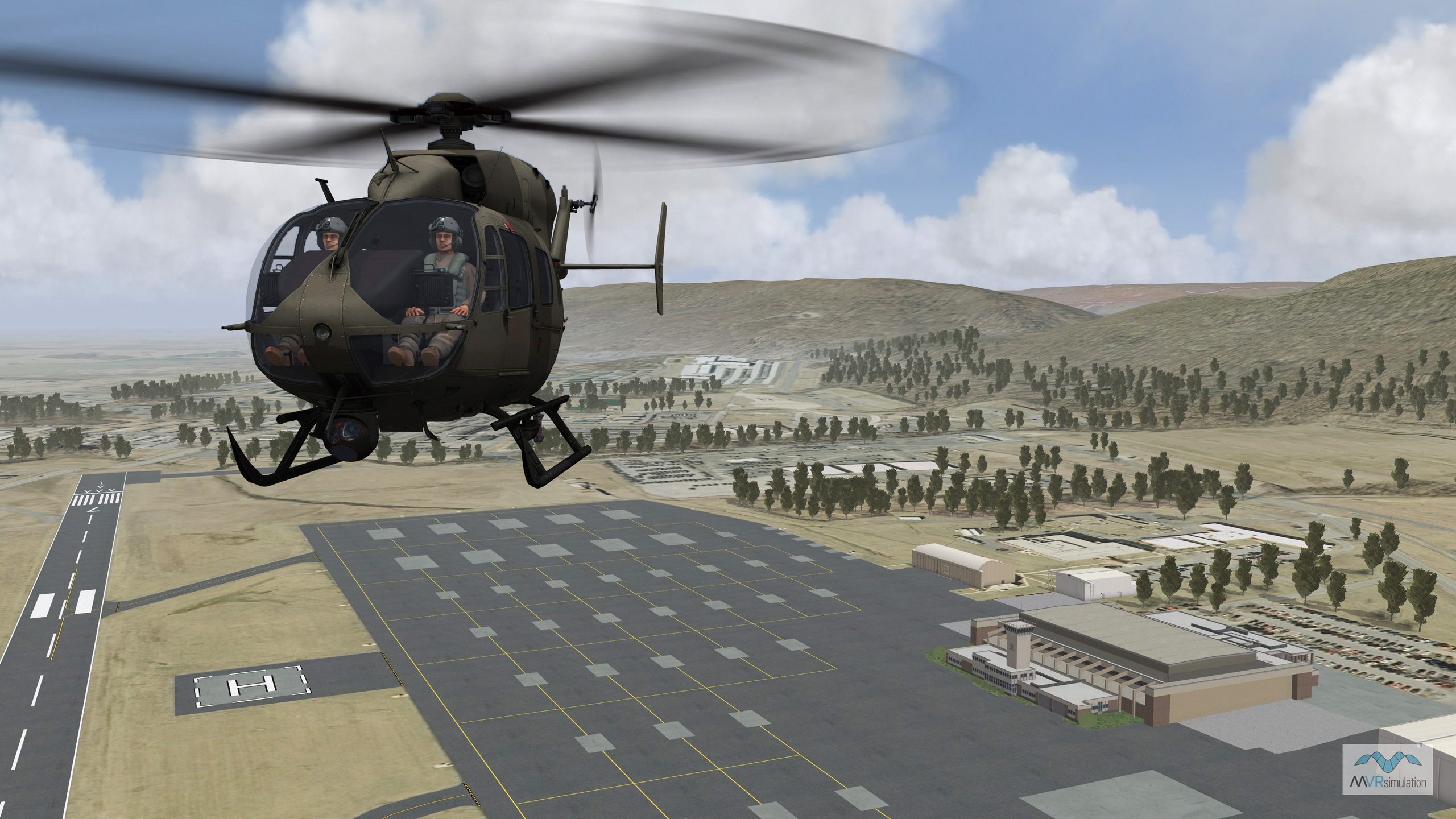 MVRsimulation VRSG real-time scene of a UH-72A MEP entity in flight over virtual Muir Army Airfield.
The Army National Guard (ARNG) uses MVRsimulation VRSG in eight UH-72A Lakota Synthetic Flight Training Systems (SFTS). The SFTS trainers, which use a total of 48 VRSG licenses, are located in Eastern and Western regional Army Aviation training sites.
Each mobile UH-72A SFTS is comprised of a 53' self-contained tractor trailer, provided by Oshkosh Specialty Vehicles, which houses the UH-72A flight training device (FTD). The two-seat cockpit FTD use six VRSG licenses; three for out-the-window views and three for sensor views. The training simulator features a collapsible partial (220° x 60°) fabric dome display provided by Immersive Display Solutions.
The UH-72A FTD, which is considered equivalent to a FAA Level 6 FTD, will support institutional, organizational, and sustainment training for Active Component and Reserve Component aviation units. The trailer provides the ability for the training system to move about within a given region monthly to enable aviation units to train and sustain the performance of selected critical tasks. It will also enable UH-72A qualified aviators to maintain proficiency in high-risk tasks.
The UH-72A Lakota is a multi-mission aircraft used for domestic missions ranging from emergency response to border security surveillance and support. The aircraft can provide critical support to ground personnel during high risk operations.
Pilot trainees on the UH-72A FTD learn how to fly, maintain, and land the aircraft. The use of on-board equipment, such as the sensor views and spotlight, will also be covered. For example, during an air security training operation, a trainee might use the simulated sensor views to monitor the ground movement of a vehicle or person of interest in a given area. Other task training operations will include how to avoid hazards such as trees or power lines while landing the aircraft, how to land during fog conditions, and how to land the UH-72A at an airport.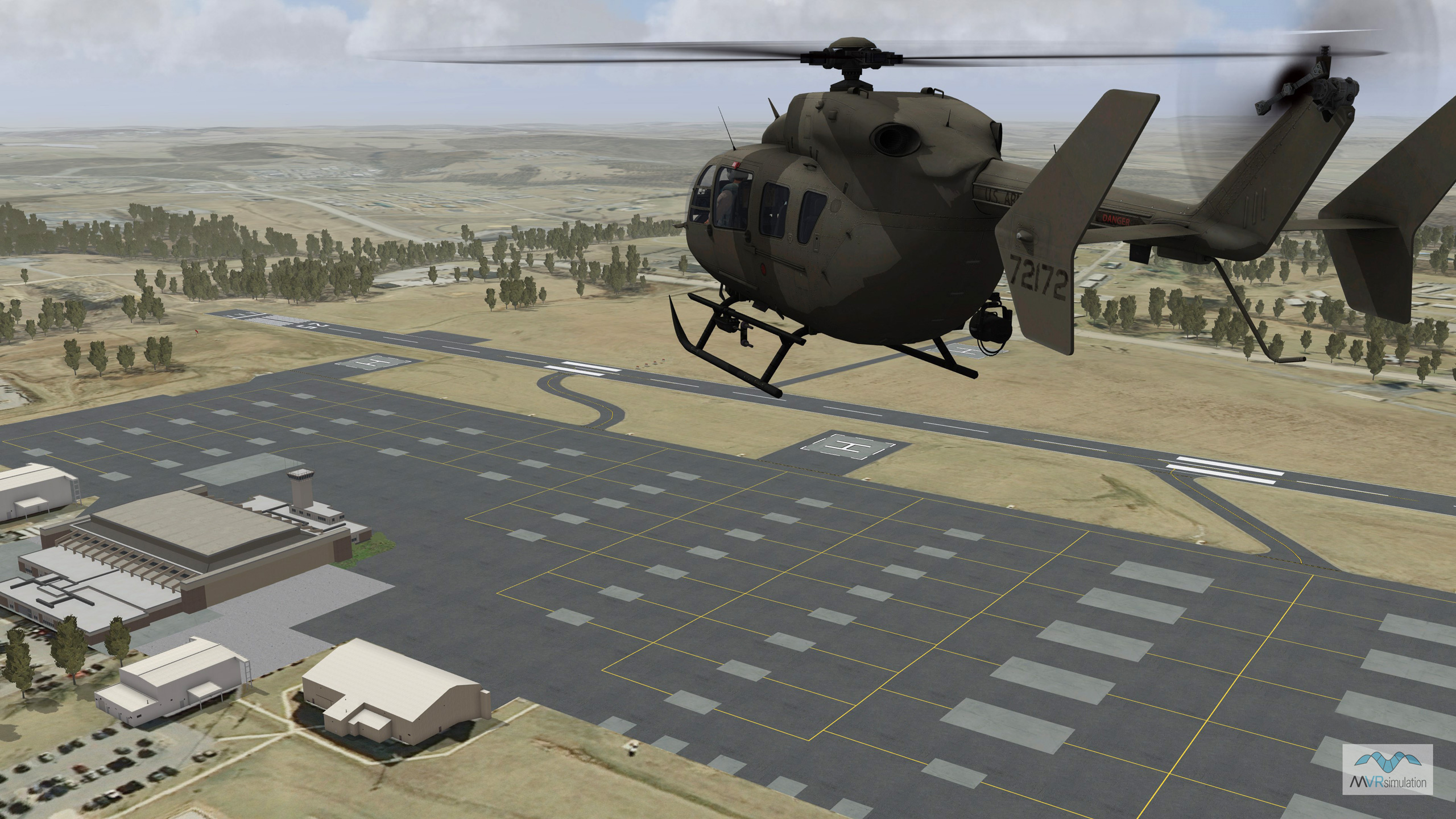 MVRsimulation VRSG real-time scene of UH-72A MEP entities at virtual Muir Army Airfield.
As part of the VRSG sale, MVRsimulation built 3D terrain of 16 U.S. military and commercial airfields within regions the training systems will be located. The virtual airfields were compiled with imagery ranging from 15-30 cm per pixel resolution, coupled with NED 1/9 (3M) elevation data. Each have one or more runway models, a geospecific control tower model, runway lights and signage, and geolocated geotypical models ranging from, hangars, offices, storage facilities, and other structures in the area of interest. The modeled runways use a custom digital elevation model (DEM) to provide greater than 95% accuracy for runway elevations to match FAA charts. The virtual airfields are built with MVRsimulation Terrain Tools for Esri® ArcGIS®. In addition, Scenario Editor is used for placing persistent cultural features on the terrain.
MVRsimulation also built a high-fidelity real-time UH-72A MEP (mission equipment package) model, which includes such features as the aircraft's MX-15i EO/IR sensor system, search light, and hoist.