At MVRsimulation's DJFT Observer station, looking through the Varjo XR-3 headset at the VRSG scene displayed in the emulated SOFLAM. In this mixed-reality environment, one can interact with both the equipment and the virtual world.
MVRsimulation VRSG supports 3 or 6 degree-of-freedom (DOF) position tracking technology. This capability totally immerses users in a simulated world with either a handheld visual device or a head-mounted display (HMD). VRSG's tracker support is integrated directly with the display mechanism such that latency is minimized during rapid movements by the user.
Tracker use with VRSG can range from virtual reality (VR) and mixed reality headsets to emulated military devices for target locating and laser designating used by JTACs. When you use a VR or mixed reality system with VRSG, you can experience MVRsimulation's high-resolution geospecific terrain and photo-realistic models from the 3D model libraries in a 360-degree view at 2160 x 1200 pixel resolution.
A VRSG license can create and display multiple viewports, or concurrent views, where each viewport can be assigned to a different view of the scene. VR devices require at least two viewports (one for each eye) or four viewports (two for each eye), depending on the manufacturer. Note that the pricing of a VRSG license is structured on a per-viewport basis. (See the Price List for more about VRSG per-viewport pricing.)
Supported commercial tracking, VR, and Mixed Reality systems
Latest Supported VR and Mixed Reality Devices
Varjo VR-2 and Varjo VR-2 Pro virtual reality systems, and Varjo XR-1 and XR-3 mixed-reality systems.
HP Reverb Pro virtual reality headset.
HTC VIVE Pro virtual reality system and the HTC VIVE Tracker.
Valve Index virtual reality system.
Windows Mixed Reality VR headsets.
VRSG supports any VR HMD that is compatible with OpenVR API / SteamVR. The support is native.
Through a VRSG plugin, the Varjo line of HMDs is also supported. Usage of VRSG with a VR system is nearly the same for all systems. Settings include whether to render the scene in a single pass, render the controllers and/or or base station, and resolution refinements for foveated rendering.
Other Supported Devices
VRSG supports mixed-reality VR solutions with Varjo XR-1, Varjo XR-3, and SA Photonics SA-92/S systems. In such systems the trainee wearing the headset can see not only the virtual world rendered in VRSG but also physical controls within a cockpit as well as their hands, as in MVRsimulation's Part Task Mission Trainer shown in the photo on the right. A green screen is not needed with these solutions. Polygon masking within a given model determines where real-world pixels will be displayed.
Eye Tracking Visualization with Varjo Devices
To take advantage of the eye-tracking technology built into Varjo VR and XR headsets, VRSG can visualize the gaze of the wearer. For example, during a simulated flight, VRSG can track the pilot's head position and orientation within the cockpit simulator, track the gaze vector using the Varjo device's pupil tracking functionality, and then depict the gaze of each eye independently as a color-coded 3D cone. During a real-time simulated exercise or an after-action playback, VRSG can visualize the pilot's head position, orientation, and gaze vector over the events of the training session.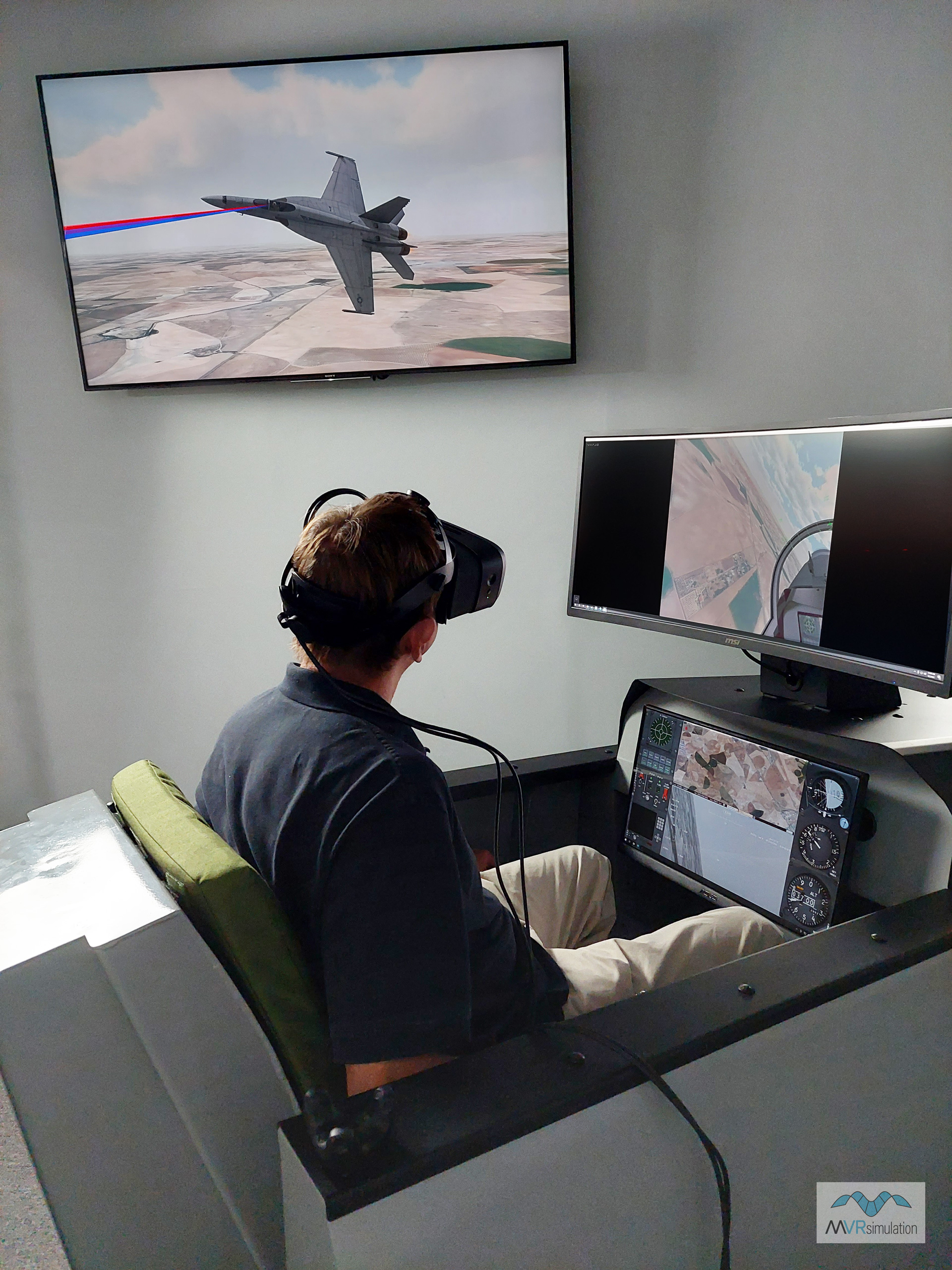 Pilot in MVRsimulation's Part Task Mission Trainer (PTMT), wearing a Varjo XR-3 mixed reality headset. The VRSG view on the wall-mounted monitor shows VRSG's ability to track the pilot's head position and orientation, track the gaze vector using the Varjo device's pupil tracking functionality, and then visualize the gaze of each eye independently as a color-coded 3D cone.
Supported Simulated Military Equipment
For fielding in simulation training facilities, VRSG works with simulated, or emulated, military equipment used by forward air controllers (FACs) or JTACs, to illuminate targets for aircraft and artillery strikes. These simulated devices have a tracker embedded in the hardware.
The image to the right, taken from MVRsimulation's Deployable Joint Fires Trainer, shows VRSG integrated with an emulated SOFLAM military target locator with a 3DOF tracker located within the housing. (The external VRSG display shows the same scene that can be seen by looking through the SOFLAM eyepiece.)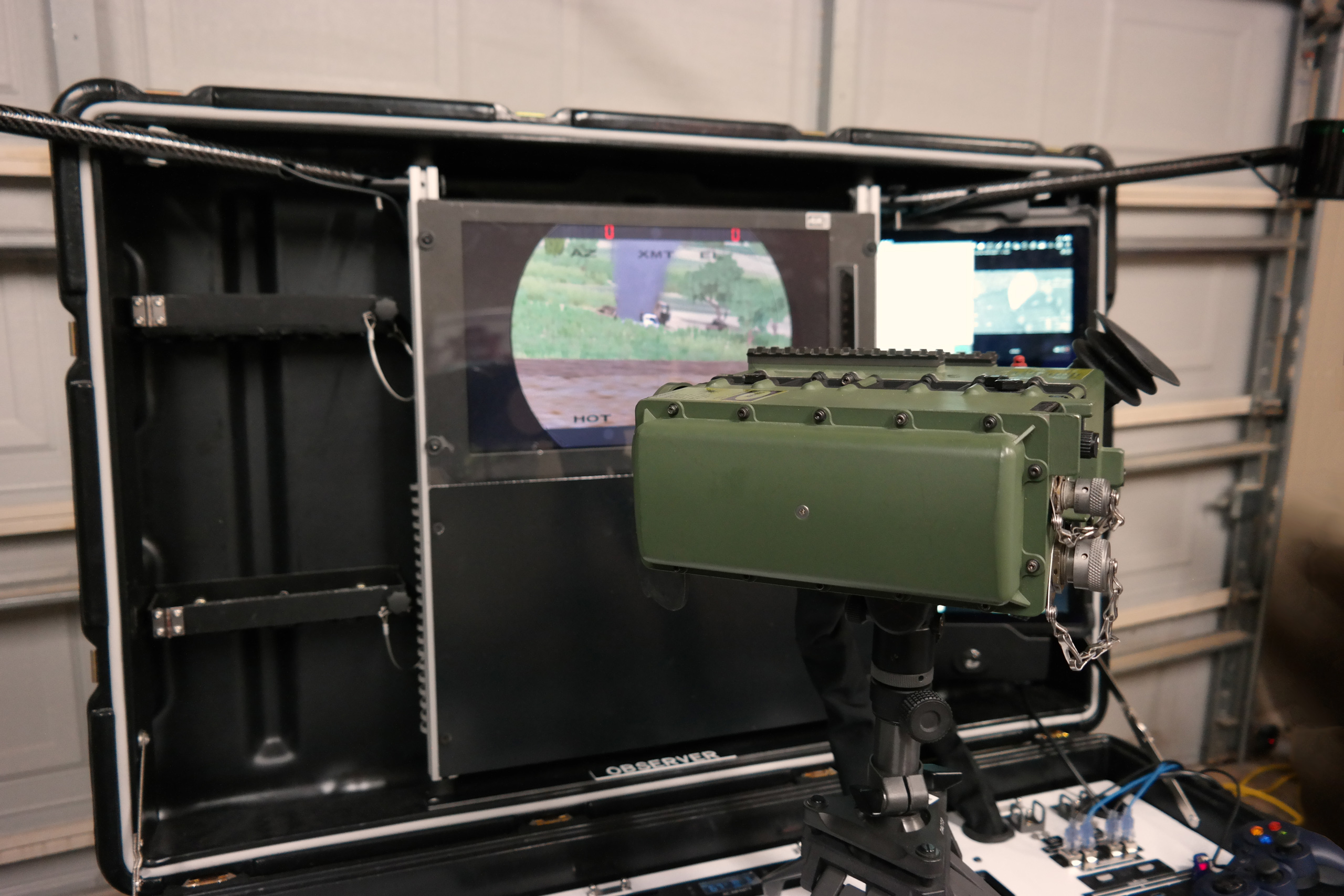 VRSG rendering the scene inside BSI's emulated SOFLAM emulated military device.
Supported Notional Equipment
VRSG supports notional devices that use the InterSense InertiaCube4 tracker such as the NVIS Ranger 47 hand-held binocular, which is designed for training and simulation applications. This notional emulated device features dual SXGA OLED microdisplays with focus-adjustable eyepieces displaying a 47 degree diagonal field-of-view (36H x 28V). Stereopsis is supported via two independent video inputs. An external mounting plate accommodates an InertiaCube4 tracker. The Ranger 47 provides 4 programmable USB joystick compatible buttons, plus a z-axis scroll wheel, all of which are interoperable with VRSG to provide laser range and emission of the designator PDU, and thermal views.
MVRsimulation's technology can scale to be portable with notebook computers and low profile head-mounted displays. MVRsimulation can scale (up or down) the components to meet your individual price and performance needs. Any immersive display device supporting VGA, S-Video, or NTSC can be integrated with VRSG.
Tracking system support is part of VRSG. You can request a quote for VRSG directly from MVRsimulation by filling out the quote request form.