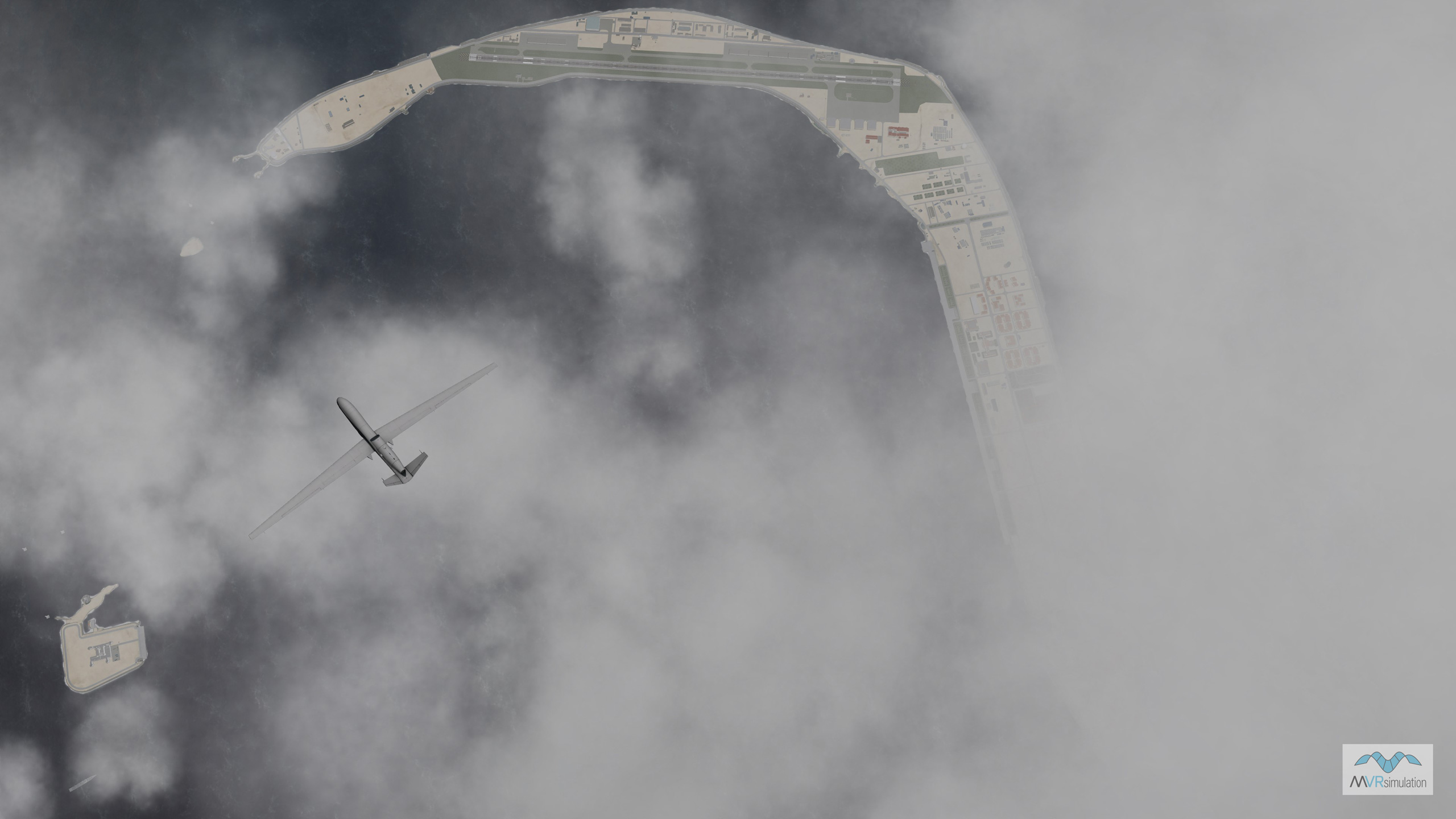 MVRsimulation VRSG real-time scene of a Global Hawk entity over virtual terrain of Mischief Reef, Spratly Islands, South China Sea.
The US Battlefield Information Collection and Exploitation Systems (US BICES) Coalition Integration Lab (CIL) uses MVRsimulation's Virtual Reality Scene Generator (VRSG) with Battlespace Simulations' Modern Air Combat Environment (MACE) to provide a 3D model environment for simulating a battlefield or any other space that requires modeling and simulation. VRSG provides the simulated UAS streaming video used in preparedness training of traditional ISR activities such as collecting intelligence and sharing it among Allied nations for processing, exploitation, and dissemination. MACE is capable of simulating an entire Integrated Air Defense System, constructive blue forces, call-for-fire (CFF), 9-Line interfaces, and exercise development.
The US BICES CIL, located at Joint Base Langley-Eustis, VA, shares VRSG coupled with MACE in rehearsal of concept (ROC) training with the Distributed Common Ground System (DCGS) program of record (DGS-1). DGS-1 personnel built test missions and shared them with CIL imagery analysts via imagery-sharing tools for exploitation. Missions built during this training will be used to produce Concept of Operations (CONOPs) and Tactics, Techniques, and Procedures (TTPs) for collaboration with our coalition partners. Upon completion, the CIL will provide full motion video (FMV) stream via video distribution platforms including Unified Video Distribution System (UVDS), Jag wire, or GXP In Motion.
The CIL is also implementing the search capabilities of Multiple Unified Simulation Environment (MUSE) to enhance NATO's Alliance Ground Surveillance (AGS) capabilities by generating and displaying Ground Moving Target Indicator (GMTI). Developed by the Joint Technology Center/Systems Integration Laboratory (JSIL), MUSE, which also uses MVRsimulation visuals, is the primary UAS training and simulation system used in the Department of Defense for joint exercise training at both the command and staff levels.