Tactical Simulators for Czech Armed Forces and Slovak Military Academy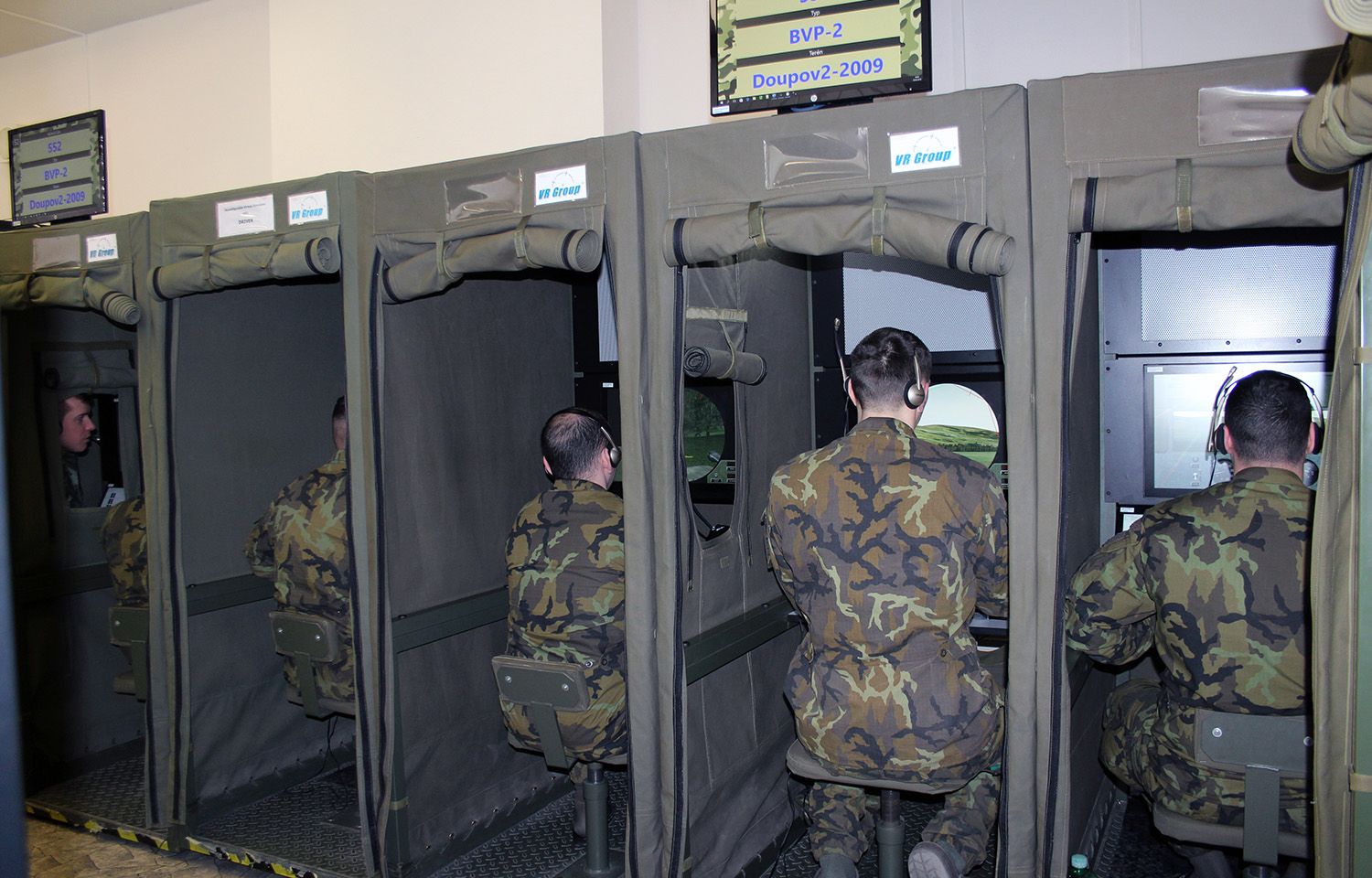 BVP-2 crew training at CTSS with VR Group's reconfigurable tactical ground simulators running VRSG. (Photo: VR Group.)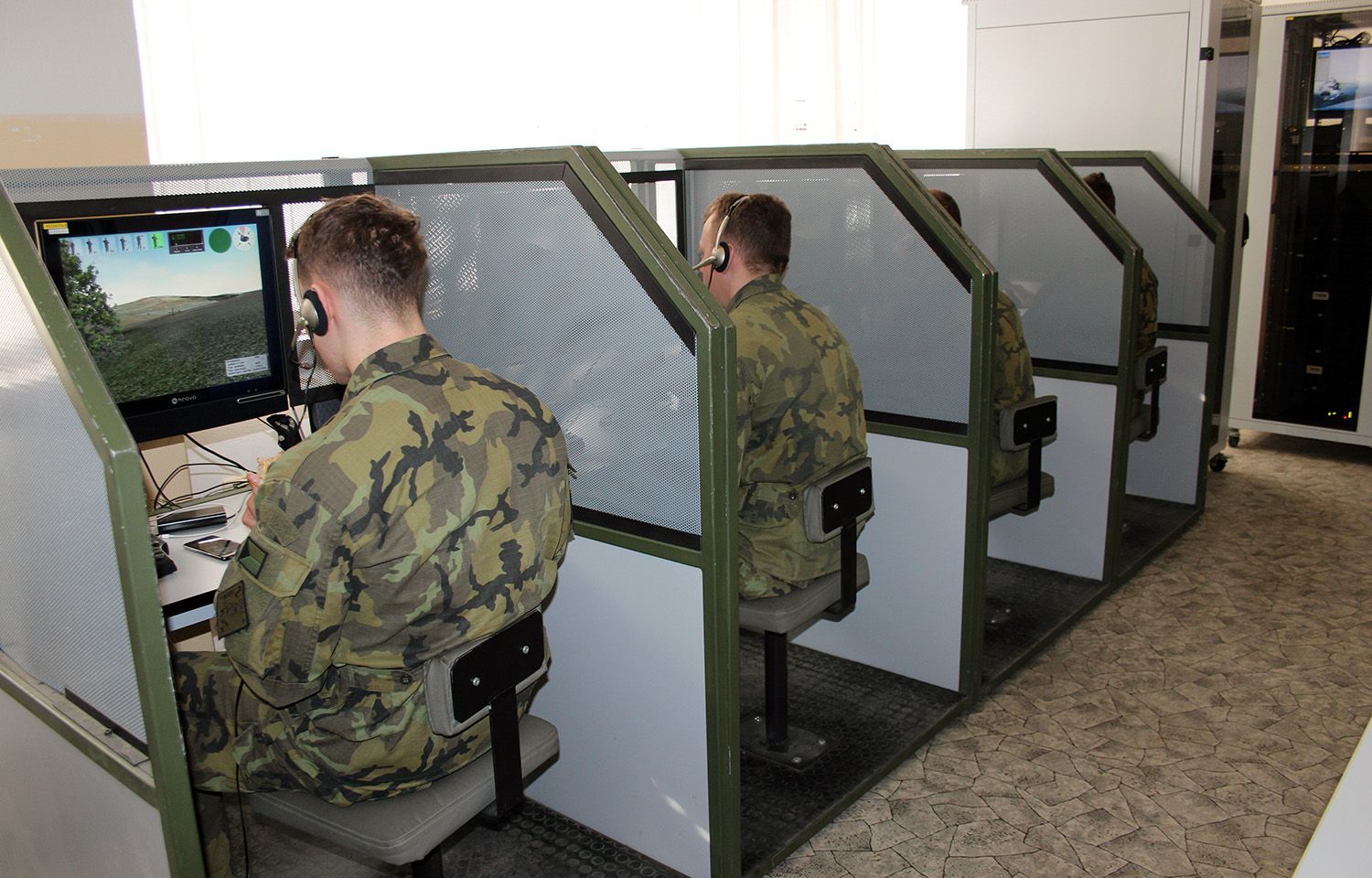 Infantry training at CTSS with VR Group's TLS simulators running VRSG. (Photo: VR Group.)
MVRsimulation VRSG is used in multiple simulators for training the Czech Armed Forces, mainly at the Centres of Simulation and Training (CSTT) in Brno and Vyskov. At the CSTT, VRSG drives the visuals for various tactical simulators for crew and grounds forces training. These tactical simulators are built by Czech-based systems integrator VR Group, a leading supplier of advanced simulation solutions for the Czech Armed Forces. Since 2000, VRSG has been integral to VR Group's ground forces tactical simulators: Reconfigurable Virtual Simulators (RVS), Team Leader Simulator, and crew simulators for the BMP-2 combat vehicle, LOS reconnaissance vehicle, among others.
Centre of Simulation and Training
The CSTT trains Czech military professionals as well as professionals in the military forces of Austria, Slovakia, and the US (Texas National Guard). Military professionals, military schools students, and civilian university students train at the state-of-the-art facility with the tools of constructive, virtual, and live simulation and practice the skills required for classic warfare and for missions in other types of operations.
At the CSTT, VRSG is used in the "Virtual Simulator II" (VS-II) systems for infantry and for several types of ground vehicles, as well as in the Artillery Trainer and Simulation System (ATSSCz) classroom and Exercise Director control room. The two systems can interact in joint exercises via the DIS protocol.
BMP-2 crew simulator
The BMP-2 crew simulators at the CSTT are full mission simulators, which sit on 6-DOF hydraulics motion platforms, are designed for basic and advanced training of drivers of BMP-2 infantry combat vehicles.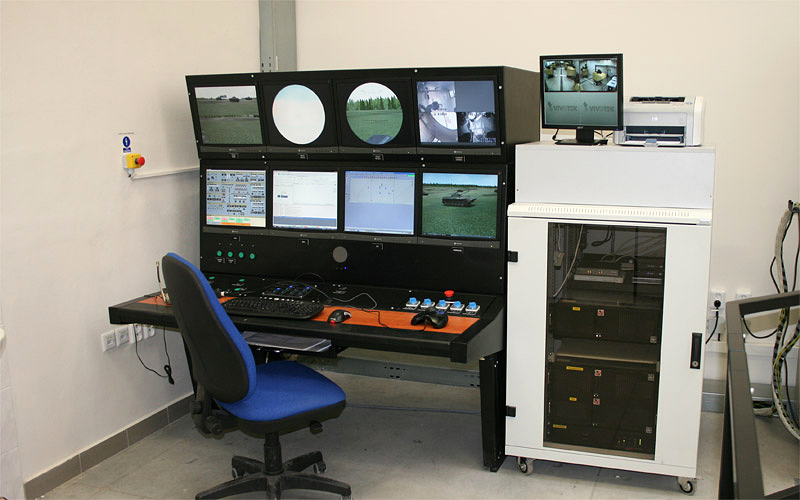 BMP-2 crew simulator's instructor operator station (IOS). Photo: VR Group.)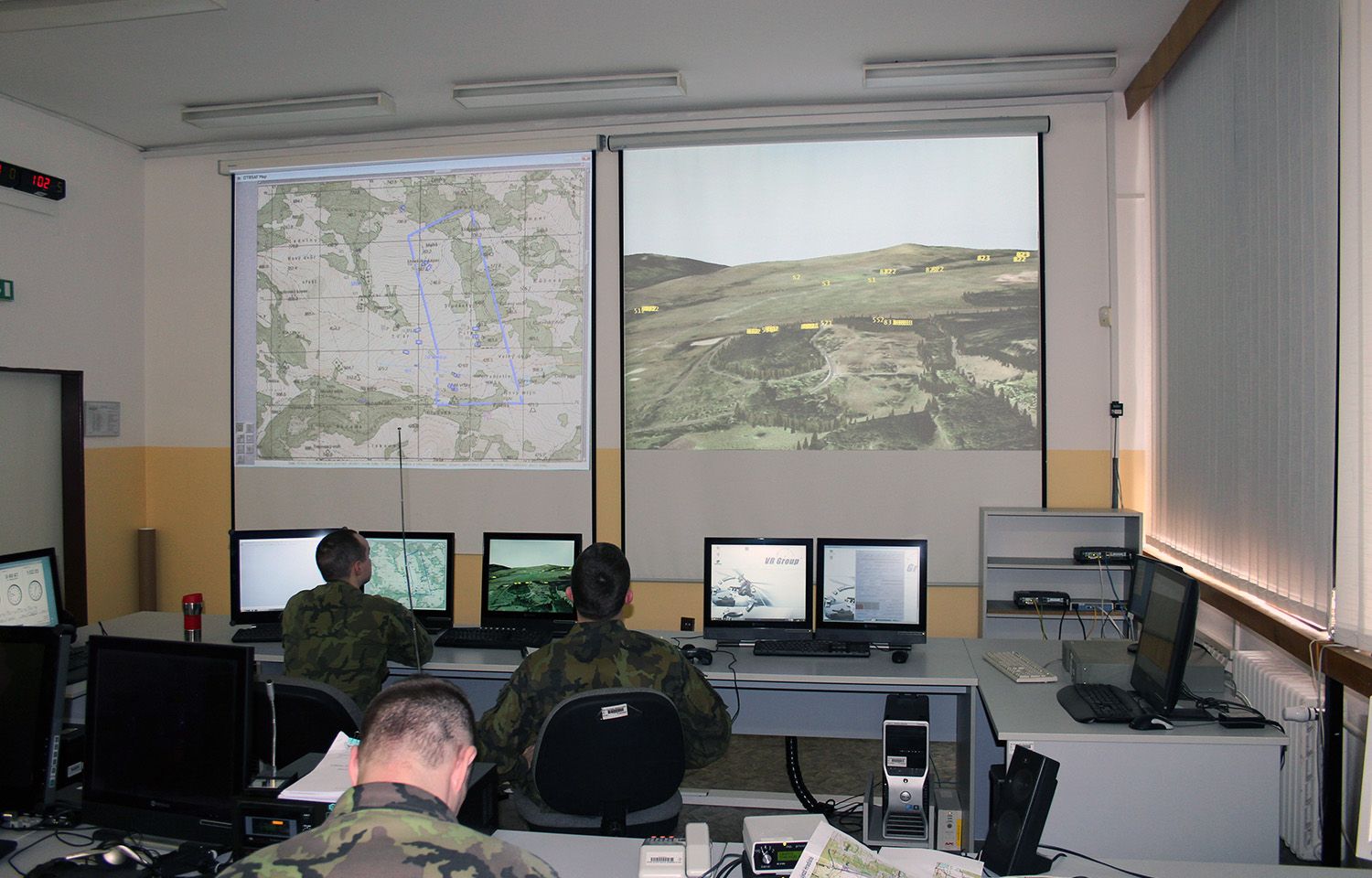 Exercise director room for controlling the simulators. (Photo: VR Group.)
The visual system of each crew simulator consists of 5 VRSG channels, displaying 15 high-resolution views to simulate all the observing and targeting devices of the BMP-2.
The simulator's driver cockpit has the same dimensions as a real driver cockpit, and is equipped with original instruments, a motion platform, and an advanced dynamical simulation system. This setup helps provide a driver training experience that is very close to real-life conditions.
The crew simulator enables operators to simulate emergency or breakdown situations that might occur during a battle or other circumstances, and can be used in tactical or specialized training as a part of a larger simulation unit in a distributed exercise. The simulator is equipped with an instructor's operating station for training preparation, observation, administration and evaluation.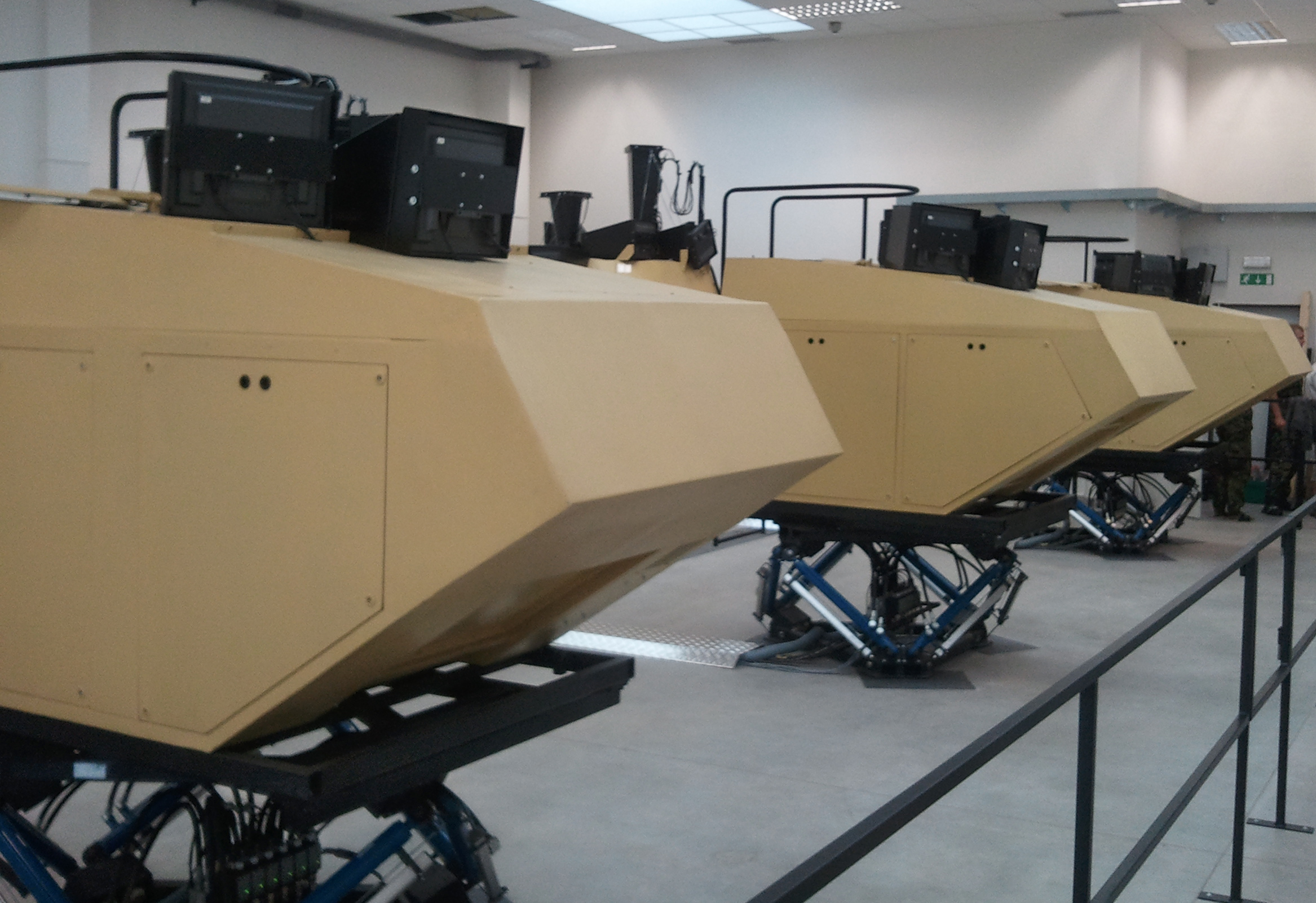 BMP-2 crew simulators with motion platforms. (Photo: VR Group.)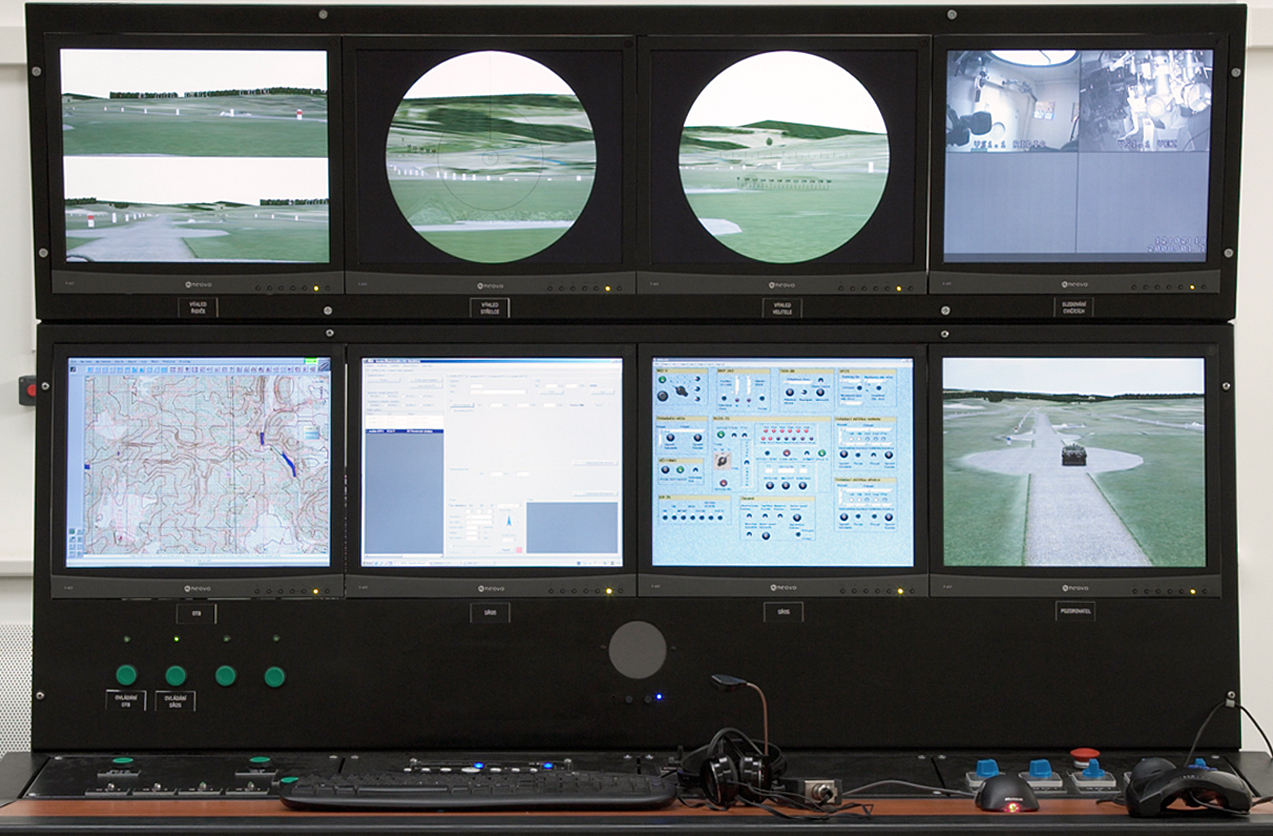 Close-up of IOS of the BMP-2 crew simulator, with the VRSG display in several screens. (Photo: VR Group.)
Other training simulators
In addition to the BMP-2 crew simulators, VRSG is used at CSTT in these other training simulators:
T-72 and T-72 M4CZ tanks designed for tactical training of tank units in a synthetic environment.
BMP-1 configuration designed for tactical training of mechanized units in a synthetic environment.
A light artillery reconnaissance and observation vehicle (LOS) based on BMP-2 hull designed for a tactical training of the crew in coordination with a mechanized unit or a battlegroup.
A dismounted infantry squad for a tactical training of mechanized units up to the company level in a synthetic environment. Team Leader Simulator squad consists of six simulated combatants controlled as whole squad, by groups or by individual combatants.
The Land Rover Defender 110 TDi Military Armoured 3 Special Operations Vehicle (SOV).
A Forward Air Controller (FAC) vehicle and equipment, which enables trainees to perform FAC tasks as measuring distance and azimuth of a target or another object a synthetic environment.
TEAM LEADER SIMULATOR
The infantry training simulator, Team Leader Simulator, adds simulated infantry (or civilian characters) to tactical vehicle simulators. The application can also be used for urban operations training simulation. Using MVRsimulation VRSG for its visuals, Team Leader Simulator has a game-like first person shooter interface with supporting AI-based characters that take their behavioral cues from the tactics of the operator.
The operation of the Team Leader Simulator is a combination of manual, semiautomatic and automatic controls which enable quick responses from simulated team members in various situations in simulated team mode. One can also run a simulation of one individual in a distributed synthetic environment directly controlled by an individual trainee.
Team Leader Simulators are modular systems that consist of a rack-mounted simulation host, image generation units, and the combat stations of trainees. Simple combat stations are equipped with a joystick controller and keypad. A monitor displays a 3-D view of the battlefield and required status information. VRSG is used to generate the real-time view of the synthetic environment. Communication is achieved through a simulated radio network.
Team Leader Simulators can be used for training tactical decision making skills, procedures training, coordination and communication, and command and control skills.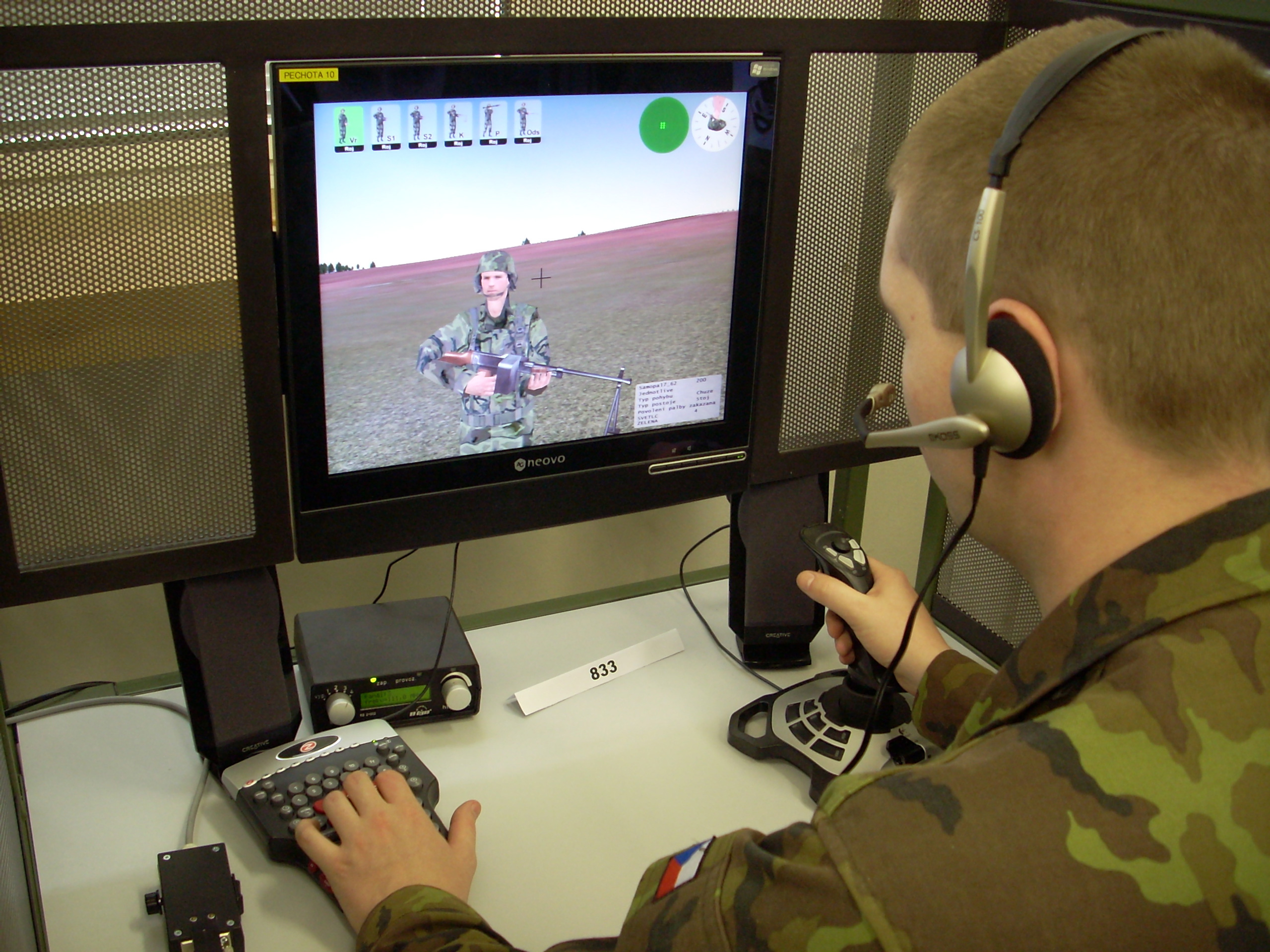 An infantry trainee in a Team Leader Simulator combat station. (Photo: VR Group.)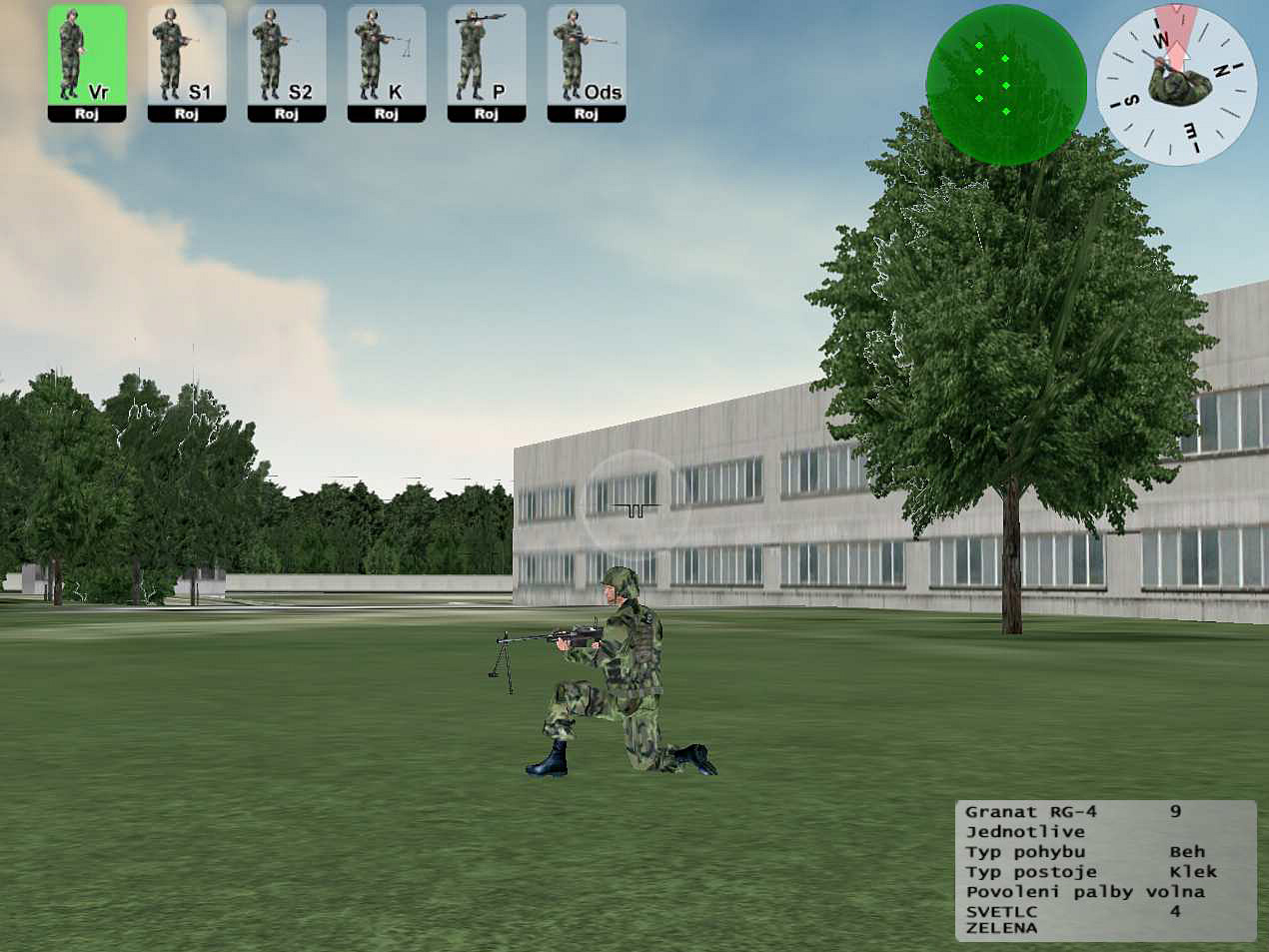 Infantry Team Leader Simulator. (Photo: VR Group.)
CRISIS MANAGEMENT TRAINING AT MILITARY ACADEMY IN SLOVAKIA
Since 2010, the Military Academy in Liptovsky Mikulas, Slovakia, has been using 10 VR Group Reconfigurable Virtual Simulators for crisis management training. VRSG generates the visuals in these simulators, which contain configurations for simulating a police car, bus, ambulance, and MI-17 transport helicopter.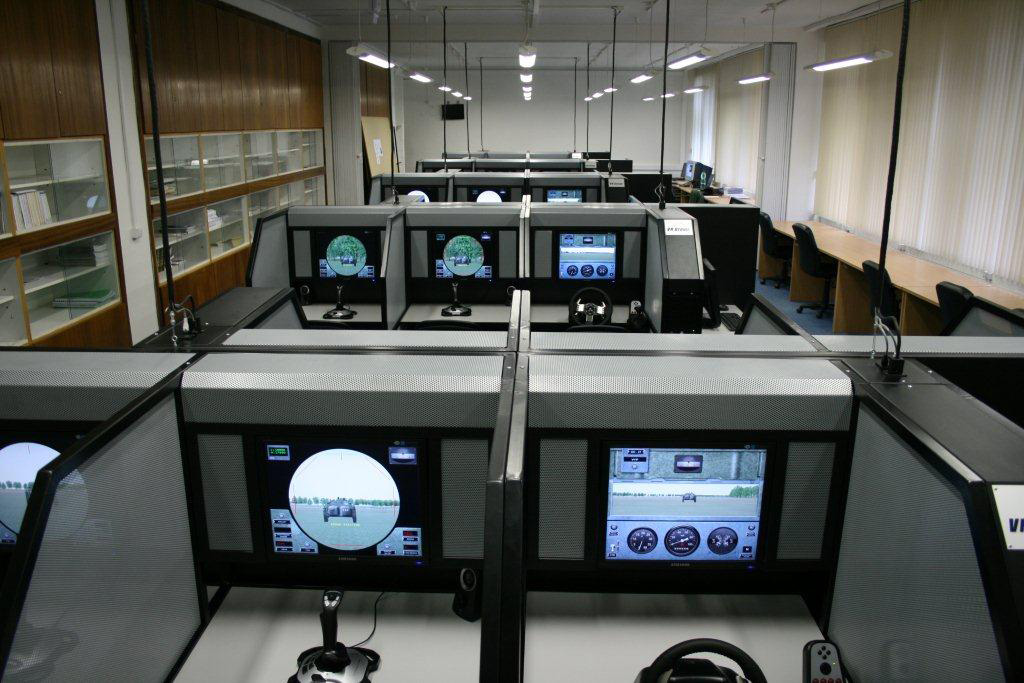 Slovak simulation center at the Military Academy in Liptovsky, Mikulas, Slovakia, with MVRsimulation visuals in crisis management training simulators. (Photo: VR Group.)
ABOUT VR GROUP
VR Group Company is a Czech Republic-based developer, producer, and supplier of complex training & simulation solutions for the Czech Armed Forces and security departments.