How to Order New Terrain of an Area of Interest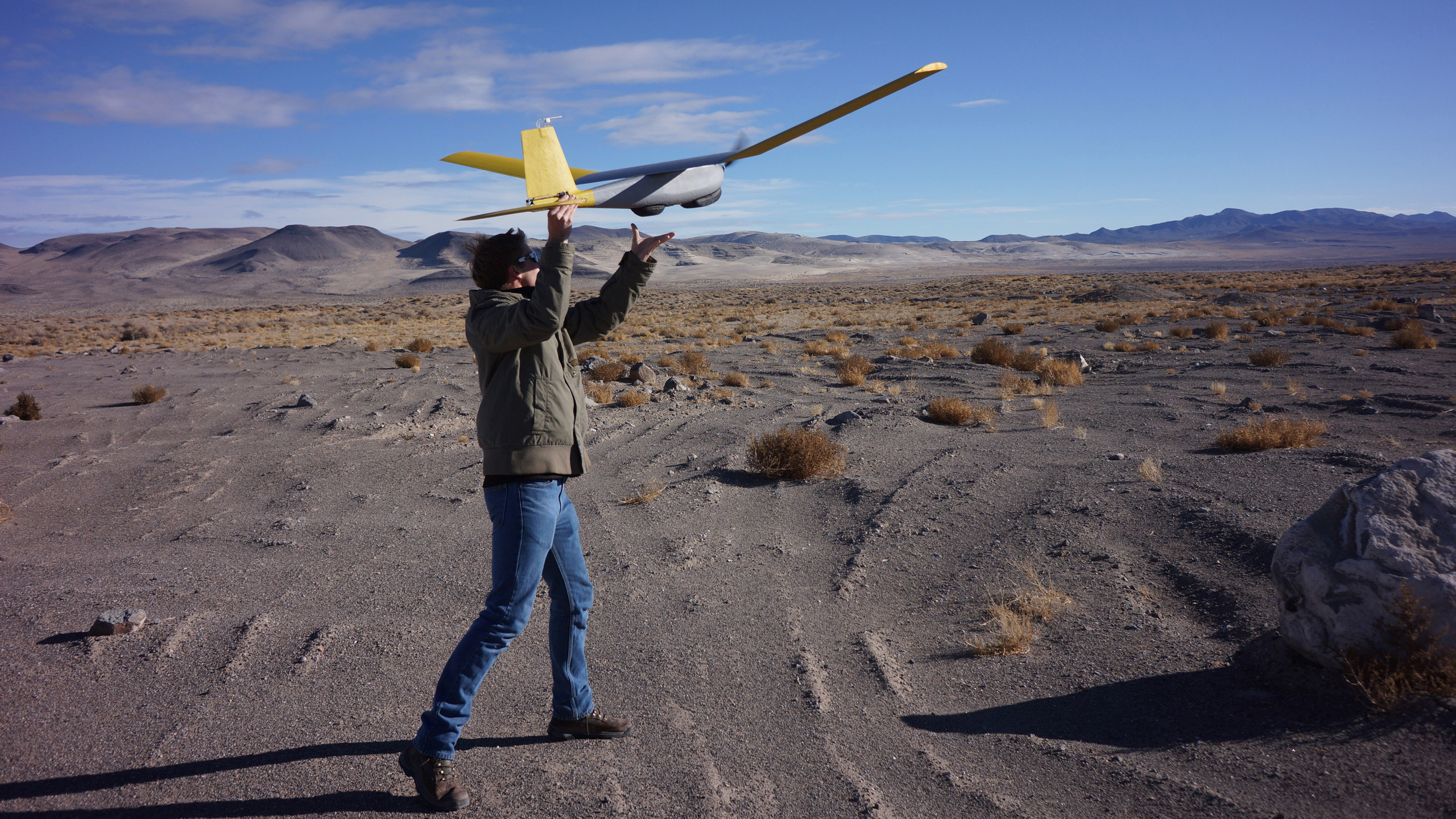 Launching MVRsimulation's imagery collection small UAS at the Fallon Range Training Complex.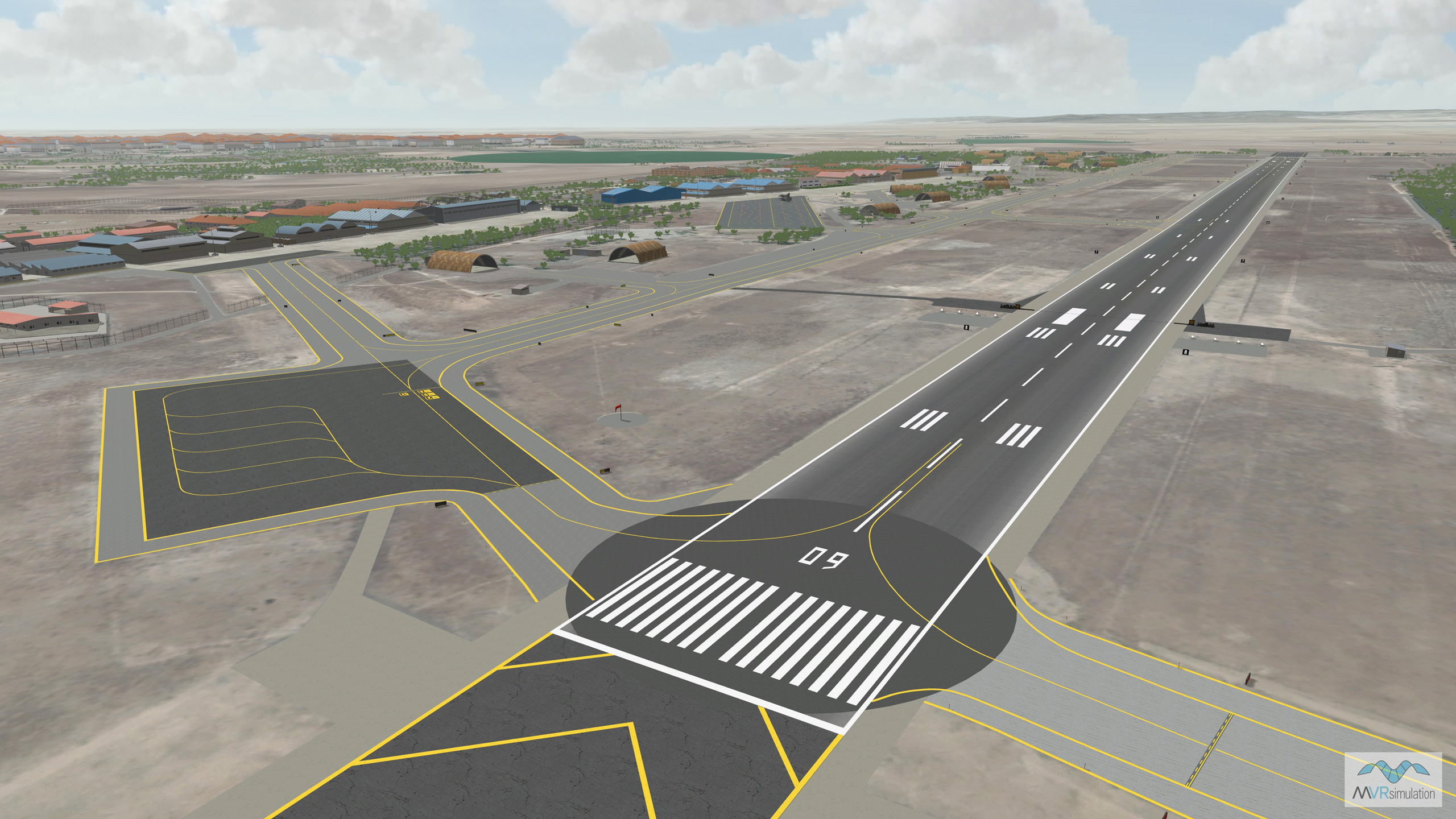 MVRsimulation VRSG real-time scene featuring a high-resolution geospecific replica of Los Llanos Air Base (LEAB), Albacete, Spain.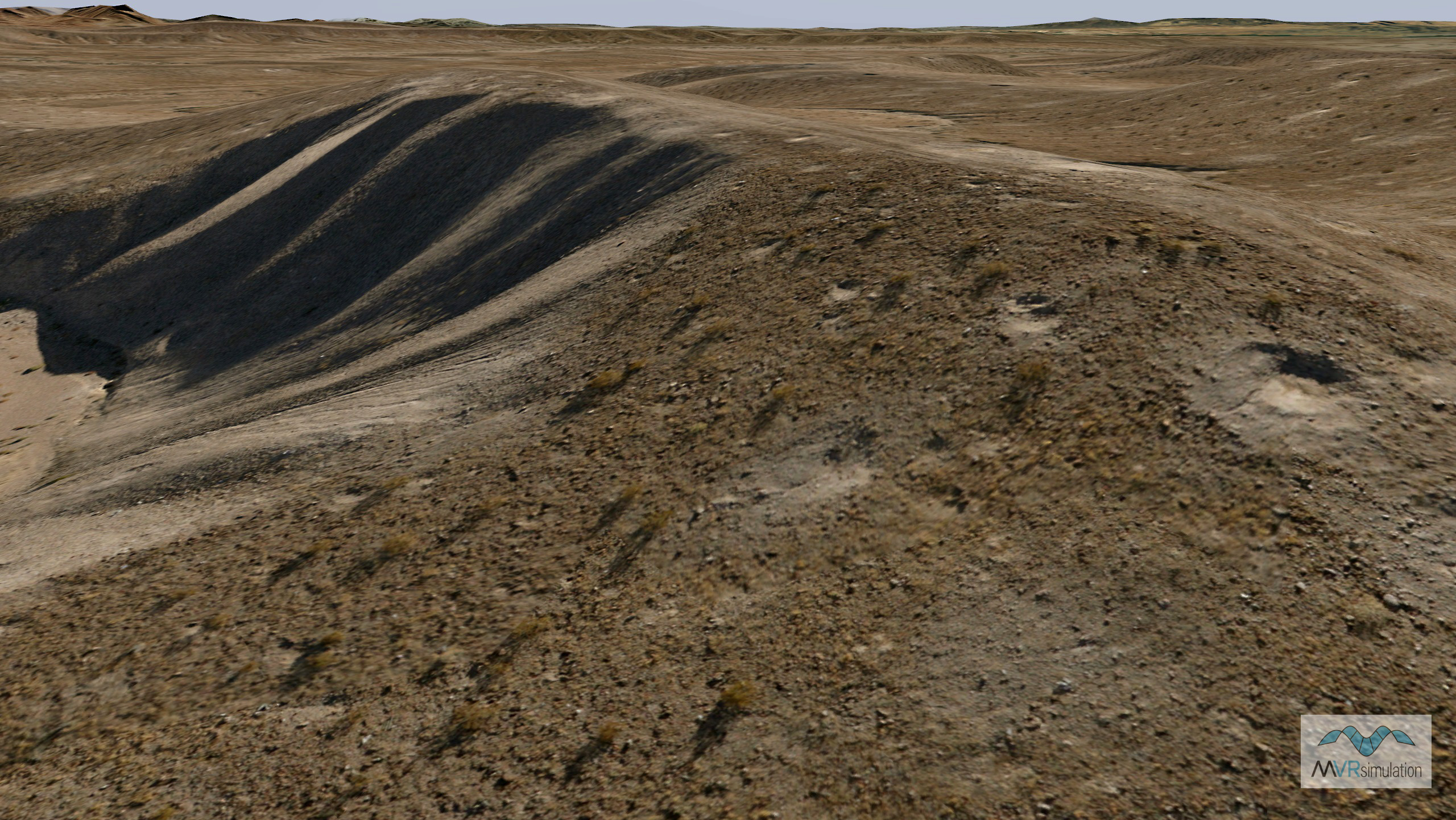 MVRsimulation VRSG real-time scene featuring 2 cm terrain built with imagery collected by MVRsimulation's small UAS of the Prospect Square area at the Yuma Proving Ground, AZ.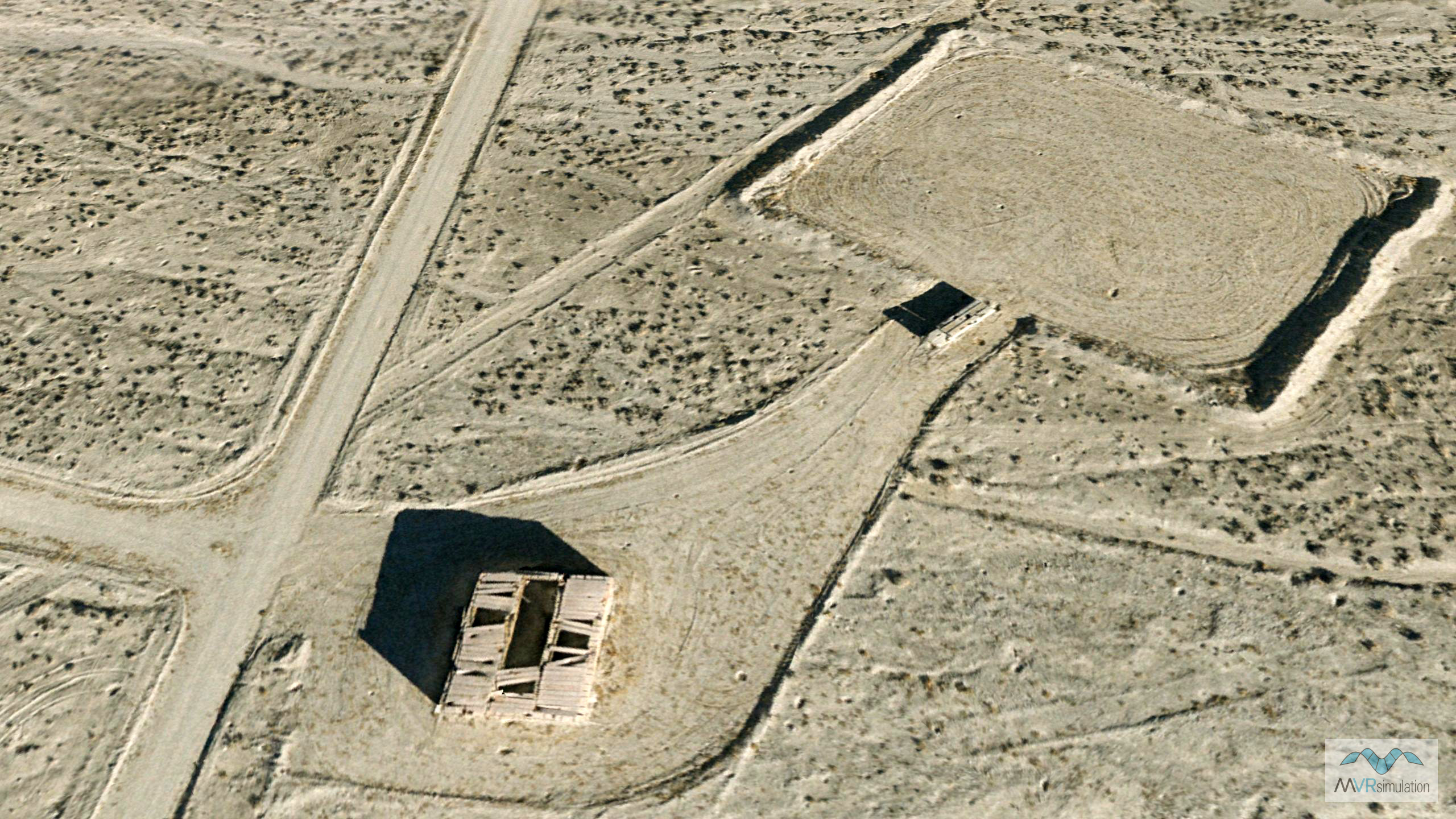 MVRsimulation VRSG real-time scene featuring 2 cm terrain of two target ranges at Fallon Range Training Complex built from imagery collected by MVRsimulation small UAS.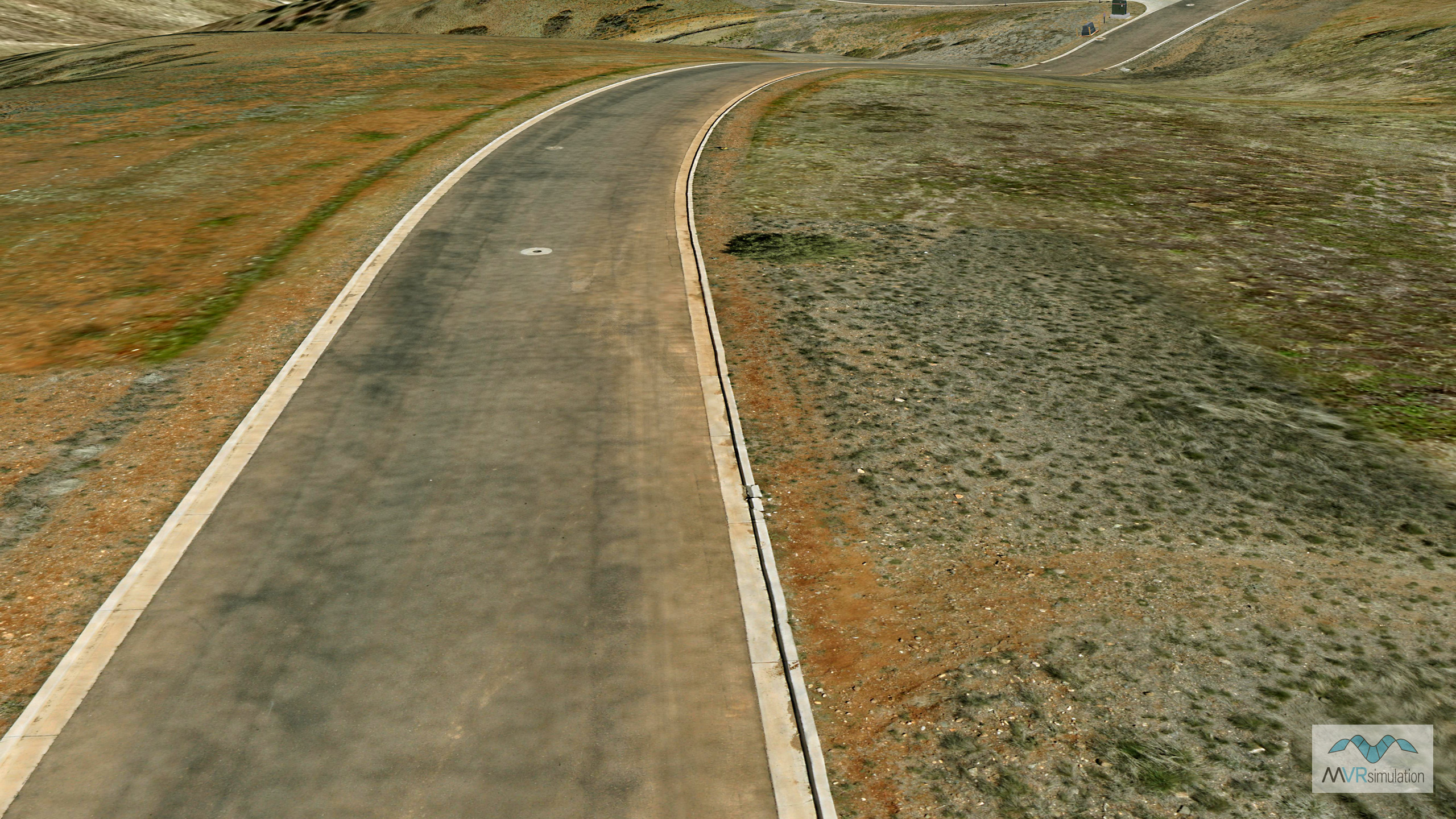 MVRsimulation VRSG real-time scene featuring 2.5 cm resolution terrain built with imagery collected by MVRsimulation's small UAV. The imagery of this road was captured with a small rotary-wing UAV at a higher, 5 mm, resolution.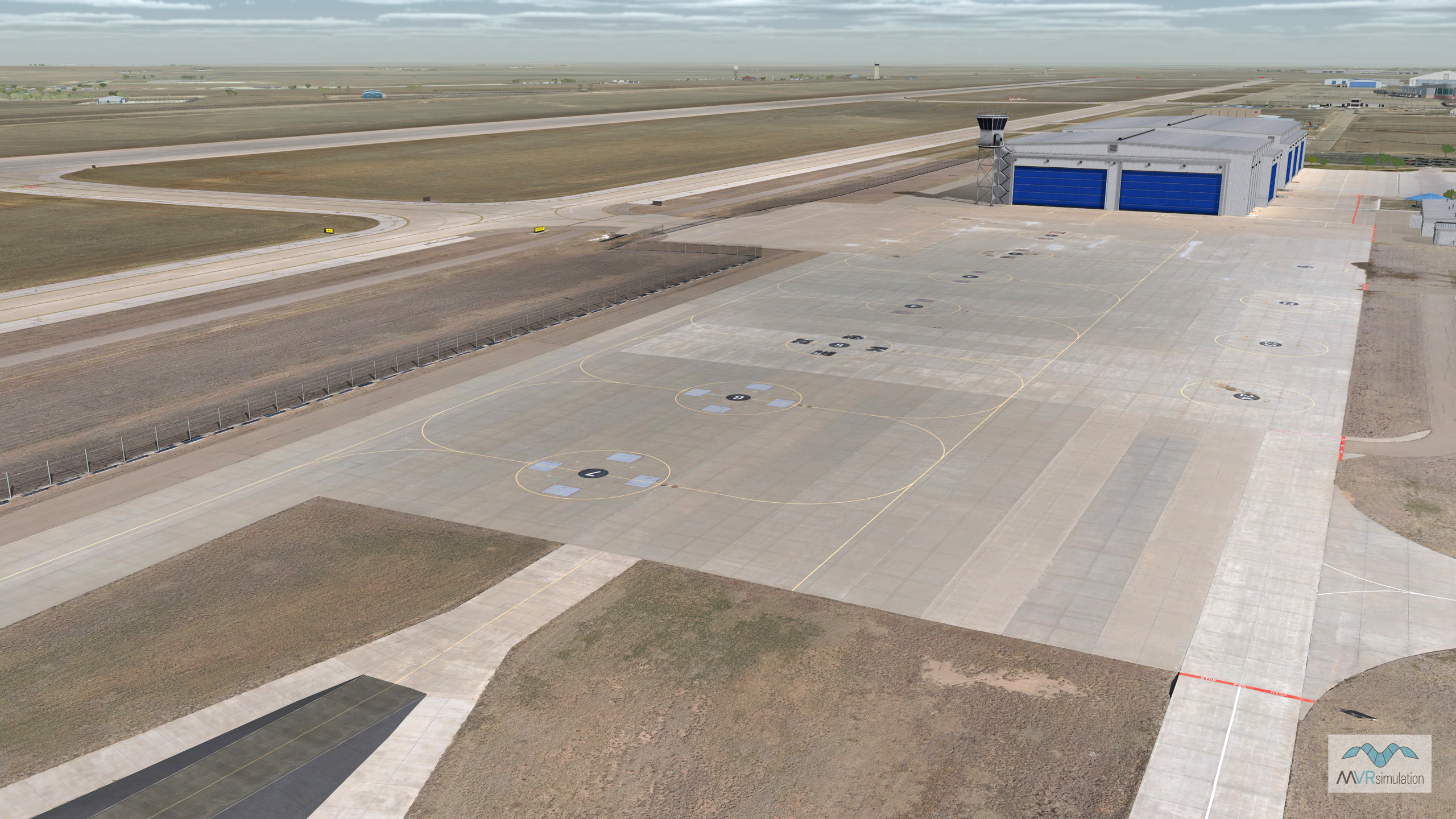 MVRsimulation real-time VRSG scene of helipads on the ultra-high-resolution virtual Amarillo International Airport (KAMA), Amarillo, TX. 
If your site is interested in having MVRsimulation build 3D terrain of an area of interest (AOI) in our round-earth VRSG terrain tile format, such as an airfield or training range, provide us with a specification. You can supply your own AOI source data for a custom terrain build. Using this data, we can provide a quote for your terrain product.
Pricing considerations include:
Overall size, extent, and location of the AOI (region, airfield, MOUT site, and so on). Ideally, please supply a KML file or shapefile representing the bounds of the AOI.
Whether you are supplying source imagery. If you do not have source imagery data for the AOI, we can obtain it. Specify the required resolution of the imagery and/or elevation data for your AOI. For ultra-high resolution imagery, our small UAS (SUAS) can capture sub-inch imagery. We will factor the resolution of the required imagery into the quote. If you can supply your own source data, indicate the resolution, and any license restrictions on the data.
Whether placement of culture on the terrain is required, and whether the culture would be from our 3D model libraries or from a set of your own models in FBX or FLT format. (We can convert FBX and FLT models to our model format.)
Whether the creation of custom models is required for your AOI terrain project. For example, does your project require the need for buildings or airports to be modeled? If so, indicate the number of models needed and supply their latitude and longitudinal locations in a KML file or shapefile.
Let us know your intended time frame for delivery of the terrain and the intended training use of the terrain.
Requirements for customer-supplied source imagery
If your site already has source imagery data you want us to use for 3D terrain construction, the data must be color balanced, orthorectified, and form a mosaic that covers the AOI(s). the data must be provided as follows:
In GeoTIFF format, with individual GeoTIFF images forming a mosaic that covers the AOI. GEOTIFFs are comprised of three visible R, G, B bands.
Orthorectified to the WGS1984 geographic coordinate system, with WGS1984 datum.
Color balanced with natural (RGB) color, maintaining color consistency across the entire AOI as a visually seamless mosaic. The mosaic should have less than 2% cloud cover and be free of prominent seams and haze.
Aerial imagery collected by MVRsimulation's small UAS
Aerial imagery collected by our SUAS can also be ordered from MVRsimulation by specifying the area of interest, such as an airfield. You can order raw collected data, orthorectified imagery, or a dataset of terrain tiles built with the imagery in MVRsimulation's round-earth terrain format, delivered with a VRSG or MVRsimulation Terrain Tools software license. Access to the area of interest for aerial photography must be in accordance with FAA regulations. Customers will be responsible for obtaining the necessary authorization and certified access to operate within the particular area of interest for aerial photography. For commercial purposes, a remote controlled aircraft in the national airspace is permitted to fly only in Restricted Airspace, or in airspace that has a certified Certificate of Authorization. Flying an aircraft in either types of airspace requires the prior authorization of the airspace owner(s).
The quote for the AOI terrain project contains no labor-based costs. Upon your acceptance of the quote, we will proceed to build the AOI 3D terrain. Payment is required upon acceptance of the terrain product.
Upon a customer's acceptance of the AOI 3D terrain product, MVRsimulation retains right to redistribute the terrain it has built, free of charge to all US Government agencies and contractors (for official use only). The compiled round-earth VRSG terrain tiles will be distributed with MVRsimulation VRSG software, as agreed by both parties and provided by the quotation terms and conditions.